What's better than eating cheese and drinking wine? Well, getting paid to do so, obviously. One company is willing to make sure you get well compensated to drink wine and eat cheese this Christmas – just file it under 'dream jobs'.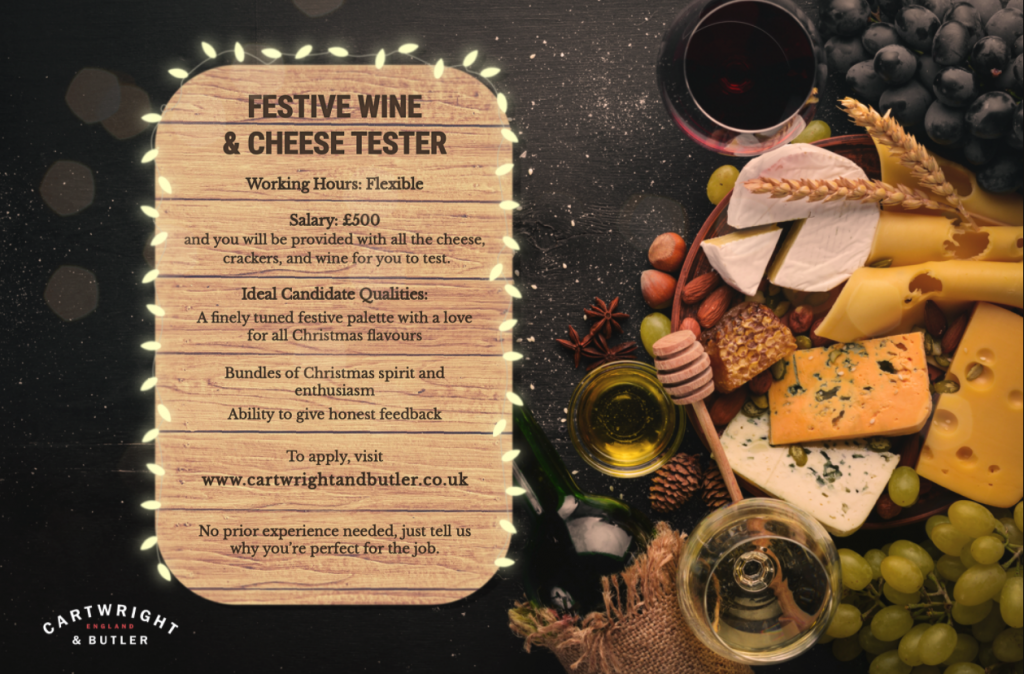 Yes, with the festive season nearly upon us, brands are already getting serious about all things Christmas. Aldi, for instance, has launched boozy advent calendars with quite startling enthusiasm.
But what if you want to earn a little extra cash, and capitalise on some free, delicious, food and drink this festive season?
Well, it's your lucky day, because Cartwright and Butler are looking to recruit one lucky candidate to review their wine and cheese selection ahead of Christmas. As well as being stocked up with a considerable amount of free cheese and wine, the successful candidate will be paid £500 for their time.
No specific experience is required, just a burning passion for good wine and delicious cheese.
Gemma Barton, Head of Marketing & eCommerce at Cartwright & Butler said "The festive season is huge for us at Cartwright & Butler which is exactly why we're looking to receive additional support in reviewing our cheese boards and tasting wines this year.
"The ideal candidate needs to have a passion for everything surrounding cheese and wine. From the presentation to the taste, we're looking for someone who can give us a comprehensive review of each product so we can use this information as part of our market research."
To apply, all you need to do is click here and follow the instructions.
In other dream job news, you can now also get paid to visit Christmas markets this festive season. Read all about it here.