After a long, hard day of shopping for presents, what better way to get in the festive mood than with a couple of Christmas cocktails? Here at db, whether you're into your Eggnog or more of a mulled cider sipper, we have you covered with this list of the best festive tipples to get you merry this holiday season.
Festive Fig-roni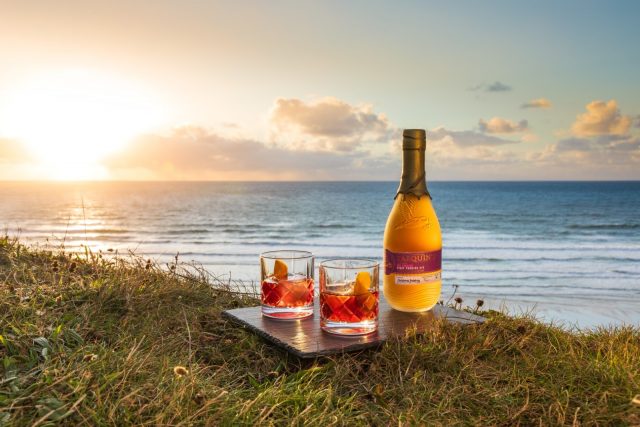 Stoke the fire, relax into your favourite chair and enjoy some true Cornish festive cheer with Tarquin's Figgy Pudding Gin. 
Drawing inspiration from the flavours and retro table-side-drama of a flaming Figgy Pudding, Tarquin's have taken their flagship Cornish Dry Gin as the base, adding dried figs, fresh clementine zest, warming Christmas spice botanicals, and brandy-soaked cherry wood chips to masterfully craft a gin packed with nostalgic festive warmth. Pedro Ximenez sherry is added post-distillation to add another layer of rich complexity and give this special gin its warm golden colour. 
Best enjoyed mixed with ginger ale and garnished with an orange wedge and fresh thyme or served as a 'Festive Fig-roni' with Campari, Sweet Vermouth and a clementine twist.  
Deck the Halls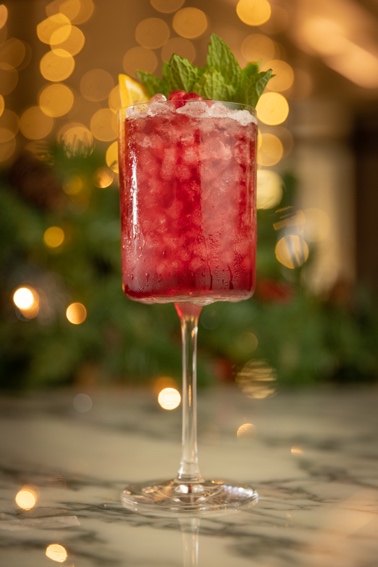 Deck the halls with boughs of holly, and while you're doing it, enjoy one of these delicious red wine-based cocktails. It will definitely get you in the Christmas spirit as you put your decorations up.
Ingredients:
1.5 oz DEWAR'S 12 Scotch
1 oz MARTINI Fiero
1 oz red wine
Method: Add all ingredients to a mixing tin over ice, shake and strain. Pour into a highball or wine glass of crushed ice and garnish with fruit and herbs of your choice. (Use any red wine you have on hand; this is a great way to finish a bottle from the night before).
Milk for Santa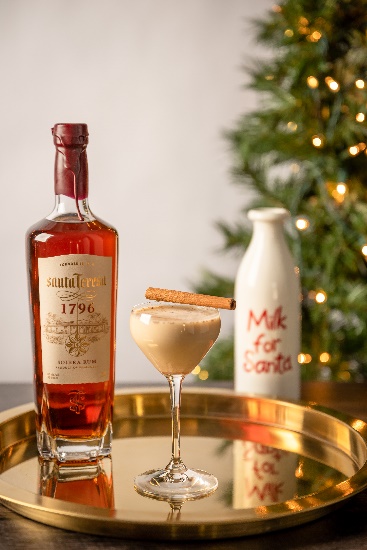 By midnight on Christmas Eve, you can guarantee that Santa will be sick of a glass of milk and plate of biscuits. Treat him this winter with this rum-based cocktail. But careful not to make too many, as Santa might get too tipsy to drive the sleigh after drinking a couple of these.
Ingredients:
14 oz Santa Teresa 1796 Rum
1 Can evaporated
1 Can condensed milk
1 Can Coco Lopez
Cinnamon, Star anis, cloves
Method: Infuse the rum with the spices then mix with the rest of ingredients. Store cold.
The Jingle Bell Fizz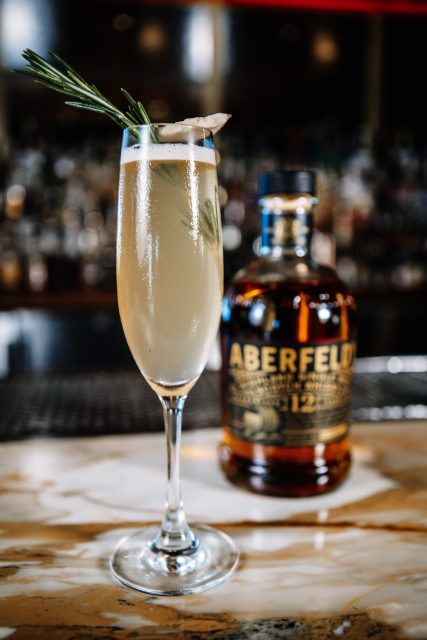 Rock around the Christmas tree with this elegant winter tipple made with Aberfeldy whisky from Scotland. You can even have a merry Hogmanay celebration with this celebratory drink too.
Ingredients:
1oz Aberfeldy 12
1oz Unfiltered Apple Juice
.5oz Lemon Juice
.5oz Cinnamon Syrup
Sparkling Wine (to top)
Garnishes: Rosemary Sprig and A Dehydrated Apple Slice
Method: Add Aberfeldy 12, apple juice, lemon juice and syrup to a glass and stir. Pour into a champagne flute and top with sparkling wine. Garnish with a rosemary sprig and a dehydrated apple slice.
Blackcurrant Gin and Tonic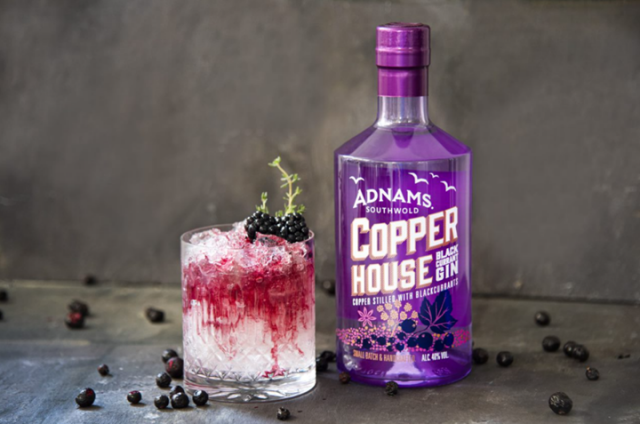 Paying homage to the abundance of blackcurrants across East Anglia, Southwold distillery Adnams, has produced a fruit-forward, hedgerow-style gin, using locally grown blackcurrants.
The native berries are a hero ingredient in the distillation process, creating the distinctive flavour of the new Copper House Blackcurrant Gin, with Head Distiller, John McCarthy, using around 40kg of East Anglian blackcurrants for every 1,100 bottles produced.
McCarthy said of the seasonal sip: "The recipe called for lots of fruit, and we were delighted to showcase the abundance of blackcurrants grown in East Anglia. We built the recipe from there; deciding to balance the crisp blackcurrant fruit and juniper's tart citrus flavours with botanicals that deliver sweet, woody accents, producing a gin that's evocative of an English hedgerow."
Snow Bird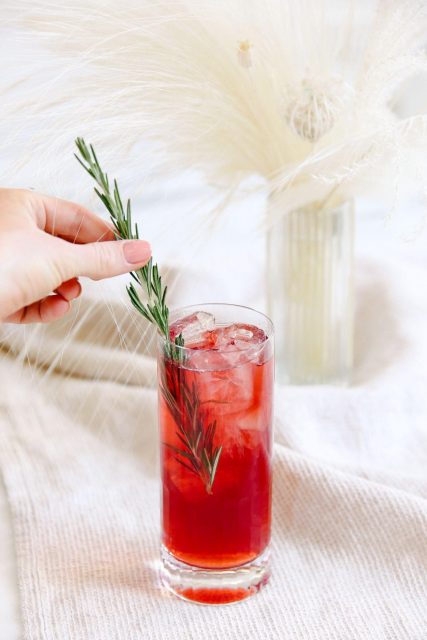 For the host looking to wow their guests with homemade cocktails, consider the Snow Bird – a frosty December sip to get the holiday festivities started.
Ingredients:
2 parts Plume & Petal Lemon Drift
1 part pomegranate juice
3 parts soda water
Garnish: rosemary sprig
Method: Combine all ingredients in a Collins glass with ice. Stir slightly to combine.
Ginger Rum Toddy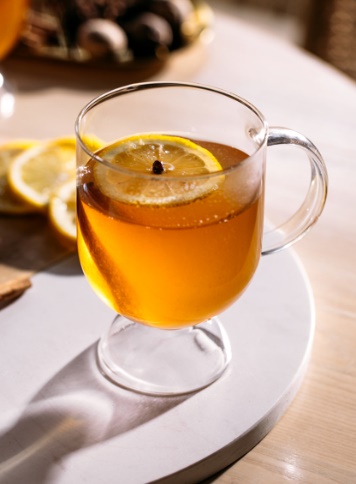 If hot toddies are your thing, consider this ginger-infused winter warmer. Brew with ginger tea bags for a stress free steamy sip.
Ingredients:
¾ oz St-Germain Elderflower Liqueur
1 ¼ oz Aged Rum
¼ oz Allspice Dram
2 bags Ginger Tea
½ oz Lemon Juice
Method: Steep tea bags in hot water, remove tea bags, add rest of ingredients, and stir. Then, garnish with cinnamon sticks, clove, and lemon wheel.
Northern Lights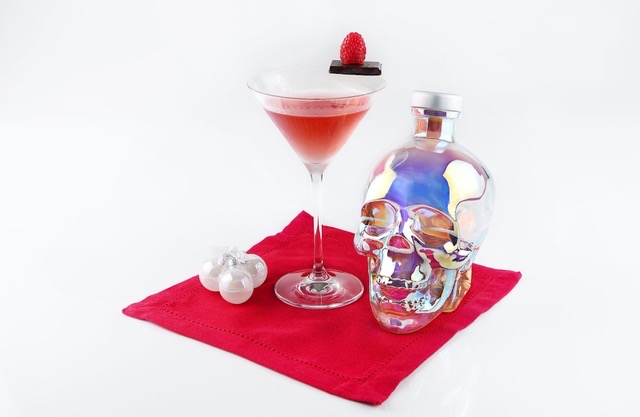 This next festive tipple comes from Clockwork Rose bar in Bristol. Bartender Kit Commodore came up with the concoction, for a chic and seasonal twist on the classic vodka Martini.
Ingredients:
55ml Crystal Head Aurora
15ml Tio Pepe Extra Dry Fino 1⁄2 oz. | 15ml Chambord Royale
5ml Sugar Syrup
3 Dashes of Tonic Bitters
Garnish:
1 Piece of Dark Chocolate 1 Raspberry
Method: Add all ingredients into a mixing glass with ice and stir until cold. Strain into a chilled martini glass and garnish with a piece of dark chocolate and a raspberry.
Champagne Sparkler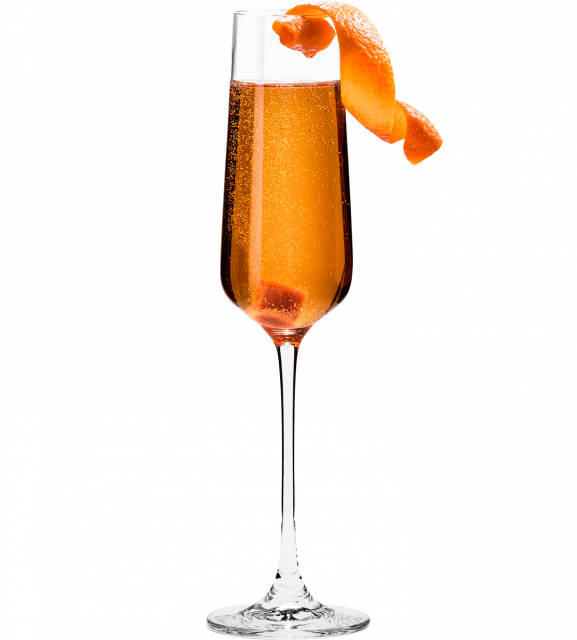 Bring in the new year and celebrate the hopeful start of 2022 with this elegant sparkling serve. Combining both sugar and bitters, this drink will be the perfect pairing as you sing Auld Lang Syne with those closest to you.
Ingredients:
1 oz D'usse Cognac
1 Sugar Cube
3 Dashes Bitters
Top with Sparkling Wine
Method: Add cognac, sugar cube and bitters into a champagne flute. Top with chilled sparkling wine.
Holiday Punch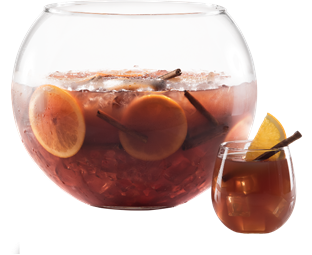 Last of the Christmas cocktails and perfect for a Christmas party with family or friends, this Holiday Punch is ideal for getting merry by the fire, and will fill the room with festive cheer as well as some delicious aromas.
Ingredients:
750 mL D'usse Cognac
32 oz Cloudy Apple Cider
12 oz Pomegranate Juice
12 oz Cinnamon Simple Syrup
Method: Add all ingredients into a punch bowl. Add ice. Stir until well mixed. Top with orange wheels and cinnamon sticks. Recipe makes 4 to 6 servings.
More of a beer drinker? We have put together a list of the top ten festive buys for craft beer lovers. Read more on that here.