The Irish drinks brand is illuminating pubs across Britain to help venues get in the festive mood after a shambolic year for hospitality.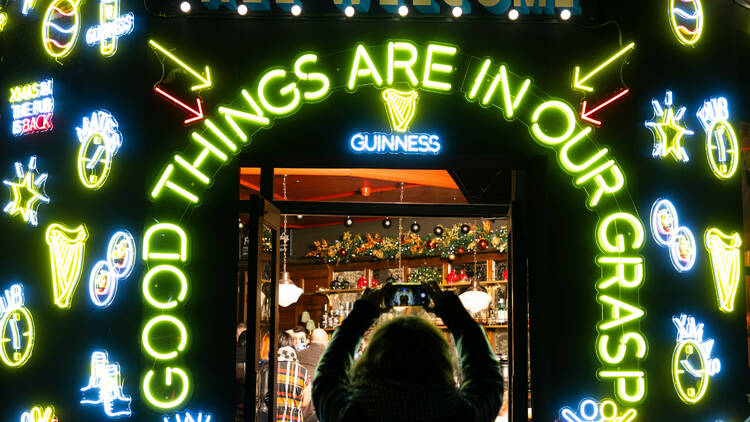 There's the Grinch. And then right at the opposite end of Whoville, there's Guinness. In order to return pubs to their rightful place as community hubs, Guinness has paid the bill for a number of local boozers to deck themselves out with Christmas lights.
London pubs featured include the The Lock Tavern in Camden, The Raven on Goldhawk Road and Brockley's The Wickham Arms. Outside of London, pubs to receive a dazzling light display include The Queen's Vaults in Cardiff and The Pickled Sprout in Harrogate.
The idea is to help out pubs, many of which are struggling after one of the toughest year's yet for the hospitality industry.
Neil Shah, head of Guinness GB, said: "The past 18 months have been incredibly tough for the hospitality industry, so we want to do all that we can to make sure Guinness supports locals. Our 'Light Up the Local' Christmas campaign is about celebrating pubs as the beating heart of our communities, where people can come together with their mates over a pint of Guinness in the run up to Christmas. We will continue to support the industry through the fund and other means."
So far, Guinness has donated £30 million towards keeping pubs, bars and restaurants open in 2021.
"It's been a difficult time for us due to Covid limiting people coming through our doors," said Patrick Frawley, landlord of The Lock Tavern. "We feel so lucky to have been chosen to have our pub lit up with these fantastic displays."
The drinks brand has also teamed up with AMV BBDO to form 'The Guinness Pub Choir' , made up of 30 publicans and bar staff. The choir, which stars in this year's Guinness Christmas advert, will perform a special rendition of Elvis Presley's "Always on my Mind". The track will also be available to stream on Spotify.
A digital activation will feature in train stations across the UK to help drive footfall into local pubs which are feeling the pinch following the government's latest Plan B announcement.