Stefan Kobald started as a sommelier at Pollen Street Social in 2014, being promoted to head sommelier at Social Wine and Tapas just six months later and more recently, The Biltmore. Returned to Pollen Street as Head Sommelier, he speaks to Douglas Blyde about his love for aged Austrian wines, cravings for Krug and fanaticism for film.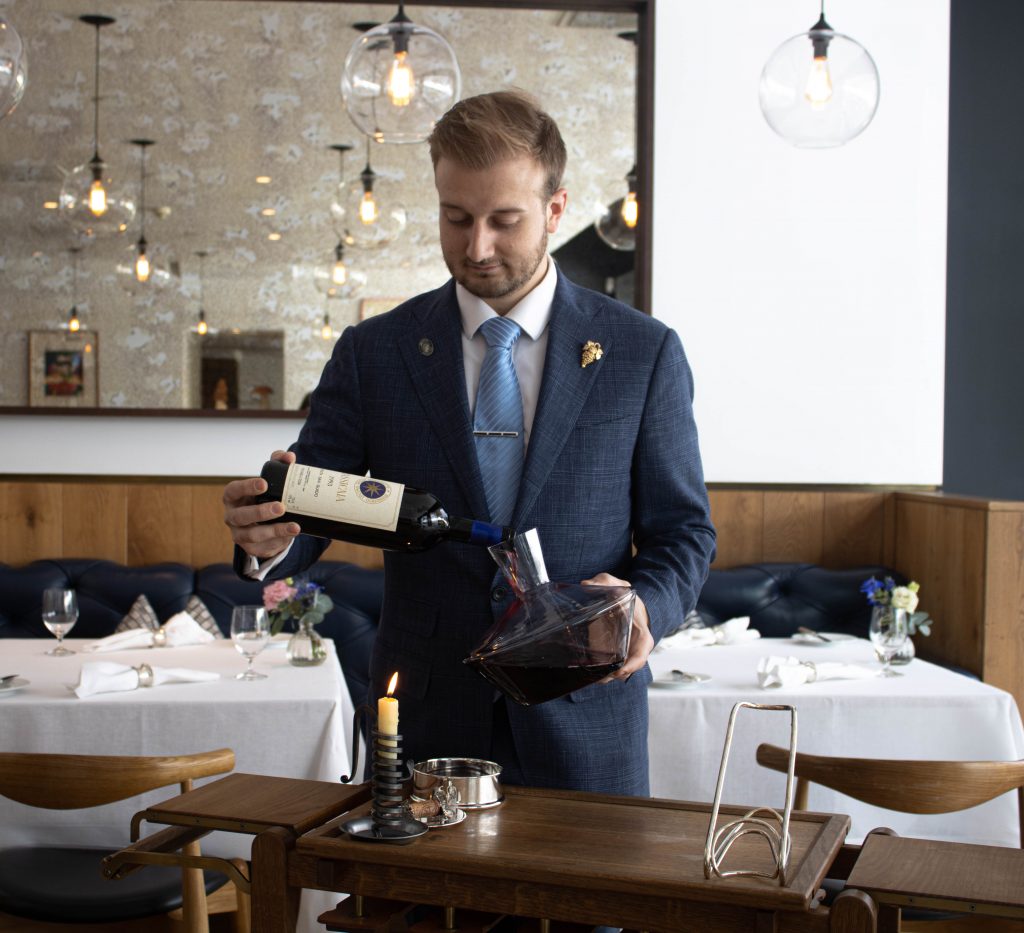 How did you come to join Pollen Street Social? 
When I arrived in London eight years ago, I was meant to work at Maze, but unfortunately – or fortunately – the job was no longer available. That's when I met Laure Patry, Executive Head Sommelier at the Social Company, who employed me at Pollen Street Social two days later. I have since moved through the Social Company, returning to Pollen Street as head sommelier.
What was the first wine to move you? 
I was blown away by Château Latour 1944.
Describe your wine list? 
Strong in the Rhône, Burgundy and Bordeaux, including 1945 d'Yquem and 1928 Haut-Brion, with a mix of different regions and varieties from all around the world,
Why do you list so many Austrians? 
While I may come from South Africa, my parents are from Austria which holds so much value in its delicious wines. I was lucky to find older vintages of some of the greatest producers, and love to showcase how well they develop with age when I feel a lot of the wines are drunk too young.
What is it like working with head chef, Dale Bainbridge? 
My only gripe with Dale is that he keeps reminding me about my thinning hair! Otherwise, it's amazing to see such passion and drive, and he always leads by example.
What has been your favourite wine pairing at Pollen Street Social?
Orkney scallop, tomato, wasabi and yuzu ponzu dressing, with dill pickled apples, lemon and lime, finished with a scallop roe dashi ice with Vassaltis Vineyards' Assyrtiko from Santorini. The wine's freshness and slightly salty texture enhance the delicate flavours of the scallop.
What style of wine might dimmish the cooking? 
I think the food that chefs Jason Atherton and Dale plate definitely lean towards white wine in regards to the tasting menu, though I find the flavours are beautifully balanced and can hold up to heavier reds if that is the preference.
What drink do you crave after a long day? 
Boring, I know, but lots of water – or a glass of Krug if there is any around…
Tell us something surprising about yourself? 
Yes, I am a wine geek, but also a huge nerd when it comes to movies such as Lord of the Rings and Star Wars. I also play video games and have become a bit of a gym junky after the lockdowns.
What is the last book you read which made total sense? 
I would recommend the absolutely brilliant and helpful "Surrounded by Idiots: The Four Types of Human Behaviour and How to Effectively Communicate with Each in Business (and in Life)" by Thomas Erikson.
Who should prospective team members contact if they want to join the Pollen Street Social team, and what qualities do you look for in people?
Contact me, stefankobald@pollenstreetsocial.com if you have a willingness to learn and grow.