We're counting down female-run bars and restaurants in London that you simply can't afford to miss, from wine bars to bistros, to Michelin-starred outposts.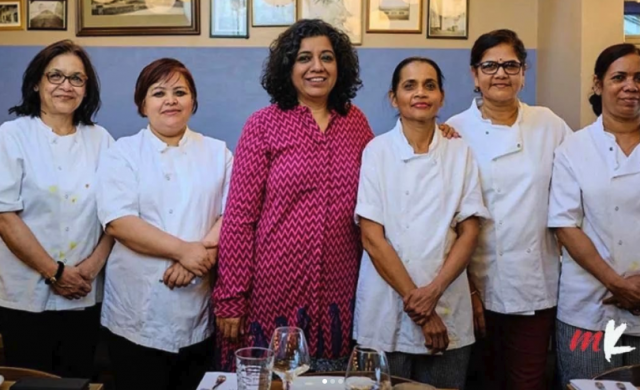 Whether you're after outrageously good cocktails, a laid back wine bar or food straight from the screen of Netflix's Chef's Table, you've come to the right place. Find our list below, in no particular order.
1. Naughty Piglets, Brixton/Herne Hill – Margaux Aubry
Co-founded by Margaux Aubry and Joe Sharratt in 2015, Naughty Piglets has quickly established itself as a must on the London dining scene. The restaurant places emphasis on small plates bursting with flavour, and favours low-intervention wines. This is perhaps influenced by restaurateur Margaux Aubry's time running natural wine bar Terroirs.
View this post on Instagram
2. Darjeeling Express, Covent Garden – Asma Khan
Asma Khan became the first chef from the United Kingdom to star in Netflix's wildly popular Chef's Table. Her restaurant, the family-owned Darjeeling Express, is now located in Covent Garden, having moved from its Soho outpost made famous by the Netflix series. Darjeeling Express has been delighting Londoners for some time, though, not least through its excellent supper clubs, which feature a seven-course menu taking in recipes found in Asma Khan's cookbook. The restaurant also allows customers to bring their own bottle, and even their own cake, at an extra fee.
View this post on Instagram
3. Doña, Stoke Newington – Thea Cumming & Lucia Massey
Thea Cumming & Lucia Massey are the duo behind such outposts Dangerous Don, London Mezcal Week, Cuppa Gumbo & Slap Ya Papa. Doña is described as a labour of love that places emphasis on high quality Mezcal and live music. Oh, and they serve tacos from 6pm-10pm every night.
View this post on Instagram
4. Peckham Cellars, Queen's Road, Peckham – Helen Hall
Co-founded by Helen Hall, who embarked on her career in hospitality after a return from travelling the globe, Peckham Cellars is a neighbourhood wine bar and shop with a selection of more than 150 carefully curated wines. The collection is updated regularly, and Peckham Cellars aims to select wines from smaller producers where possible, aiming to stock wines that are made with care and consideration for the environment. In 2021, Peckham Cellars was awarded a Bib Gourmand by the Michelin Guide.
View this post on Instagram
5. Spring, Somerset House – Skye Gyngell 
One of Britain's most celebrated and acclaimed chefs, Skye Gyngell, who originally hails from Australia, won a Michelin star for Petersham Nurseries, where she worked as head chef. Now, she heads up the mostly female team at the stunning Spring restaurant in Somerset House. In 2019, Spring became the first single-use plastic-free restaurant in London.
View this post on Instagram
This article was originally posted on thedrinksbusiness.com and has been reproduced with permission.