The head sommelier of Frog by Adam Handling, Covent Garden talks to Douglas Blyde about how she will take the innovative list, classified by concepts rather than countries, forward, the "challenge" of working with chef-owner, Adam Handling, and her classical ballet training…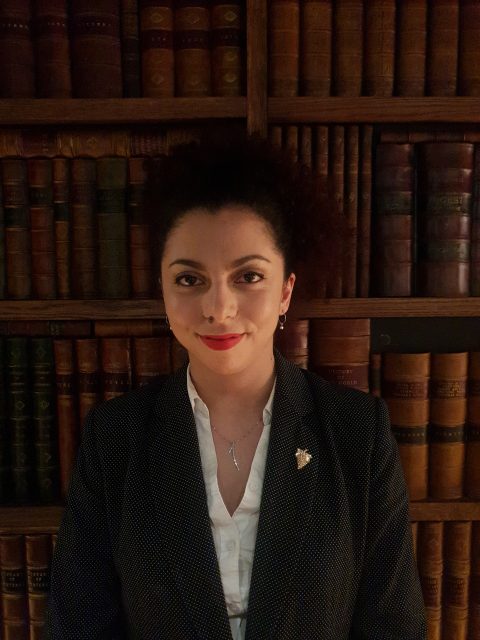 What is your vintage?
I was born in 1985 and the best memory of a wine that I've tried from that year is Château Haut-Brion.
What bottle sparked your love of wine? 
I fell in love with a beautiful Argentinian Cabernet Franc from Gualtallary – El Gran Enemigo 2010 from Alejandro Vigil and Adrianna Zapata. It blew me away with its expression of terroir, inspiring me to want to know more about the great winemaking expertise behind it.
Where did you work before The Frog?
I started my sommelier career at Gaucho, working closely with Phil Crozier whom I consider to be the greatest expert on Argentinian wines and also my mentor. I then worked at Gordon Ramsay's Union Street Café, deepening my knowledge of Italian beauties, before moving to D&D's German Gymnasium where I learnt as much as possible about German and Austrian wines. At Galvin La Chapelle, where I became assistant head sommelier, I had a big window onto outstanding French wines.
What keeps you at The Frog?
The opportunity to work with one of the best wine lists I have ever come across. Kelvin McCabe is the mind behind it, and I will always be grateful for the opportunity he gave me to embrace and develop it while experimenting with crazy flavour combinations with wine pairings. I am now finishing my Diploma WSET and look forward to new challenges!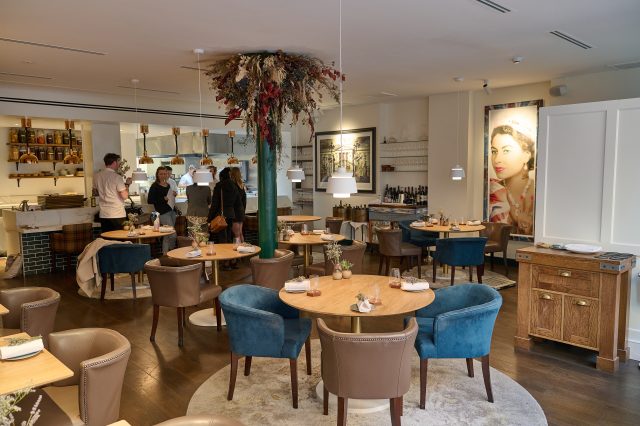 Describe the wine list?
It has personality, being divided by concepts rather than countries, showcasing a wide selection of styles and terroir expressions, while not forgetting sake which can match, beautifully, with Adam's cuisine. You can find classics in the "Quintessential" section and unusual varieties and areas of production in "Esoteric". To give an example, there is space to shine for Ochota Barrels and for Patrick Piuze, for Antinori and The Sadie Family. A brand new addition which I am super proud of is the great Samantha O'Keefe's barrel-fermented Sauvignon Blanc from Lismore which offers excellent value.
Where do you intend to take it?
I would like to keep adding innovative and environmentally-conscious wines to each section. Considering that wine pairings are very popular at Frog, there's always an opportunity to rotate wines.
What is your most seductive pour via Coravin? 
The rich, vibrant, precise Poggio al Tesoro "Dedicato a Walter", a single vineyard Cabernet Franc by Marilisa Allegrini. Oh, and Château d'Yquem 1990.
How many references are there in total? 
350.
What has been a standout wine pairing with a dish by Adam Handling? 
The mackerel, beetroot and curry dish which we pair with Château Simone Rosé 2020 from Palette, Provence. With red fruit aromas and subtle oaky notes, the complex, silky wine matches the freshness of the beetroot while successfully enhancing the rich mackerel.
What is Adam like to work with? 
He is inspired and inspiring. To work with him is a challenge, but one that motivates you to do bigger and better. His dream is my dream too
And what does he like to drink?
Burgundy, particularly Grand Cru Chassagne-Montrachet – as well as Champagne.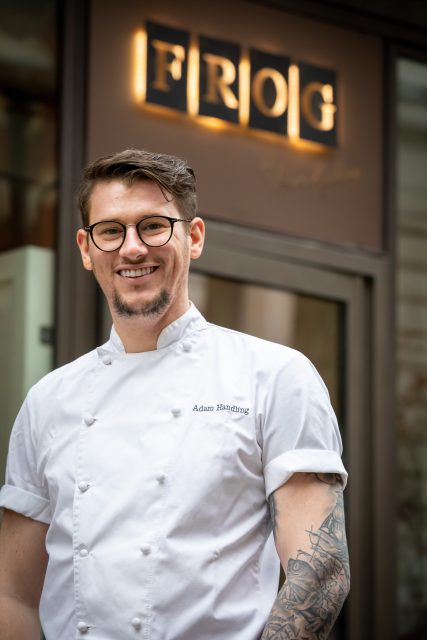 Which is the best table in the house?
For first time diners, the counter to watch the chefs wisely preparing every detail of each dish, while the round table in the middle makes guests feel they are surrounded by an orchestra playing the magic of service.
What music is played in the dining room? 
A mix of lounge and jazz ranging to chill and deep house.
How does the art-rich setting enhance the enjoyment of wine? 
The artwork in the dining room is from JJ Adams, chef Adam's favourite artist: pop, colourful and as captivating as the wine selection. When you drink a skin contact Australian Vermentino and the Queen with tattoos and piercing is winking at you, it makes you feel cool and relaxed.
Do you have input in The Loch & The Tyne's list?
Loch & Tyne is a beautiful gastropub in the romantic countryside of Old Windsor. The wine list has a major focus on English wines and you can find some of the gems listed at Frog over there too. I'm always happy to help Karolina and her team with pairing suggestions and tastings.
What is a misconception guests have of sommeliers? 
That we are intimidating, or unnecessary. With such a different wine list at The Frog that the first approach of the sommelier is to guide guests through the different styles and encourage them to try unusual varieties, niche wines and unexpected pairings.
What worries you about the world of restaurants presently?
Recruiting professionals is challenging. After Brexit and the pandemic, many professionals left the UK. I believe that training, educating and transferring our passion to new recruits is imperative.
What was the last moving film you saw? 
"The Hand of God" by Paolo Sorrentino.
How do you take your coffee?
An oat flat white in the morning then a ristretto after lunch.
What is your favourite cocktail? 
The martini twist served at our Eve Bar: "Found in the Kitchen".
Tell us something surprising about yourself? 
Before discovering my passion for wine, I used to dance, studying classical ballet for 15 years.
And finally, what do you look for when hiring new sommeliers?
I truly believe that a brilliant sommelier should be curious, ambitious and open-minded.
Frog by Adam Handling – 34-35 Southampton Street, London, WC2E 7HG; 020 7199 8370; enquiries@adamhandling.co.uk; frogbyadamhandling.com