Three rising stars of the hospitality world were rewarded this week at the Chaine des Rotisseurs GB Young Professional Awards at the new Harrods Social by Jason Atherton.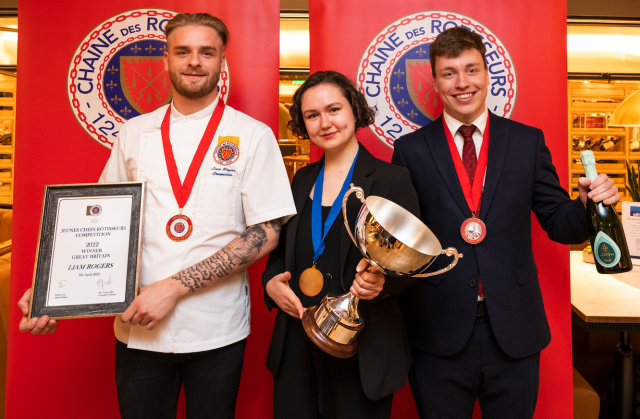 The winners were an inspirational set of 'Young Professionals' with interesting stories to tell, such as Young Chef of the Year Liam Rogers, aged 25, who got to the Grand Finals of Master Chef: The Professionals – despite being the youngest chef in the competition.
Another winner in the competition by the Chaine des Rotisseurs, Freddie Johnson, also 25, from The Fat Duck, described himself as a failed chef and failed academic – until he discovered wine.
And finally, 22 year old Magdalena Babik, who was the winner of the Gerard Basset Trophy for the best performance in the tasting and food and wine pairing sections, came to London three years ago from her native Poland to study, and to support herself worked part-time in a Fullers pub. Her passion for wine grew so much that she chucked in university, and landed a job at Le Manoir a year ago, where she has risen to be one of the senior sommeliers.
Read one for the details in full on the event and the winners for 2022.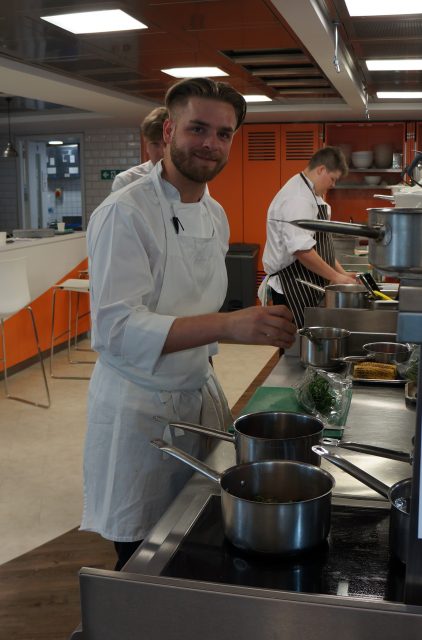 Liam Rogers, 25, of Gleneagles in Scotland – and a former MasterChef: The Professionals finalist – was crowned Young Chef of the Year, and goes forward to compete in the World Championships in Mexico at the beginning of October.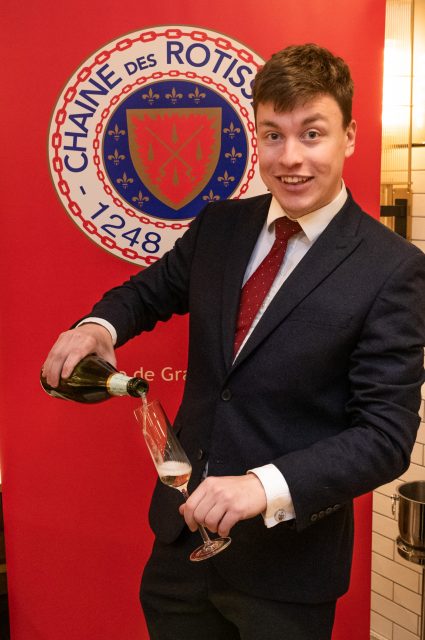 In the sommelier contest, Frederick Johnson, also 25, from the Fat Duck, Bray won the coveted Young Sommelier of the Year title. He will represent Great Britain against the rest of the world this September in Wiesbaden, Germany.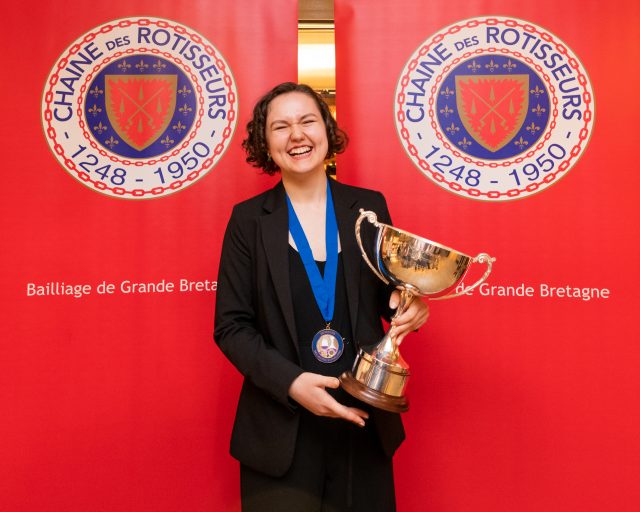 The best palate in the competition – Polish Magdalena Babik, 22, and currently at Le Manoir aux Quat'Saisons – was awarded the Gerard Basset Trophy in honour of the much-missed sommelier and educator.
Both Freddie and Magdalena were competing in their first-ever competitions.
"It just goes to show what superb young talent we have in the industry now, and we are proud to be nurturing these embryonic and promising careers," said Phillip Evins, Bailli Délégué for the Chaîne des Rôtisseurs GB.
He added, "The Chaine congratulates these worthy winners, and wishes them every success in the future; we will certainly see more of them, I am sure."
Young Sommelier of the Year, Freddie Johnson from Fulham was thrilled to win. "I am delighted – and quite surprised as this was then first competition I have ever entered," he said, adding, "I'm now studying for the MS qualification, so this gives me wonderful experience."
He beat off stiff competition in the exacting theory and practical somms final, held at the Double Tree Hilton, Kensington recently, where Magdalena Babik from Le Manoir came second and Ryan Duffy of Andrew Fairlie at Gleneagles took Highly Commended.
Freddie joked that he is a failed chef, and a failed academic – until he discovered wine. "Nothing really grabbed me at school, but I did have a passion for food and wine," he said.
So he went to Tante Marie in Woking, graduated and joined the brigade at Trinity in Clapham. But he never forgot a short course on wine given by John Downes MW. "It really appealed", he recalled. "I like accruing information – I suppose I am a bit of a nerd."
Not sure that cooking was for him, he joined fledgling Vagabond Wines, and realised he wanted to take wine seriously. Plumpton College and a degree in wine and business studies followed, and then Phil Howard snapped him up for his Church Road restaurant. Lockdown meant there was little time to spend on the floor, so instead young and ambitious Freddie took over the wine list – growing it to 120 listings – and as the only sommelier, developed staff training.
"However, after a year, I knew I needed more experience, and to learn from the best," he said. So Freddie went to The Fat Duck, where he is now one of eight in the somms team, working with sommeliers from all over Europe. "It's quite a steep learning curve, but I am proud of what I have achieved already. It has certainly stood me in good stead today; I suppose you could call me a rough diamond, now being polished!'"
Another first timer, Magdalena Babik, also came into wine through a circuitous route. She was awarded the special Gerard Basset Trophy for the best score in the blind tasting and food & wine matching sections. At the age of 19, Magdalena came to University in London from Poland, and to fund her studies worked part-time in one of Fullers' pubs. From there she worked her way up to the impressive Parcel Yard venue at Kings Cross station.
"I learned so much so quickly – and really loved it. It was then that I decided to ditch my studies and become a sommelier'," she said. With WSET qualifications under her belt, she landed a job at Le Manoir outside Oxford, and almost a year later is one of the senior sommeliers, specialising in wine pairings. "Wine has always been my hobby and passion – and now I get to work with it every day," she commented.
Meanwhile, Warrington-born Liam beat two young chefs from Grantley Hall in North Yorkshire – runner up Daniel Parker and highly commended Thomas Wyper. Cooking in the Knorr kitchens in Leatherhead, all the chef finalists were asked to create and execute a three-course meal for four in 3 hours, from a 'surprise' box of ingredients. Liam's winning menu was centred around lemon sole with brown shrimp butter; poached ballottine of chicken with chorizo and a rhubarb dessert with crème fraiche, tarragon and a sable biscuit.
"A mystery box is always tough, but I think my experience on Master Chef certainly taught me to hold my nerve and keep cool under pressure," he commented. "I was definitely focussed," he added.
"I've always wanted to be a chef, right from an early age; there was no doubt about it," he recalled. Liam's father owned a restaurant in Warrington, and young Liam helped out in the kitchens from the age of 12.
"It was the only way I got to see my Dad, apart from Sundays," he joked, "But that got me hooked."
After catering college, Liam spent some time at Restaurant Andrew Fairlie at Gleneagles, and then moved to Sat Baines in Nottingham. It was there that he was encouraged to enter Master Chef. "I got to the last three in the Finals – it was amazing. I was only 24, and the youngest chef in the competition from the quarter finals onwards," he said.
Late last year, Liam returned to Gleneagles, this time as sous chef in the Strathearn restaurant. When he heard about the Chaine's competition and the chance to go to Mexico, he signed up immediately.
"I am so excited. It's a place I have always wanted to visit, Now, after three competitions, I have finally come back with a W for Win! My Dad was the first person I texted with the news," he said.
Now the Young Chef and the Young Sommelier of the Year start their preparations for the Chaine's International Finals in the autumn, ably coached by their mentors and judges.
Philip Evins rounded off the proceedings at Harrods by thanking all the sponsors of the Young Professional Awards.
"We are extremely grateful to Bidfoods for the comprehensive mystery boxes, Wright Bros for the seafood, Bragard for the embroidered chefs' jackets, Zweisel glass, Nyetimber, Knorr and Mosimanns for all their help with the competitions, and of course Harrods and the Social brigade for the excellent lunch. Ben Purton, Operations Manager for Harrods Restaurants – and our Head Judge for the Chefs – made it all possible."
Over 60 guests joined the three chef and three sommelier finalists for a lunch to celebrate their achievements.
Liam Rogers' winning menu is below:
Starter: Lemon sole with parsley emulsion, poached artichoke and brown butter with shrimps.
Main: Poached ballotine of chicken with chicken mousse, chorizo and sweetcorn fricassee, chorizo jam,, wilted spinach and crispy chicken skin;
Dessert: Poached rhubarb, rhubarb puree, whipped crème fraiche with tarragon and a sable biscuit.