Billed by the newly formed PR agency, 'Hot Sauce Presents' as 'the sexiest voice in wine', Hannah Crosbie (instagram.com/hannahcrosb) is the founder of Dalston Wine Club, and is currently assuming a residency selling wines at East London's 'Lady Garden'…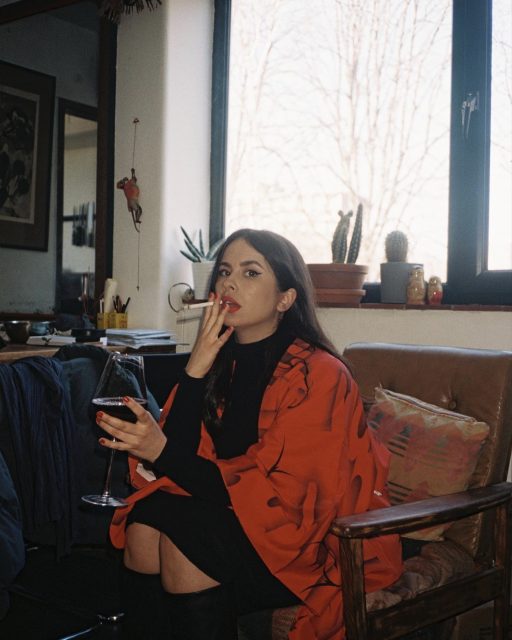 What is your vintage?
I'm Scottish. My mum is from St. Andrews and my dad is from a small ex-mining village called Sanquhar. Unsurprisingly, I didn't grow up with much wine around the house. I was born in 1997. The best thing I've drunk from that vintage was a Barolo somewhere on Savile Row. I can't remember where exactly – which can only mean I had an excellent time.
What wine would you reach for if the nuclear button was pressed?
Whichever is nearest. We're all about to die; there's no time to be fussy.
What is your motto?
"Everything in moderation, including moderation."
What did you do before working in wine?
I worked professionally as a copywriter for many years, mostly in the fashion industry. However, after I realised I had absolutely nothing in common with the Devil Wears Prada types and more with my friends in hospitality, I decided to make the switch.
What got you into wine?
The same way most people do, by serving rudimentary pairings in fine dining restaurants. I found my path after attending a few tastings and being shocked at how few young people and POC (people of colour) were in attendance. I knew whatever I ended up doing, it had to be laser-focused on championing diversity in wine. And so, Dalston Wine Club was born.
What makes your approach to presenting wine different?
Everything. I feel that to bring young people into wine in a truly approachable, unpretentious way, you have to deconstruct everything: the language, the wines, the setting, even what you're wearing as a host. It's fascinating how many people tell me that they feel more comfortable asking a girl in a black tracksuit about wine than a man in red trousers.
How do you make money from wine?
My 9-5, mostly, as most of the money I make from my wine clubs is reinvested.
What grape or style of wine don't you have a good relationship with?
I try so, so hard to love Provence rosé, but there's something about it that never sits right with me. Am I missing out?
Do you prefer classed Bordeaux or low sulphur Beaujolais?
There are designated places in my heart for both camps, but the recent stint of good weather is really calling for some chilled Bojo.
Do you think sex sells when it comes to wine?
While I don't think sex should necessarily be a selling point, I do have a strong opinion that women in should feel comfortable presenting themselves however they want, whether it's one extreme or the other. You shouldn't feel as though you have to dress up to be taken seriously, but you also shouldn't feel the need to desexualise yourself. As ever, it's very much a double-edged sword for women. That being said, I think I'd be lying if I said I wasn't in wine because it's an incredibly sexy job to have.
What sort of wine professional would you say stands in your way?
Anyone who truly doesn't think I belong here. Thankfully, there are few. But I know they exist.
Could you tell us something about the podcasts you appear on?
I currently write, produce and host Berry Bros. & Rudd's first-ever podcast, "Drinking Well". I've also got a podcast of my own called "Acquired Tastes" where I interview young talent in food and drink. You can also catch me annoying various members of the "Mob Kitchen" staff on their podcasts at various points…
Tell us something surprising about yourself?
I can't fucking stand gin.
What do you do on your days off?
I rarely have a full day off. But when I do, I either catch up on sleep or drink Champagne while watching the latest Netflix car crash.
If you could have a superpower, what would it be?
The power of infinite money.
Have you a female idol in wine?
I'm lucky to be part of a super-group of young women in wine and hospitality. Against the odds, they continue to innovate, surprise and push the industry forward. They are all my idols. They know who they are.
How do you cure hangovers?
I'm yet to find a hangover cure that works for me. If anyone finds the silver bullet, please slide it into the DMs.
What is your favourite style of English wine?
I go a little bit weak at the knees for a Blancs de Noirs.