After an image of the menu at Strangers' bar in the Houses of Parliament went viral online, people have been left amazed at the prices MPs pay for a pint.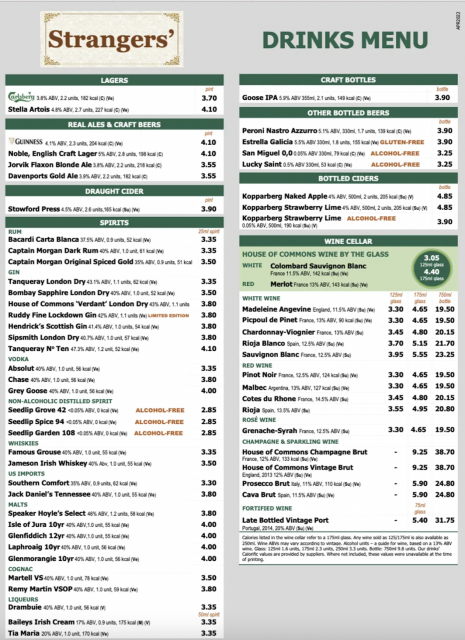 While the price of a pint is anticipated to significantly increase in the United Kingdom, Members of Parliament, officials and guests can enjoy some extremely reasonable prices for drinks inside the Strangers' bar in Parliament.
With the cheapest pint, Davenports Gold Ale, costing just £3.55 and a Guinness setting patrons back £4.10, it's fair to say that this is one watering hole that won't break the bank.
Other eye-catching prices include £4.00 for a shot of Grey Goose vodka and £3.80 per measure of Sipsmith's London Dry gin.
Prices for red and white wine start at £19.50 for a bottle, with guests able to enjoy a Picpoul de Pinet or Madeleine Angevine, or Pinot Noir or Malbec for that price.
The House of Commons Champagne Brut is available at £9.25 per glass, or £38.70 per bottle. A House of Commons Vintage Brut 2013 English Sparkling Wine clocks in at the same price.
A spokesperson for the House of Commons said of the prices:
"Catering services, including the sale of beverages, at Parliament are not subsidised.
"Our food and drink prices are regularly benchmarked with venues outside Parliament, and the catering service continuously seeks to reduce costs.
"House of Commons bars do not normally run at a loss.
"The contribution in overall profit from the bars helps reduce the cost of catering services."
Earlier this year, we reported the news that the Strangers' bar would remain open despite MPs admitting it had a "bad reputation".
In light of recent allegations made against MPs, some have again called for the venue to be closed, but Secretary of State for Business, Energy and Industrial Strategy Kwasi Kwarteng disagreed, telling Sky News:
"No, they shouldn't all be shut, I don't think we should have an excessively puritanical, severe regime in that regard."