Masterchef: The Professionals 2020 champion Alex Webb has taken up a three month residency at Number One Park Lane.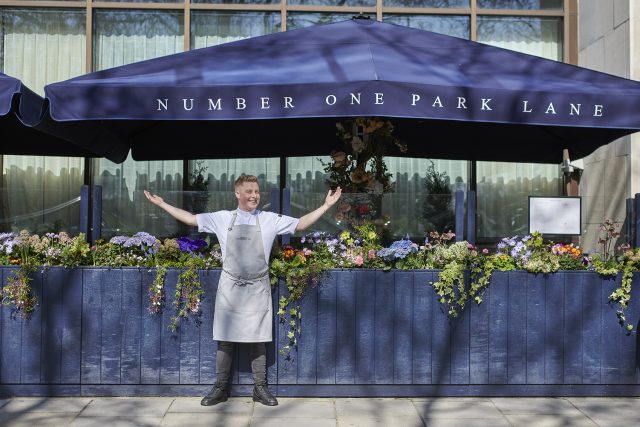 When Webb won the programme, Monica Galetti described his food as having "a cheeky sense of humour in it", which is evident in the whimsical nature of much of his new menu. Dishes featured include confit cod fingers, charred English asparagus with girolles and candy floss with either raspberry or strawberry powder as a nod to a childhood favourite. British ingredients are at the forefront, including the caviar, which is sourced from Exmoor.
The sharing plates have been developed to pair with English drinks too. InterContinental Park Lane has a standing relationship with Hampshire sparkling wine producers Hattingley Valley, and so the Classic Reserve NV (53% Chardonnay, 31% Pinot Noir and 16% Pinot Meunier) is available. It is also an ingredient in the Parfait Spritz cocktail Webb developed.
However, for those opting for a more traditional English drink, Webb has collaborated with Devon-based Sandford Orchards. Founded in 2002, the company began with owner Barny Butterfield making cider in his shed.
Webb, who comes from Essex and was previously head chef at Square 1, told db that he was drawn to Sandford after trying the cider on a trip to Devon. "But also," he continues, "…Barny is so enthusiastic about it, you just want to keep listening and drinking!"
Though cider may not seem the most obvious pairing, for Webb "it's a perfect match". He describes his menu as "light and fresh, like the cider, and along the way it is made with love and care."
Indeed, Sandford prides itself on low impact cider making, using bittersweet apples from its orchards. One cider on the drinks list, The General, is named after the large oak vat where the 8.4% ABV drink is aged before bottling. It is made from Yarlington Mill, Dabinett and Tremlett's Bitter apple varieties.
The pop-up, which opened on 3 May, closes on 28 July.