Italian sparkling drinks brand Sanpellegrino has partnered with Eataly to celebrate the launch of its new premium mixers range.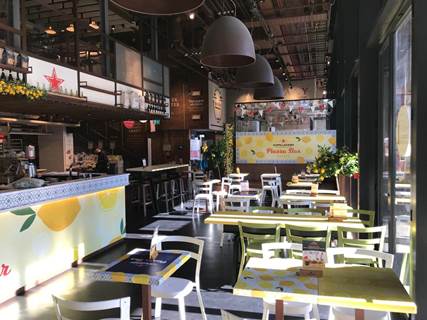 As part of the tie-up, Sanpellegrino will also launch a new Piazza Bar at the heart of the Eataly London venue for guests to enjoy traditional Italian aperitifs throughout the day for two months while the launch takes place.
According to the company, the six premium sparkling mixer drinks have been created for "shared drinking occasions, whether mixing into a cocktail, elevating a mocktail or serving over ice with a slice".
Supporting the launch and located on the ground floor of Eataly, the new bar will be adorned with fresh Mediterranean inspired touches and will showcase a menu of four bespoke Sanpellegrino serves: including a Milano Ginger Beer, gin-based Wood Collins, the Sanpellegrino Garibaldi and Amalfi Citrus Fizz.
The brand-owner will also be hosting dedicated aperitivo evenings, between 5-8pm in an effort to bring Italian culture to life and give guests the chance to learn to mix drinks alongside mixologists, shaking up bespoke Sanpellegrino serves, whilst enjoying a live DJ set and tasting traditional Italian nibbles, curated by Eataly.
The new mixers will be presented in glass bottles and includes Tonica Citrus, Tonica Oakwood, Limonata, Aranciata, and brand-new Ginger Beer and Tastefully Light Tonic.
Michela Tasso, Sanpellegrino UK brand manager said: "At Sanpellegrino, we know that Italian mixology leads the way when it comes to enjoying drinking occasions, such as the traditional aperitivo hour. Both Sanpellegrino and Eataly share values of Italian culture and we aim to bring this to UK consumers by creating premium drinking and dining experiences, whilst teaching guests to mix like an Italian with high-quality products. Italian to our core, this 'aperitivo hour' is something we have always embraced at Sanpellegrino and we look forward to bringing the drinking occasion to life in London. Indeed, for moments to savour, mix like an Italian."
Matteo Ferrio, store manager at Eataly, added: "In Italy, aperitivo time is a chance to relax, forget about the day and catch-up with friends and family. By collaborating with Sanpellegrino, one of the most iconic mixers on the market, we hope to bring a slice of Italy to the heart of busy London. In La Terraza, find brilliant new cocktails as well as a bright, fun lemon space that you can relax in. Cin cin to that."