Fish and chips is a quintessentially British, usually affordable example of beauty in simplicity. However, one chippy has turned traditional notions upside down with its altogether more decadent take on the classic.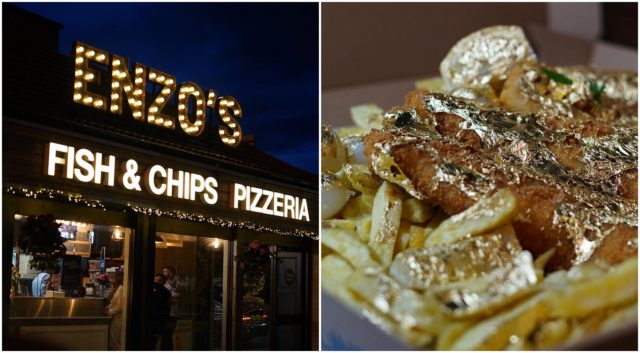 Though it might be hard to believe living in the nation's capital, where London weighting is necessary purely to afford the scandalously high prices, the filling supper is typically kind to one's wallet.
However, one chippy in Glasgow, Enzo's, is staking its claim to serving the UK's most expensive fish and chips. Perhaps taking a leaf out of social media sensation Salt Bae's book, Enzo's serves many items on its menu adorned with 24 karat edible gold.
Taking to Instagram to proudly make its case for the UK's most expensive fish and chips, which by the way will set you back £79.99, Enzo's wrote:
"UK's Most Expensive Golden Fish & Chips Supper covered with 24K Edible Gold.
Love Exotic Food? You've to try this!"
View this post on Instagram
According to the post, those who want to adorn their own Insta feeds with appetising images of gold-flecked battered fish, the dishes are available for preorder and include:
– 2 Golden Jumbo Fish
– 1 Golden Sausage
– Golden Chips
– Golden Pickled Onions
– Golden Lemons
If the idea of eating 24 karat gold sounds enticing to you, it might be worth pointing out that edible gold used in food service is flavourless.
Enzo's is clearly banking on people spending £80 to get that perfect chippy Instagram post.
If you're interested in doing it for the 'gram, you might be pleased to learn that a London restaurant has been named as the most Instagrammable in the word.
This article was originally published by the drinks business and has been shared with permission.