The head sommelier of Amethyst, Mayfair, is a master of pairing wine with the globally influenced, masterpiece dishes of head chef, Carlo Scotto, as Douglas Blyde finds out…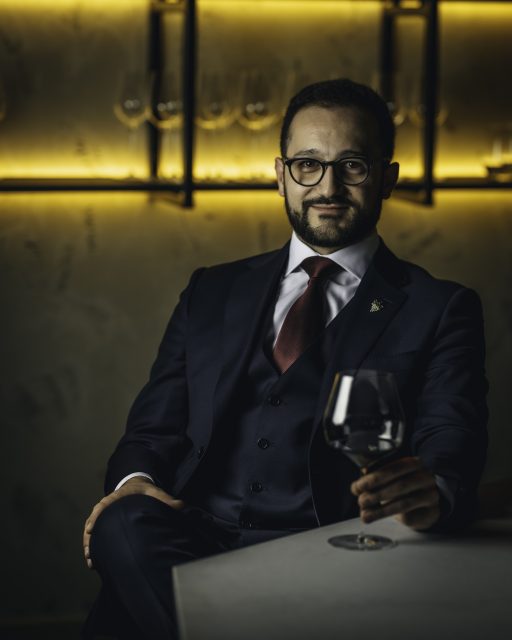 How did you come to wine?
I wanted to become a bartender since I was 12, and later became obsessed with flair, which I can still perform! When I started to drink wine, I found it fascinating that two glasses could taste so diverse according to the landscape and winemaker behind them, so I started a course with the Italian Sommelier Association (AIS). However, although I love Italy and Italian wines, the course proved too Italy-focused when I wanted to discover the world beyond Tuscany and Piedmont. So, at the age of 18, I came to London to explore further, becoming a member of 67 Pall Mall, before starting my diploma. At some point, I also studied psychology…
What is your vintage and terroir?
I was born in 1993 in Sicily, hence my fondness for the unique wines of Etna. Everyone loves to try a wine from their vintage, though unfortunately for me, 1993 was a fairly miserable year for wine – though slightly better than 1991 and 1992. While it didn't quite give me goosebumps, the bottle of Cos d'Estournel which I tried at Buddha Bar in 2015 was fully expressive with some freshness still – and unlike its peers, didn't feel diluted.
What was it like working at the Buddha bar?
Iconic, beautiful and really busy, with a massively long cocktail bar. On Fridays and Saturdays a DJ played to 400 guests. There could be a dozen events running at any one time. It wasn't as high-level as The Ritz, where I later worked, though I was keen to add a big volume business to my CV. Being a young bartender back then, I was amazed by the spirits selection, particularly Japanese whisky. And they had sake – leading me to run a sake masterclass every Saturday morning with the sushi chef. 12 guests would taste four sakes with me before learning to make sushi.
What bottle would you reach for if the nuclear button was pressed?
If I had to die in a bunker, it would be Massetto. I tried the 2005 with chef-patron, Carlo Scotto when we were at the start of the Xier project in Marylebone, and we were both blown away by its concentration, silky texture, flavour profile and length.
Why the name Amethyst?
It is the birthstone of both chef Carlo and me.
Noting both you and the chef-patron of are both Italian, why doesn't your list scream 'typical Italian restaurant'?
Because Amethyst is a rollercoaster of different cuisines – like driving from one side of the world to another. The wine list, which extends to 20 different countries, reflects that, with lots more to be added. A work in progress.
What style of wine don't you get along with?
I can't stand the big bubbles and sugar of Prosecco.
What is an interesting wine and food match with Carlo's cuisine?
Our scallop tartare in leche de tigre with matsutake mushrooms and interesting tropical components such as pineapple and galangal, finished with Chinese caviar, harmonises with off-dry Alsatian Pinot Gris from Kessler (Domaines Schlumberger). At once very textural, there is no better match.
What wine style would you like to see more of in Mayfair?
Having fallen in love with Georgia, I am obsessed with often misunderstood orange wines, particularly those by Josko Gravner on the Slovenian border.
Noting all guests sit at the same amethyst and quartz table on the principal floor of Amethyst, what is your favourite place to sit?
Position nine on the left hand side of the pass from which you can see the whole kitchen, although all seats have a good view of the pass.
Tell us something surprising about yourself?
I've always been obsessed with numbers. I realise a lot of sommeliers get bored fast when dealing with the back office stuff, including countless pages of spreadsheets and formulas, but my brain has always perceived figures in a cool way.
What do you do on your days off?
Chess helps me relax and I belong to a chess club. I also spend a lot of time going eating and drinking out with my partner, Ludvina Hatert, who is the head chef of Amethyst. It seems most of our money goes into fancy restaurants and we've now eaten at 90% of Michelin-starred restaurants in London. I also organise sommelier nights out at places which don't charge corkage on a Monday, trying things blind.
If you could have a superpower, what would it be?
Teleportation would allow me to spend more time doing whatever I wanted and to move freely.
Would you prefer to share a bottle with Silvio Berlusconi, Liam Gallagher or Hillary Clinton?
Although his music is not for me, I have huge respect for Gallagher, but having grown up on an island which strives to be anti-mafia, I have huge problems with Berlusconi. And Clinton is not my type of politician. If I can add someone whom I'd actually want to share a bottle with then, it'd be, in my opinion, the modern-day equivalent of Leonardo da Vinci and Copernicus – Elon Musk. The guy is a genius. I've followed him since I was a teenager, telling my father, 'come on, let's get some investment in Tesla – this guy sees the future.' I admire him for having done business with NASA, too, and creating payment systems which are not connected with money.
What is your motto?
'You only live once – life is too short to drink shit wine.' Rather than putting valueless poison into your bloodstream, drink wine which has history, and shows the work of the families working behind it.
Amethyst – 6 Sackville St, London, W1S 3DD; 020 3034 3464; reservations@amethystdining.com; amethystdining.com