Greene King is launching lunchtime training sessions in its London-based Zone 1 pubs, to give people the chance to expense their lunch hour.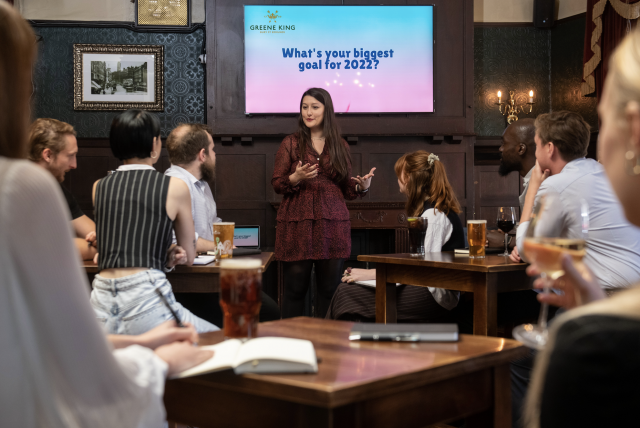 The initiative, named 'Expensable Lunches' is set to provide city workers with the ultimate pub lunch break and sees the pub chain partner with small business support platform Enterprise Nation to offer a variety of training modules during weekday lunch hour times.
The 'Expensable Lunches' training sessions will launch on 6 July and will run every Wednesday for five weeks at select central London locations, from Liverpool Street to Victoria, Fitzrovia to Mayfair. 
At £25 each, tickets include entry to the 45-minute training modules – hosted by an accredited trainer – along with a main course and drink of choice. The menu on offer includes a range of options from fish and chips to vegan burgers along with either a lunchtime pint of beer or a soft drink. 
The sessions are set to cover five key topics – creating a social media plan, building your personal brand, mastering the art of public speaking, becoming a better leader, and building a growth mindset. Upon completion of the module and after enjoying a pub lunch, attendees will be given a formal certificate, as well as a VAT receipt, allowing them to expense lunch back to their employers.
Alex Dawson, business unit director at Greene King Urban Pubs said: "It goes without saying that the working week is looking a little different these days. With people spending fewer days in the office, lunch times are often rushed with many central London workers opting to eat al desko. We feel it's important people take a proper lunch break and we're excited to be offering these meaningful lunchtime workshops in partnership with Enterprise Nation to encourage people to take a break from the workplace. Our Expensable Lunches allow people to learn new skills over a delicious pub lunch, to help them refresh and refuel for an afternoon in the office."
Emma Jones CBE, founder of Enterprise Nation added: "We're delighted to be working with Greene King pubs to give Londoners a reason to step away from their desks and take a break from the daily grind. Bringing productive lunch sessions to local pubs in Central London will give city workers and small business owners an opportunity to learn something new that may help their own personal development. In this new post-pandemic world, self-development and training has become more important than ever, and we are thrilled to be able to offer these bite-sized training sessions for anyone looking to spice up their working day."
Those looking for a guilt-free lunchtime getaway can snap up tickets for the 'Expensable Lunches' sessions via Eventbrite.