Plant-based foods and vegan alternatives have become so popular that even fast food chains and global conglomerates are tapping into the trend, from the McDonald's McPlant Burger to Hellman's vegan mayonnaise and Ben and Jerry's dairy-free ice cream, big brands are taking a piece of the vegan pie.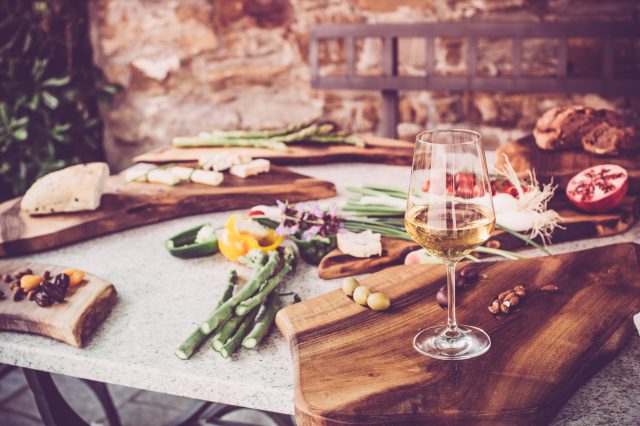 Outside of fast food chains and shelf condiments, plant-based dishes are also making their way into high-end restaurants and onto Michelin starred menus.
The challenge, then, comes down to wine pairings. For restaurant chefs and home cooks alike, vegan food and wine pairings are a brave new world. What white pairs best with tofu? What red with a Beyond Meat burger? db has you covered, with tips from some top Sommeliers on what wine goes with vegan food.
Step 1: what are you looking for?
London restaurant Pied à Terre, owned and run by David Moore, offers a ten course vegan tasting menu, created by executive chef Asimakis Chaniotis.
Essex born Chanel Owen is head sommelier at The Fitzrovia restaurant, which has maintained its Michelin star since 1993. Owen has the job of pairing wines with the vegan tasting menu; a task which has its own set of challenges.
"A general rule that I use – and it's not bulletproof – but if you're tasting food, or you're putting a dish together, you essentially build up layers, and you can add an extra layer with the wine." Essentially, Owen says, you have to ask yourself the question: what is missing from a dish?
"What do I need to add in terms of a flavour? Is it a bit of citrus, or is it a bit of fruitiness or softness? Do I want a bit of a crispness? Do I need to refresh this a bit," she says. "You need the yin and the yang on the plate, and you can add that extra element in the glass."
For David Havlik, head Sommelier at modern French restaurant Gauthier Soho, it's all about shaping wine pairings around the food. Run by French chef Alexis Gauthier, the restaurant removed all animal products from its menus in 2021.
The Czech-born sommelier says: "The food is the main driving force. Wine comes after food, complimenting it, rather than the food being created around the wine."
As a top tip then: decide what you're eating first. "That makes it a little bit easier, because there's something to stand on."
"The process is always the same," he continues. "It's always about assessing the dish, deconstructing it into individual parts, and thinking about intensity of flavour, dominant flavours, then deciding whether to embrace what's already on the plate and just enhance it, or contrast it with a bit of balance."
Flavours and styles:
"Vegan food tends to either be spiced or well seasoned," says Owen. "If you're going with something spicy, you want to counteract it with a bit more texture on the palate, so a fuller bodied wine. If you're going with a red you don't want to have tannin, because the tannin is going to be inflamed, so it will grip more on your palate."
A silkier red, or something with a bit of oak, will help to soften out those edges. "That's always a good rule," she says.
Cutting out harsh tannins can be key to pairing with vegan dishes. For Havlik, however, this means avoiding full bodied reds altogether.
"Plant-based dishes in general usually work with lighter wines, so very rarely I would find a place in the pairing for a full-bodied red wine, especially something heavily oaked."
His logic? Full-bodied reds can disrupt the structure of a dish much more than with meat dishes, where the animal fat can take on a lot more weight than plant-based alternatives.
When it comes to whites, Owen suggests something with a bit more residual sugar: "An off dry wine with spiced food works exceptionally well."
Vegan dishes also tend to offer up stronger umami flavours, which can pair with orange and natural wines.
"It's not just about flavours; it's also about textures and mouth feel, so skin contact brings a new dimension that allows for a pairing not just based on flavours but also on textures," Havlik adds.
In terms of flavour profiles, herbaceousness can be challenging.
First things first, pick your approach. "Do you counteract it? Do you match it with more herby, woody notes? Do you double down on that? How in balance is the dish with the wine?" says the Pied à Terre somm.
Either go with a wine which doubles down on the green, earthy, crisp tones, or choose to soften those flavours out a bit, bringing the pairing more balance.
"I tend to go with a softer approach, because I think that's where you get a bit more of an equilibrium," Owen advises.
Currently on the menu at Pied à Terre is a dolma dish coated with "iron rich" collard greens, which Owen chooses to pair with a Cretan wine, Dafni Psarades 2020, produced by the Lyrarakis Family.
"It's very floral. So it's picking up more of the aromatics that are in the basmati rice, rather than that greenness. Because I think if I went with something super grassy in terms of flavour profile, it would be too much."
Taking on the challenge
Vegan food and plant-based alternatives pose a new obstacle to chefs and home cooks alike, and there are no hard or fast rules to follow. For Havlik, pairing plant-based dishes at Gauthier Soho is like starting with a "blank page" – "you can bring out some very interesting combinations that in traditional pairings would not be possible".
Owen agrees. She says: "It's challenging, but the excitement comes from it being challenging. It's like being introduced to a new cuisine."
This article was originally published by the drinks business and has been shared with permission.