Unprecedented and detailed new research published today offers insight for potential investors into exactly where to buy vineyards and why, with temperatures and harvest conditions forecast up until 2040.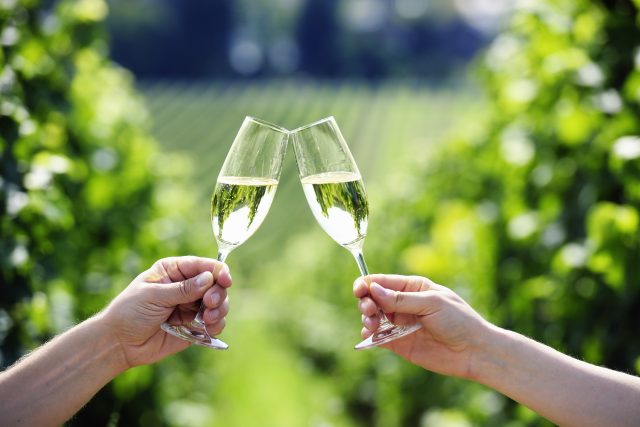 A study published today in the journal OENO One, will have would-be investors in English wine rubbing their hands together and no doubt reaching for their wallet, as its findings show that rising temperatures are providing increasing insurance against disappointing vintages.
Researchers from the University of East Anglia (UEA), the London School of Economics, Vinescapes Ltd and Weatherquest Ltd found that since the 1980's, temperatures in England have increased by 1°C during the grape growing season in much of south-east and eastern England.
By 2040, temperatures are predicted to climb by a further 1.4°C, which the researchers say is good news for diversifying English wine.
"It expands the area of suitability for Pinot Noir for sparkling wine production, but also new areas will open up within the 'growing season temperature suitability range' for still Pinot Noir production and for varieties such as Sauvignon Blanc, Riesling and Semillon, which are hardly grown in the UK at present," said Dr Alistair Nesbitt, the study's lead author.
Nesbitt added: "Anyone thinking of investing in a vineyard in the UK can now benefit from this knowledge through advice on the best locations, both now and under future climate change conditions."
The team's research explores in an unparalleled level of detail how different areas across England and Wales are likely to be affected by climate change, and what this might mean for growing in these areas. The bank of information means one can predict with some degree of certainty how a given vintage might turn out.
According to the study's findings, in 60-75% of the years between now and 2040, areas in East Anglia, Lincolnshire, south-central England, north-east Wales and coastal areas in south-west England and southern Wales will enjoy the near-perfect conditions of 2018, one of the best vintages yet for English sparkling wine.
Meanwhile, large areas in south-eastern and eastern England are projected to enter a suitable temperature range for still red Pinot Noir production for the first time.
"We have shown that in some areas of the UK the bumper vintage of 2018 will become the norm, and that Champagne region grape growing temperatures from 1999-2018 are projected to occur across an expanding area of England during 2021–2040," said Nesbitt.
"In certain years, a few areas of the UK may see growing season climates similar to those that contributed to the very best recent vintages of Champagne, as well as support increased potential for Burgundy and Baden-style still red wines."
However, the researchers warned against 'locking-in' to production which cannot adapt to changing growing conditions, as British weather "can still be unpredictable". Year to year climatic variability will remain, including early season frost risk, even if the longer-term trends are overwhelmingly positive.
Professor Dorling, lead UEA researcher of the School of Environmental Sciences said: "There are exciting times ahead for the UK wine sector, but our results have emphasised the challenge of establishing wine identities and brands, in particular those tightly associated with varieties and wine styles, in a rapidly changing climate."
Concluding, Nesbitt said: "We're immensely grateful to WineGB, the industry body, for facilitating all the engagement we've had with viticulture and wine production people throughout the project."
This article was originally published by the drinks business and has been shared with permission.