Patrick the stout-drinking pony-mayor of Cockington, Devon, has had a mare and been left long-faced after Torbay Council said 'nay' to the unauthorised pub garden pen he used to frequent.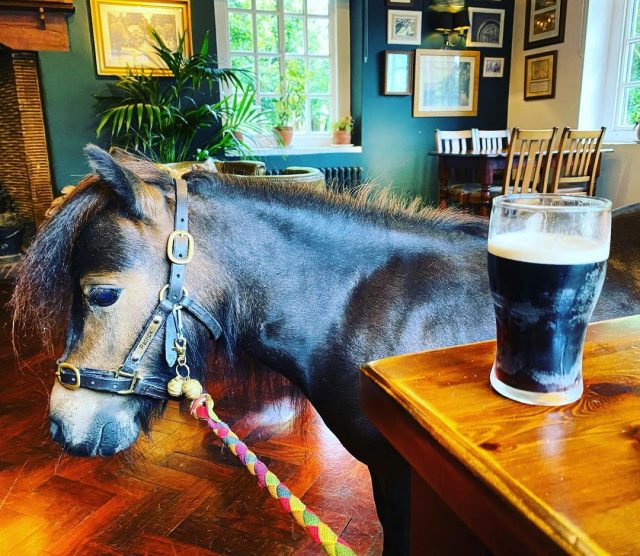 The four-year-old four-legged Shetland pony was only appointed to the position late last month, but within a week Torbay Council had received a complaint about the interaction pen Patrick was held in on visits to the pub.
The 'Adventures of Patrick the Pony' Facebook group shared: "The Drum Inn staff have been very supportive. We felt taking down the pen was the only option, as planning permission would now likely be rejected".
Patrick is so-named because he was born on St. Patrick's Day and enjoys a Guinness. His local popularity comes from his attendance at charity engagements, and the fact that he is a small horse. He was first taken to the pub by owners Kirk and Hannah Petrakis so that he might be socialised for his therapy work.
In a statement, Torbay Council clarified the nature of the dispute: "As this is not a council owned premises, matters relating to the entrance policies of the venue can only be answered by The Drum Inn."
It continued: "…an enforcement case has been opened into the erection of unauthorised timber fencing and the display of advertisements within the beer garden…This is in a designated conservation area and is next to a listed building, and we need to ensure historic areas like this are protected from unauthorised development."
The council has decided to ask The Drum Inn landlord to submit a "retrospective planning application".
The reaction to the decision has been one of outrage. Conservative MP for Torbay Kevin Foster tweeted: "Patrick the Pony's 'Mayor of Cockington' title was a light-hearted way to promote the village to visitors. Now it seems to have prompted Torbay Council to become the joke with this over-the-top reaction in response to a complaint."
One Twitter user jokily speculated on the circumstances of the barring: "They asked him to pay off his tab, but he wouldn't pony up."
Though Patrick was not available for comment, WLC has reached out to his owners to ask whether they will find a work around.
This article was originally published by the drinks business and has been shared with permission.