Wine List Confidential author, Douglas Blyde is granted access to the newest eatery at the world-famous Berkeley Square Members' Club…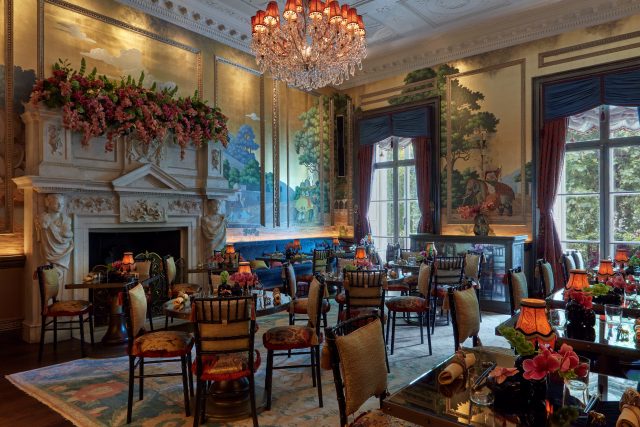 The concept:
Opened in July, The Japanese is the sixth restaurant at Annabel's Club, joining old school Italian, Matteo's, with its deep inventory of Sassicaia reaching to 1968 served in a space delightfully redolent of the original Club, The Mexican, home to one of the world's largest collections of mezcals and tequilas, displayed alphabetically, and the all-day Garden, whose terrace features a retractable glass roof installed by the same engineers who covered Wimbledon's Centre Court. It was within the latter that guests, serenaded by Kylie Minogue, depleted bottles of Domaine de la Romanée-Conti Grands-Echezeaux 2005 and Château d'Yquem 1988 at last year's inaugural Golden Vines Awards, raising £1.2m to fund diversity and inclusion-related wine education programmes for the Gérard Basset Foundation in the process.
The décor:
The Japanese occupies what was the Elephant Bar on the first floor, whose fanciful bespoke wallpaper by de Gourna is, according to designer, Martin Brudnizki, inspired by the painting of Sultan Ibrahim Adil Shah II riding his prized elephant (Atash Khan by Farrukh). Arguably, the combination of India on the wall and Japan on the plate is a little discordant, though painting the lily in a Club whose hallway features a rainbow unicorn suspended from a Jules Verne-inspired hot air balloon, and bathroom, a crocodile basin formed from a hand carved 500kg slab of green onyx is not unexpected. The blue banquettes are new, as are jewel encrusted elephant napkin rings and golden chopstick holders on mirrored tables; the DJ station meanwhile remains for diners who like to combine turntables with dining tables.
The food:
We enjoyed fresh yellowtail sashimi with jalapeño and perky yuzu sauce which warranted a request for more sauce (£23), an invigorating seaweed salad woven with apple (£16) and, best of all, a particularly succulent black cod saikyo miso (£56) as well as a smoky tenderloin with sweet soy garlic (£48) which proved the least stirring dish. So long as they have taken their hats off at the door, and refrained from wearing soiled sneakers or hole-riddled denim, well-heeled members may also enjoy grilled wagyu sirloin with fresh wasabi (£120). Also available is the selection of sushi and sashimi tuna, with "special sushi" options including wagyu nigiri with "mountain peach" and truffle (£32). Neighbouring tables took to tempura, too, such as the £17 spicy asparagus and avocado. On our next visit, we will leave space for the already much written about matcha éclair.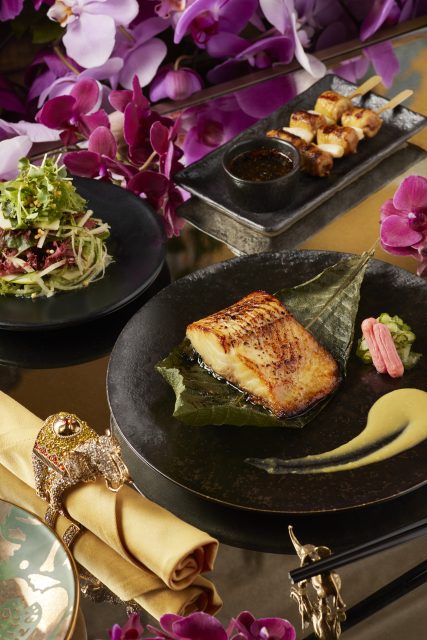 The drinks:
We were looked after consummately by Chee Khui, the elegant, sharp, head sommelier of fellow Birley Club, GEORGE, currently undergoing renovations. He is also, given his lips remained sealed when asked to provide details on the forthcoming Bacchanalia restaurant in the former Porsche showroom at the edge of Berkeley Square by Annabel's operator, Richard Caring, discreet. Khui, who studied architecture at UCL, previously worked at Roka, Zuma and was the owner of HK House, Stroud. On today's visit, he gave insight into the library of sakes at his disposal in the Club. "You need to ditch the wine mentality," he advised when approaching premium expressions. "Sake is opposite to the wine world where money buys bigger flavours, while sake becomes more delicate – like catching snowflakes."
Options by the 100ml glass include Masumi's Mirror of Truth Junmai (£11), IWA 5 Assemblage 2 – Toyama (£37) from the former chef de cave of Dom Pérignon, Richard Geoffroy, while the most hallowed by the bottle option is Tatenokawa 1 – Zenith – Yamada Nishiki (£4,900), a brew made from rice polished to a rate of just 1%.
"Modern sake is an advent of refrigeration and precision milling," noted Khui, who believes sake is more healthful a beverage than wine, on account of its "pure water". Being protein rich rather than fruit based, sake suits "protein hunters" such as himself who "look for molecules with its higher concentration of peptides." On pairing sake with dishes, Khui observed the Asian palate "doesn't mind dissonance, while the French is about harmony."
The substantial sparkling wine selection included Rare 2008 (£45) and Dom Pérignon – P2 2003 (£95) by the glass, maintained using Coravin sparkling technology, though no English fizz featured in this format. Around 900 further bottles of wine are drawn from the core Club list, referenced on an iPad afflicted with a charming glitch, meaning turning pages manually (the screen shows curling pages) can require patience and skill. These include 1963 Charles Krug, imperials of Lafite, as well as collections of Romanée-Conti and Pétrus.
Also available are the collections of Japanese whiskies, including Yamazaki 55 (costing £28,000 per double pour), of which only four bottles exist in Europe according to the Club, while the signature cocktail menu takes inspiration from Miyamoto Musashi's "The Book of Five Rings" – Fire, Water, Wind, Earth and, for zero alcohol options, Void. An example of a Fire drink is Flames of Tokyo, starring Suntory Toki, "flame shrub" and nori leaf oils., topped with soda.
Who to know:
Believing "the greatest asset of a company is its people", head of wine for Annabel's, Georgios Iordanidis, who was visiting Tokaj producer, Oremus at the time of our visit before getting married, was born in Tbilisi and raised in Athens. He previously worked at LPM, The Arts Club then Zuma, where he created a particularly logical and original list.
Last word:
Although early days for The Japanese, and visiting on the precipice of August when several London clubs including Annabel's pause service while their members' head off to exotic climes, the dining room was full on our Friday lunch visit. Clearly, members craved such a genre of cuisine, and building on the experience of having launched The Ivy Asia, of which he is Chairman, Richard Caring has adroitly refined his love for flavoursome Japanese food and often rare sakes in this famously glamorous and fun Club.
The Japanese at Annabel's – 46 Berkeley Square, London, W1J 5AT; 020 7629 2350; membership@annabels.co.uk; annabels.co.uk
This article was originally published by the drinks business and has been shared with permission.