The Director of Wine of Four Seasons at Ten Trinity Square, Ambassador for Château Latour and Artemis Domaines and Niepoort, and founder of luxury consultancy, "Konetzki", talks to Douglas Blyde about being his own mentor, finding meaning in "The Soul of Money" and the fact hospitality means "never being finished"…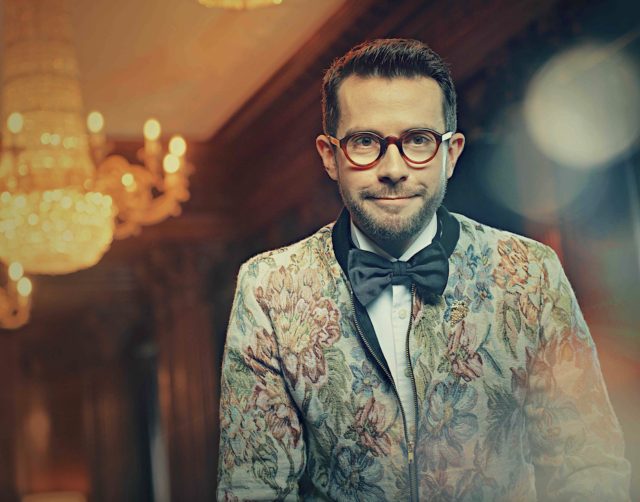 What is your vintage?
I was born in 1980 under Pluto, in Lüneburg, close to Hamburg. I recently found a stellar Napa Cabernet from Joseph Phelps, still as fresh as a daisy, its slightly charred tomato leaf notes melded together. Fireworks! From this vintage, I also rate Ports such as the sweeter Croft.
What bottle sparked your love of wine?
In 2004, while working at a one Michelin-starred restaurant, I encountered a very fine 1992 Rheingau Riesling Schlossberg Grand Cru. Absolutely magical, it had notes of lime leaf and lemon preserve and a smoky flintiness. The producer, Georg Breuer, has artists  creating labels like Mouton, and this edition featured a cobalt blue monolith by Romanian, Michael Wolff.
Where did you work before Ten Trinity Square?
I spent nine years in the Gordon Ramsay Group, mostly at the three Michelin-starred Gordon Ramsay at Royal Hospital Road, Chelsea. I also worked as a baker in New Jersey, and as a party promoter for Super Paradise Beach Club, Mykonos where, with my hair dyed platinum blonde like Adonis, I was carried around the streets to entice people in. I was very effective at both filling the Club and also in being offered a lot of phone numbers.
What else do you do professionally?
The work of a sommelier is much greater than the technical aspect of pulling a cork and having an ear and an opinion. I feel we haven't thought of the limits a sommelier can do. As an indie sommelier and entrepreneur, I love the fringes of the world of sommellerie. The classic work of a wine director is one part. I also do brand representation for Latour and Artemis Domaines. I provide private cellar management, brand advising, education, provide a concierge service, and have a recruitment arm. "Kontezki" (konetzki.co.uk) is my agency, which sounds like a Polish-Austrian jeweller! I lead a team of three in addition to a big collaborative network. Our slogan is, "tell me who you are, and I shall tell you what to drink".
Who is the most famous person you have looked after?
David and Victoria Beckham who are my clients, The Rolling Stones, Billie Eilish, and at Claridges, Whoopi Goldberg who mentioned I made the best lemonade and iced tea.
Who has been your mentor?
I am my own biggest mentor, constantly challenging and questioning myself very honestly. When people come to me looking for a mentor, I tell them that, first, they need to look and listen to themselves and the people around them. That way they will see what they don't want to be. Noticing a problem is the first step to solving a problem.
What has been a standout event at Ten Trinity Square?
Crazy becomes normal here, given the standard of the events, such as the epic Salon dinner where we married 20 vintages from 2008 to the 1960s, including a crazy bottle from 1978 which had spent 40 years on the lees, with the food of Anne Sophie Pic. Her dishes, such as oyster with beetroot and ice cream, show an orchestral use of spice, seasoning and bitterness never overwhelming the delicacy of the single varietal, single cru, single vintage Champagne, while a dish from the canon of Jacques Pic included seabass, caviar and Champagne sauce. We also host an annual Latour dinner, the last of which ranged from vintage 1982 to 1975. We had Ronan Keating popping at for a concert at the Club recently as well as we exhibited a photo collection based on Karl Lagerfeld's Chanel Shows.
Describe the wine selection at The Club?
It used to be a very classic Frenchie list, and we remain very strong in Bordeaux and Burgundy. However, with the impact of head sommelier, Michele Fazari, the Italian collection is becoming richer. Then there is a bit of salt and pepper from North America, Australia and South Africa. We are waiting for the arrival of Jacquesson, meanwhile, which is now part of Artemis domaines; it was always in my top five Champagne houses. We pride ourselves on being able to offer wines with bottle age. And we have lowered mark-ups generally on fine wines.
What about at La Dame de Pic?
Together with Head-Sommelier Elise Mérigaud we're still championing the Rhône and its varieties, including Cornas, Côte-Rôtie, and smaller appellations like Saint- Péray works incredible, as well as beautifully nerdy and artisanal, handmade wines showing the slightly wilder side of winemaking: field blends, skin contact, the rare and refined. We've also picked up appellations like the highly gastronomic Coteaux Champenois which offer a great new story to tell. I take a lot of field trips with head chef, Marc Mantovani, an enfant terrible from Maison Pic, Valence, from caviar houses to cooking omelettes of foraged mushrooms over a camping gas stove in the woods. We talk a lot about flavours and textures.
And at Mei Ume?
You eat family-style here. We have Germanic varieties, including lighter reds from Baden. We developed a non-dogmatic, hero drink, highly seasonal selection, such as Sakura Bouquet sake with the Japanese cherry blossom menu, or Domain Mittnacht Gewürztraminer Gentil made by a French husband and Japanese wife team, made to go with Japanese food. Another drink of the moment is the long, low temperature Japanese black tea infusion from Postcard Teas, which has coconut aromatics. To make an inclusive selection as a team you will often see Elise, Michele and me all rocking up to tastings together.
Do you use Coravin?
While I'm not a priest of Coravin, I acknowledge what a strong force it is in hospitality and wine service.
Do you prefer Cabernet Franc or Pinotage?
Cab Franc, no question.
What grape or style don't you get along with?
Thompson Seedless. Or Madeline Royale – my drag name. Another variety which makes great raisins and table grapes.
What does hospitality need?
We need to build up the profession and steer away from the perception of it being somewhere students work before they "grow up" and do something "proper". Hence, we need more idols from the profession who are seen in the media as successful.
What has been a memorable read?
"The Soul of Money" by Lynne Twist, which inspires reflection on what we're living for. Of the big carrot we're all aiming for – is it a flavour we like?
What did you give your tailor for Christmas?
TLC.
Tell us something surprising about yourselves?
In dealing with my mid-life crisis, I got a life-sized Japanese woodblock-style octopus tattooed over a quarter of my body from my left knee to my upper chest. All eight arms are doing something different, from chopping another into sashimi with a sushi knife to holding chopsticks. The project, enacted by a Berlin-based artist called Guen Douglas, began last March.
Where do you dine on your days off?
Let's just say I eat far too little at home. One highlight being the dinner at Le 1947 à Cheval Blanc, Paris with a regular guest.
How do you switch off?
That is very difficult for me because I love, and function on, adrenaline and air miles. I endeavour to spend 30 minutes in the morning meditating, though – and if I don't do it, I find the day drives me rather than the other way round. I once went on a ten-day silent mediation retreat. I also binge-watch Netflix!
What is your motto?
"Sounds gay, I'm in."
And finally, what do you look for when hiring?
I always ask myself: Do I like to spend time with the person. Hospitality is never finished, and we will be spending an intense time together. Hence, the character and human aspects come first.
This article was originally published by the drinks business and has been shared with permission.