The slump in the pound is set to threaten the price of a pint, as experts warn that the cost of imported hops will continue to rise.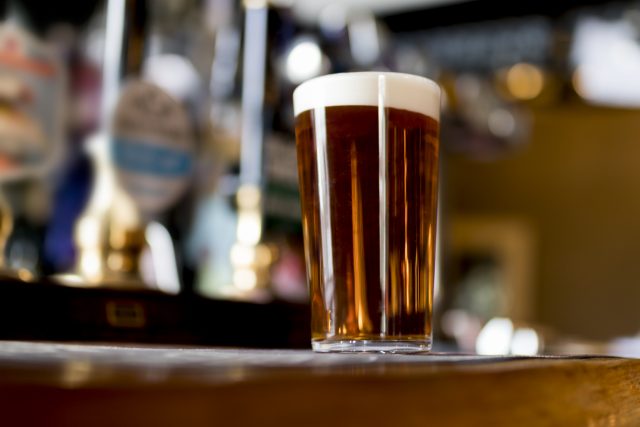 Following the UK government's economic plans, the British pound has crashed to an all-time low against the US dollar, squeezing beer prices and shaking up market confidence.
Yesterday, sterling has hit its lowest level against the dollar since decimalisation in 1971, falling by more than 4% to just 1.03 dollars in early Asia trading before it regained some ground to about 1.07 dollars.
Experts warned that the knock-on effect of the pound taking a nosedive towards parity with the dollar will surely send the cost of goods soaring even higher, potentially worsening the cost-of-living crisis.
Carlsberg Marston's Brewing Company CEO Paul Davies, told BBC Radio 4's Today programme that the pound's slide to a record low was "worrying" for the beer sector.
The move, which is set to see products imported into the UK becoming more expensive leading to price increases being passed on to customers, was "worrying" for the British beer industry as many hops are imported from other countries.
The news comes after reports from food and drink research consultancy company CGA recently warning that beer prices are due to peak at £9 a pint before the end of the year.
Davies explained: "Many of the hops used in this country are actually imported and a lot of them, particularly for craft brewers, are imported from the States. Changes in currency is actually worrying for industry, and then of course people drink a lot of imported beers from Europe and the euro versus the pound is also something we're watching very closely at the moment."
The pound was also lower against the euro on yesterday, having fallen by around 6% against the eurozone currency over the past month.
Davies explained: "Of course things will rise. I would say as an industry we're generally using British barley and we're using a lot of British hops, but of course if you're drinking double IPA that requires a lot of Citra hop and other hops from the States, at some point that is going to have to be passed through to both the customer and the consumer if prices are this volatile."
Inflation increased in the grocery retail sector by 12.4% in August as the food and drink industry had already been affected by rising energy costs, according to Kantar. However, while the supermarkets have been quick to focus product ranges to mostly-British products, industries that rely on ingredients grown elsewhere are more likely to feel the pinch.
Aldi CEO Giles Hurley said during a recent interview: "Around 75% of what we sell comes from the British Isles so we are somewhat protected. We are insulated through longer-term agreements as well but do have products, such as general merchandise from Asia, which is bought in dollars from Asia. Right now, though, we are looking to understand what any impact would be but think it is too early to say what might happen."
Shadow chancellor Rachel Reeves accused chancellor Kwasi Kwarteng and prime minister Liz Truss of recklessly gambling with the UK's finances and told Times Radio: "They're not gambling with their own money; they're gambling with all our money and it's reckless and it's irresponsible, as well as being grossly unfair."
Amidst the cost-of-living-crisis and the issues surrounding the cost of beer that uses imported ingredients as well as Co2 which has also been affected by short supply and freight and logistics issues for imported beer in terms of transportation following Brexit paperwork at border there seems little light at the end of the tunnel for the beer sector.
This article was originally published by the drinks business and has been shared with permission.