Wine List Confidential author, Douglas Blyde, finds heart in every aspect of La Fromagerie's third chapter…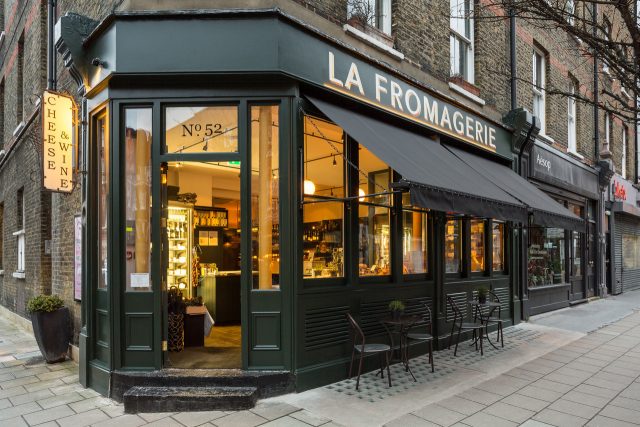 The concept:
Opened in 2017 in the graceful, tight-knit community of Bloomsbury, this is La Fromagerie's third incarnation after the Marylebone venue in 2002 and the Highbury original which opened in 1992. All sites fuse aromatic and very photogenic retail of impeccably raised cheeses, displayed in dedicated cheese rooms, as well as charcuterie, wines and other covetable provisions such as 30 year old balsamic, with the option to dine in. The WC1N corner site is found opposite Noble Rot and Honey & Co.
The décor:
Beyond an antique "Cheese & Wine" sign is the ground floor shop, dining room and marble counter beside a brassy, retro sign reading "Bar". Downstairs, past the cabinet of a kitchen where just one chef aided by one KP heroically dispenses the dishes, are further cosy spaces with original features such as the brick coal storage wells testament to when this was a bakery, alongside spotlights and velvet banquettes. Walls are painted shop front green (Paper and Paints). Unlike the Marylebone branch, there is no glitter ball, sadly.
The food:
"We will always have fondue, raclette and cheese boards" says MD, Sarah Bilney, almost as a mantra. Hence the fondue Savoyarde (£18.50) comprising the significant Beaufort Chalet d'Alpage, Emmental Francais Grand Cru and Comte d'Estive with sourdough and cornichons, and large cheeseboards (£18.50), drawn from the cheese room, perhaps including Piedmontese Robiola Roccaverano goats' cheese, Hampshire Winslade cows' cheese and Toggenburg goats from Switzerland. Other items include chilled, but thankfully not iced, Maldon oysters with mignonette (£2.50), substantial looking though actually quite fluffy courgette fritters with Pecorino Sardo (£8), juicy duck rillettes (£9.50), Sardinian Fregola and Devon crab with rich brown and white meat (£20), and a very good peach crumble with lemon cantucci and fior di latte ice cream (£8.50) to follow. The dish of the dinner, though, was the sumptuous twice baked soufflé made with Eldrick Log and Parmesan cream (£10) worth ditching a diet for.
The drinks:
Start with a punchy Sacred gin martini whetted with the ocean-like brine of an olive (£14.50), and end with Louis Roque's sump oil coloured La Vielle Noix walnut liqueur from the Dordogne, ideally doused over Fior di latte ice cream (£12.50). The concise wine list, including own label wines, is predominantly French and Italian, including, from Savoie, the fondue-friendly Chignin Verse les Alpes Jacquère 2020 by Jean-Francois Quenard (£9.35/175ml), or with charcuterie, Montefalco Rosso Raina, Sangiovese/Sagrantino from Umbria (£9.25/175ml). Perhaps best with blue cheeses, is the complex, marzipan-scented Vin Santo 2009, Felsina Berardenga £13.25/70ml). Cider and perry currently comes from Oliver's. And terroir-led tea is by Jameel Lalani, with coffee care of Le Piantagioni di Caffé, Livorno.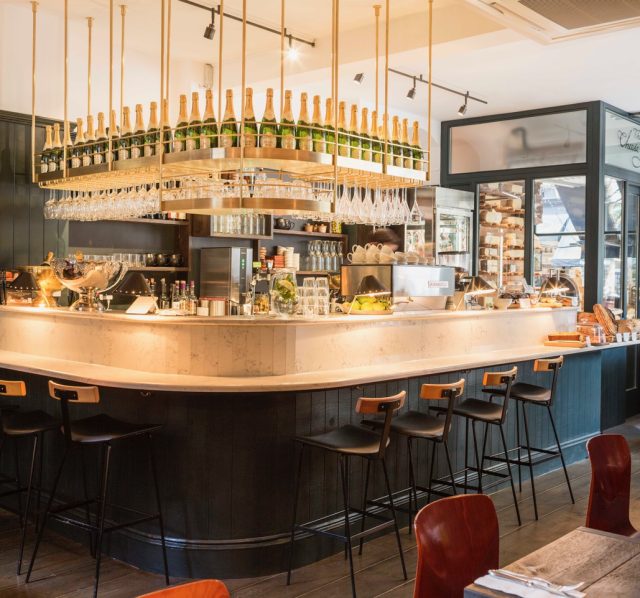 Who to know:
Founder, Patricia Michelson whose love of cheese, in her own words, "began up a mountain whilst skiing in Meribel." Having lost the group, she sought sanctuary in a local cheese shop called La Fromagerie where she so enjoyed the taste of Beaufort Chalet d'Alpage that arranged to collect a little to later take come. However, instead of asking for a "tranche", she used the words, "un pièce" which meant an entire 60kg wheel turned up as she was preparing to drive back home. Rather than try to negotiate its return, she ended up selling the big cheese from her garden shed. A year later, she had graduated to a cheese stall in Camden market. Michelson's MD is the efficient and very visually aware, Sarah Bilney, with the senior cheesemonger and head of education being Max Melvin, who runs particularly political cheese workshops.
Last word:
Character is present in décor, the personalities of the founders and the team on the day, and extremely high quality of ingredients – all combine harmoniously here on Lamb's Conduit Street, as at the other venues in the small but instrumental group, whose wares, via their wholesale arm, you are likely to have enjoyed in top restaurants across the UK even if you have not yet made the pilgrimage to an outlet.
La Fromagerie, Bloomsbury – 52 Lamb's Conduit St, Bloomsbury, London, WC1N 3LL; 020 7242 1044; bloomsbury@lafromagerie.co.uk; lafromagerie.co.uk
This article was originally published by the drinks business and has been shared with permission.