The Sherlock Holmes of hospitality? Or just good harmless fun? One bartender reckons she can tell if your partner is cheating on you based on the beer they drink. Buckle up for a bumpy ride.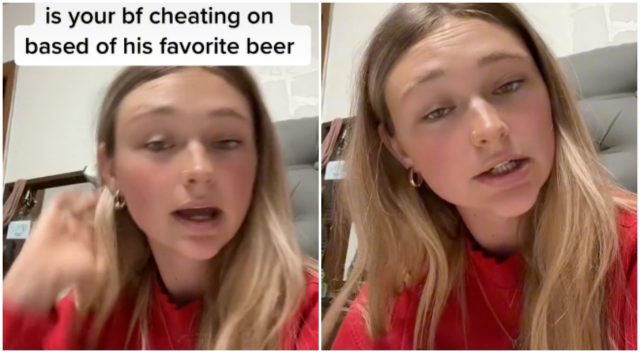 While the beer we choose to drink is perhaps most likely informed by concerted marketing efforts from major players, what's available on tap or by the bottle, the prices being charged and the styles on offer, one bartender says she can tell a whole lot about you based on your beer order.
In a TikTok video that has since garnered upwards of six million views, TikTok user @paigelydick0 (Paige) posed the question: "Is your boyfriend cheating on you based off of his favourite beer?"
Her credentials? "I work at a bar and I've had horrible relationships and they've all drank something different, so listen up." Can't say fairer than that.
Kicking with Coors Light, Paige says this means he's "probably a nice guy" and you've got little to worry about.
Miller Lite, meanwhile, gets fulsome praise from the bartender: "Marry him. Propose right there."
"He is the cutest little country boy and he loves you and he will never cheat on you," she says.
Michelob Ultra, meanwhile, was the most controversial yet.
"Alright, this one is going to make people very upset.
"If he's drinking Michelob Ultra, leave him as soon as he orders it. Get up and leave because he's cheating on you."  He "probably has another marriage somewhere", she adds.
"I don't make the rules, I just enforce them," she captioned her TikTok video, though did make pains to point out that the whole thing was intended to be taken as a joke.
Regardless of the video's intended light-hearted nature, commenters were apparently struck by the supposed "accuracy" of her statements.
"Most accurate beer facts ever," one TikTok user wrote, while a second added, "Bud Light is accurate I was like wait that's what I get".
"As a miller fan I approve this message", a third commenter wrote.
Quite why all the beers included in the video were 'light' iterations was not immediately clear.
This article was originally published by the drinks business and has been shared with permission.