In his scathing review of Block Soho, Jay Rayner claimed that the restaurant had made numerous alterations to the dishes used for the photo shoot after his visit.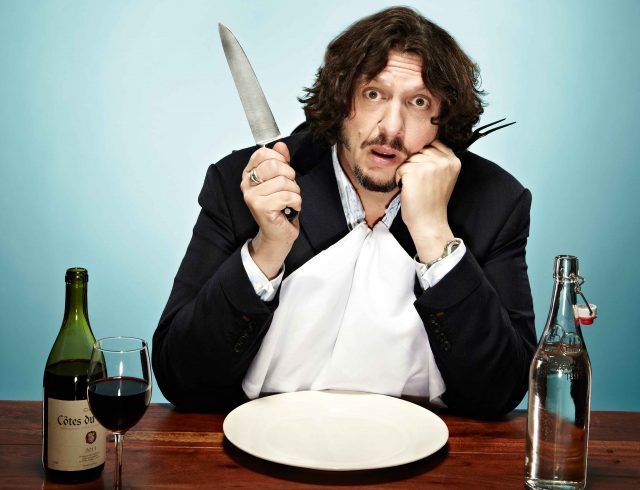 It's safe to say that Rayner was not a fan of his roast dinner at the London restaurant. He described the beef as a "tough, extremely indifferent piece of meat", the pork as "wet and dreary" (and without crackling), the lamb as a "wintery shade of grey", the Yorkshire puddings as "stodgy, strikingly uniform" and the roast potatoes as "pallid". His conclusion was that the place provided a "dreadfully disappointing, poor-value experience" only redeemed by the front-of-house staff.
However, beyond the disappointment of forking out more than £20 on each roast, it was what happened afterwards that really wound up the seasoned gourmand. Upon comparing the photos he took from his lunch with those taken by The Observer's photographer, he noticed that a great deal more effort had been made in the plating for the latter.
In a Twitter thread, Rayner offered side-by-side comparisons between what he got versus what was served for the review's photographs: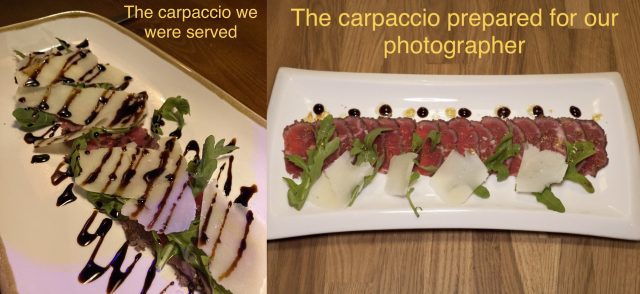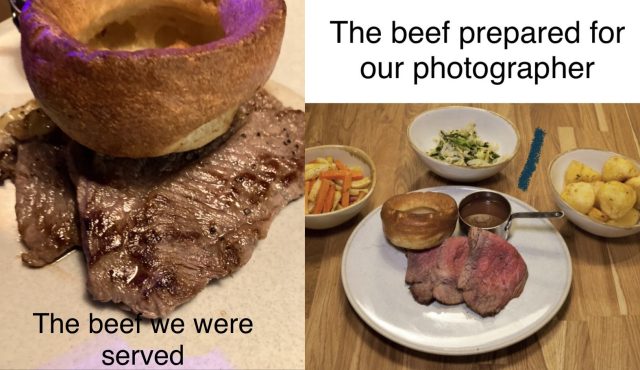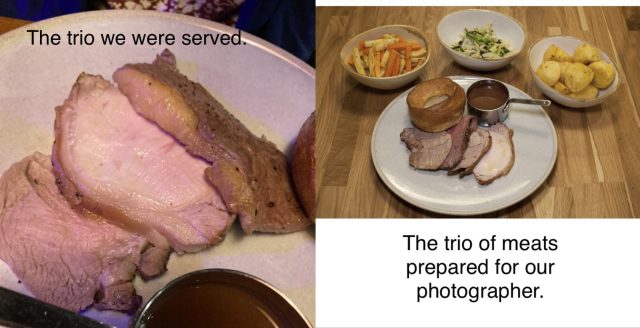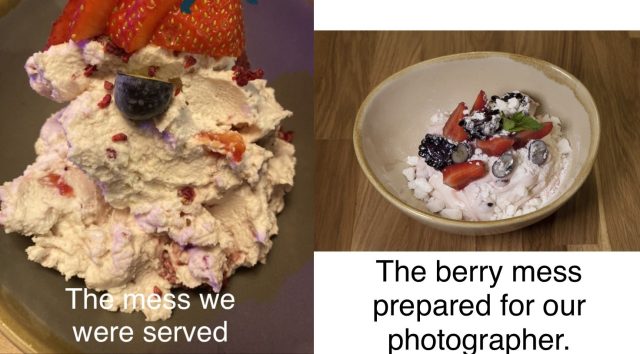 With the beef, Rayner argued that the slices he got looked like "seared minute steaks" rather than slices from a whole joint, and the berry mess he was served "was over whipped until split and we could find no evidence of meringue".
Rayner concluded the thread with an explanation for why the photos were still used in the review: "We felt legally obliged to do so having asked them to prepare them. Plus we knew I had mine to post here and elsewhere, to make the a point which needs to be driven home."
It is, perhaps, hardly surprising that a dish would be plated differently for a photoshoot than for regular service. Anyone who has ever ordered fast food has likely been lured in by the photo on the menu only to receive something disappointingly different instead. But the starkness of the contrast between how a relatively expensive restaurant wished to present its dishes against what customers might actually receive is what irritated Rayner.
There were those who accused Rayner of pointing out a "first world problem" or of initiating a "toxic pile on" during a difficult time for the hospitality industry. However, the general consensus was that deceiving consumers, no matter how minor the deception, was wrong and that customers like to get what they think they're going to get when dining out. Block Soho has not responded to either the review or the thread, so db has reached out to ask if it wishes to issue a statement.
Rayner is not known for pulling his punches when it comes to reviewing, but his critiques of wine lists don't always land.
This article was originally published by the drinks business and has been shared with permission.