Wine List Confidential author, Douglas Blyde, finds plants take centre stage in both the gardens and on the plate at the Oxfordshire haven of the celebrated chef, Raymond Blanc OBE…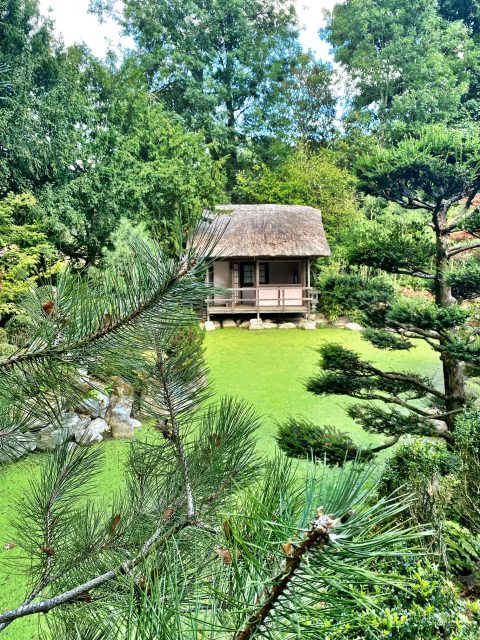 The concept:
'All my life at Le Manoir has been about bringing the cultures of France and England together,' said chef-patron Raymond Blanc OBE during a speech to some 200 regulars attending this year's Bastille Day garden party, which also included mimes, acrobats, walking topiary figures, an orchestra and opera singer, and an ice sculpture of the coq gaulois.
A self-taught chef, Blanc, who also holds the Legion d'honneur, has nurtured the Oxfordshire destination restaurant and hotel for almost four decades. The main building, a warm stone-coloured Cotswolds mansion, dates to the fifteenth century, leading to a homely cookery school. The surrounding grounds are remarkable, being both ornamental, such as the Japanese garden, and functional, with extensive produce reaped from the Soil Association registered land ranging from a mushroom valley to orchards. Amongst the statues, waterways, lily pad ponds, herbs and vegetables, wildlife might include the odd stoat.
The décor:
Bedrooms range from the elaborate Botticelli, with its two freestanding baths reached via a spiral staircase, to the more restrained, amusingly titled, Blanc de Blanc suite in the garden with its own terrace. Lounges feature personal photos of Blanc and art which can be almost risqué, while the dining room, in a conservatory, though spacious, feels a little dated, and will no doubt be enhanced, along with a proposed new spa complex, by current owners, LVMH.
The food:
As The Guardian's Lucy Pavia wrote, "if a great dinner is all about the setting and atmosphere, then The Restaurant at Belmond Le Manoir Aux Quat'Saisons earns its two Michelin stars before you've taken a single bite."
Many notable chefs and restaurateurs have seen service at Le Manoir, including Heston Blumenthal, Éric Chavot, David Moore and Marco Pierre White. In conjunction with Blanc is a karate black belt, Gary Jones, the head chef of Le Manoir since 1999 – although he actually worked as chef de partie in the kitchens in 1990. Together, they oversee a brigade which swells to 50 including Jones' daughter. Given the venue's name references the four seasons, dishes are alertly seasonal. On our visit in late summer, a bright potage of basil and summer vegetables, then Cornish crab with aromatic coconut, chilli and lime, were both matched with bone dry Rheingau Riesling (Schloss Reinhartshausen, Hohenrain Alte Reben '18), while truffled scallop, Scottish girolles and stuffed courgette flower met Meursault by Jean-Philippe Fieliet (Le Meix Sous Le Château, also '18). A lighter take on a Bouillabaisse of Cornish fish with saffron and fennel matched in colour the depthful Domaine Tempier Bandol Rosé '21. Deeply savoury beef fillet and short rib with alliums and red wine essence was paired with the plush Cabernet-led Margaux du Château Margaux '15. And the blackcurrant component of meringue with tonka bean and chocolate worked well with young Banyuls (Domaine du Traginer, J. F. Deu). It might well have also sung with the lavish, delightfully assertively pungent cheese cart which is itself something of a limousine.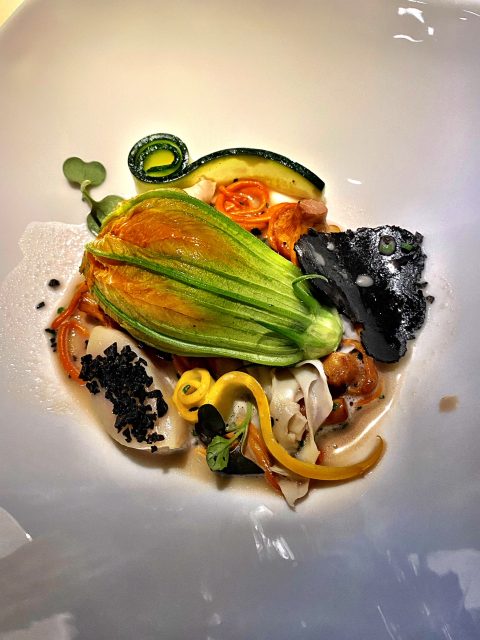 The drinks:
Like Pavia, the Czech-born food and beverage manager, Lukas Hyner, also notes, "the journey starts in our garden and continues at the table… We bring our garden to our plates as well as our drinks." Ostensibly to allow guests to share "more precious time with their loved ones" according to chef-patron, Blanc, the wine selection has been simmered from 1,200 to 650 references in recent months. However, the selection, which is prefaced by quotes such as that by Alexis Lichine, "the best way to learn about wine is the drinking", still feels depthful, particularly so when it comes to organic and biodynamic wines including those from Blanc's own region, Franche-Comté. A fondness for Burgundy, too, and, in particular, Domaine Leflaive, is also apparent, with wines from the region making up no less than one-tenth of the one-hundred-strong list of wines by the glass.
The property was acquired by LVMH in December 2018 as part of a £2.5bn purchase of Belmond, which also included Hotel Cipriani in Venice, Hotel Splendido, Portofino and the Venice Simplon-Orient-Express. Hence, guests are welcomed at check-in with broad flutes of Veuve Clicquot – though they may also opt for a more local sparkling rendition from premium English producer, Hundred Hills north of Henley. Elsewhere, the wines and spirits from the LVMH portfolio feature, albeit alongside artisan collaboration, such as the harmonious garden gin made by both master of wine and master distiller, William Lowe.
Who to know:
Having amassed an eleven-year tenure at Le Manoir, Hyner, who previously spent seven years working for cruise lines travelling the world aboard such "floating cities" looks forward to the day when the property will feature its very own vineyard for grapes for both wine consumption and the table. "It is a dream which will soon come through," says Hyner, who is, incidentally a chap who craves "immortality" …
Last word:
Blanc has created a haven here in Great Milton which combines the best of two cultures. Indeed, at the Bastille Day celebrations, he mentioned, "I feel a better Frenchman in England…"
Belmond Le Manoir aux Quat'Saisons, Church Road, Great Milton, Oxfordshire, OX44 7PD; 01844 278 881; manoir.mqs@belmond.com;belmond.com
This article was originally published by the drinks business and has been shared with permission.