Wine List Confidential author, Douglas Blyde samples an underwater cuvée at Nuno Mendes' latest "love letter to Lisbon, the city I grew up in…"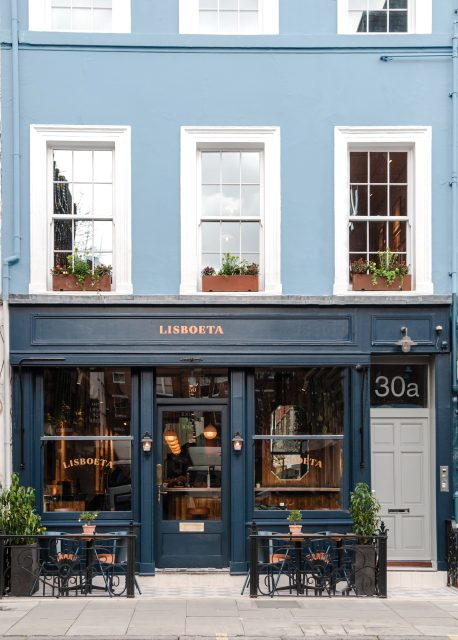 The concept:
A collaboration between MJMK Restaurants, whose concepts include Casa do Frango, Bar La Rampa, KOL and Garden House, and Nuno Mendes, who was head chef at Mãos at Blue Mountain, Chiltern Firehouse, Viajante and Bacchus; he also opened the sadly closed Spitalfields wine bar, Taberna do Mercado and led a formative supper club, The Loft Project. Called "Lisboeta", meaning "a person from Lisbon", the venue is intended to capture "embody the very spirit of Lisbon – in a playful and thoughtful way" says Mendes.
The décor:
Gone are the photos of actors featuring in previous incarnation, Elena's L'Etoile in favour of a warmer décor. On the lower floor of the townhouse is a "home from home" familial private dining "adega" for 10 guests, while the bustling ground floor, with its Barrafina vibes, has attractive non-uniform in pattern black and white tiles and an open kitchen counter which breaks before becoming a seated bar. This is crafted from repurposed tram wood topped with limestone from Lisbon. Upstairs, an island features Super Bock on draught, while brick walls are adorned with art collected by Mendes as well as the original hand drawn renderings of Lisboeta by his friend and architect, João Guedes Ramos.
The food:
Opening snacks include a gently smoky Goan-spiced Vindhalo empada, and Launceston bread with just enough sumptuous whipped pork lard, while "Pesticos", being Portuguese-style small plates intended "for sharing" could include grilled, scarlet Carabineiro prawn with garlic and piri-piri, its centre flesh expertly exposed while head and tail is left on, though the idea of sharing something so delicious is unreasonable. Mains, meanwhile, could include the daily catch of succulent looking grilled whole turbot with coriander piso (pesto). To finish, the crème caramel-like Abade de Priscos of egg yolk and pork fat custard with Port caramel is the must-order dish, being Mendes' best version to date, along with Baked Alaska-like Farófias poached meringue with orange and cinnamon.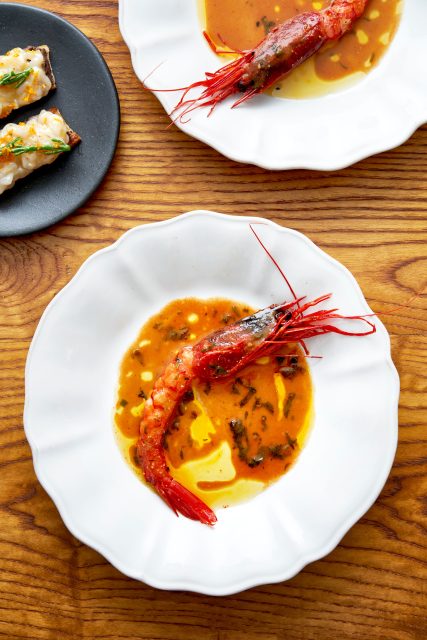 The drinks:
Mendes has collaborated with Quinta do Montalto, a five-generation old producer from Fátima, near Lisbon, and Douro innovator, Dirk Niepoort whose wares feature from start to finish and include, wrapped in a label showing Dirk, his eldest son, Daniel and his dog, Pisca, as well as Mendes himself, a white Port and tonic given depth with fig leaf liqueur. Also try the Lisboeta Negroni, starring brightening Ginjinha (morello) liqueur, repurposed vermouth and chocolate bitters which hint at how Ginjinha is traditionally served in Portugal as a treat. Of particular interest are the red and white "emerso" wines from Herdade do Cebolal, Setúbal matured some 20 metres deep within the Atlantic for 20 months. The 2020 red Castelão, unleashed from a barnacle crusted bottle, had a vivid personality and particularly easy tannins.
Who to know:
The enthusiastic, deft and knowledgeable Diyerman Castaño Burbano who was previously of The Ritz, Pied à Terre just two doors down the street; he also worked as senior bartender at Ronnie Scott's jazz club. Although Spanish born, this sommelier, consultant and sherry master, is so clearly a fanatic of Portuguese culture that his veins might bleed Baga.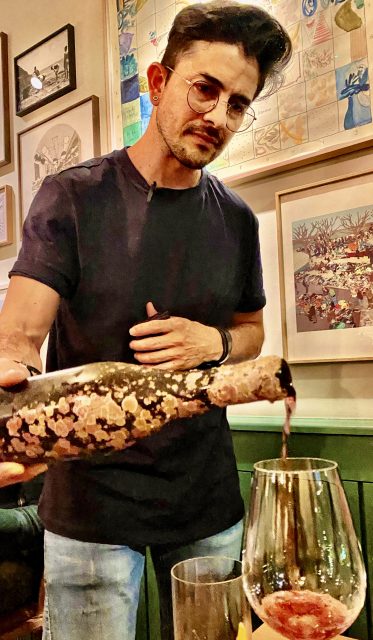 Last word:
As Grace Dent wrote in The Guardian, Lisboeta provides a "gently challenging attempt to bring the vibrant traditions of Portugal to UK palates, with Mendes at the helm offering his typical twinkly-eyed tricks." That one may be educated in such a positive setting and by such a dedicated team makes this a remarkably alluring experience.
LISBOETA – 30 Charlotte Street, London, W1T 2NG; 020 3 830 9888; contact@lisboeta.co.uk; lisboeta.co.uk