There is an emerging trend in London and New York of diners paying to secure reservations at some of the most sought-after restaurants, but not everyone in the industry is convinced it's for the best.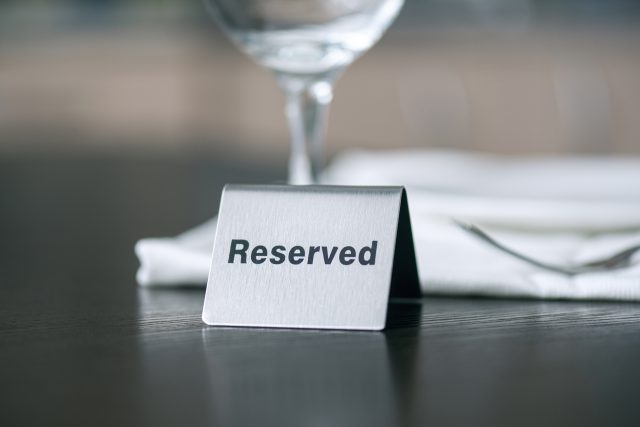 An article from The New York Times published on 4 November noted the growing phenomenon of people paying to get tables, whether through a concierge service, a members' club, or a NFT (non-fungible token) that entitles them to skip the queue. In one instance cited in the article, a diner wishing to visit Dames, a fish and chips restaurant in the West Village, a diner might pay US$1,000 to be able to book a table there once a week through to the end of 2022.
When asked whether he thought we might see similar scenes in London, Wine List Confidential writer Douglas Blyde said: "I can't see it being as direct over here. Instead, we have venues such as Planque, where membership benefits such as handmade stemware and a degree of wine storage are extended to guests for a modest membership fee."
But there are more formalised methods for buying/bidding on reservations on the rise on both sides of the Atlantic.
Rezexe is one platform that is capitalising on the desire to pay for a table at some of London's best-known restaurants. WLC spoke with Dino Joannides, the company's global head of business development, about this phenomenon: "There actually is an existing market for the re-sale of reservations, and there has been for a long time. It's probably best to call it a 'black market', or a 'grey market'."
What Rezexe seeks to do is to loop operators into this re-sale market, giving restaurants a degree of say in terms of who goes there. "We wanted to create a win-win for the restaurant, the buyer, and the seller," Joannides explained. "Completely independent" from reservation systems such as Resy and Open Table, the platform "only comes into play when the reservation is made".
Rezexe takes 7.5% of the payment, and the restaurant, which is looped in, can choose to take a cut or put it into a tronc (Joannides mentioned £50 as an example of a typical bid for a table). WLC was also informed that the option to donate a percentage to charity is also in development.
But, beyond the mechanics of paying for a reservation, why is this trend growing? Joannides believes that a number of factors can be cited, namely due to pandemic-induced changes to restaurant culture: "Post-Covid, people seem to be going out earlier, they're saying that 6.30pm is the new 8pm." Furthermore, the rise in working from home on Mondays and Fridays means that Thursday has become the busiest night in the city – and competition for tables has increased.
Though the Pandemic caused significant damage to the hospitality industry, the desirability to get a booking at high-profile restaurants remains high: "New restaurant openings attract attention and people are desperate to go."
But the practice is not without its critics. Speaking to WLC, Russell Norman, the restaurateur behind Brutto in Farringdon and Polpo, suggested that the principle of selling reservations was "immoral" and would only encourage profiteers: "In my opinion it's exactly the same as what they call 'scalpers' in the States and what we call 'ticket touts' here. I think it goes against the whole spirit of restaurants: you should book if you want to go there. It puts restaurant reservations and tables into the same category as getting a ticket to see Coldplay."
For Norman, the breaking point came during his time at Zuma in the early 2000s. An (unnamed) investment bank would make a block booking for six people every Thursday. Once, while ringing to check the reservation, he overheard people shouting across the trading room floor, bidding for a spot at the table "like it was some sort of game" – Norman was so disgusted by this that he put his foot down. "I've never endorsed unfairness and anything that goes against the spirit of hospitality," he concluded.
Of course, there are operators embracing it. Among the big name London restaurants to use Rezexe, for example, there's the Michelin-starred likes of Claude Bosi at Bibendum and Pied à Terre.
It might not just be those restaurants that make it into the tyre manufacturer's prestigious guide that partake, according to Blyde: "Overall, venues of every level are likely going to need to increase revenue as we enter a winter of discontent owing to potentially vertigo-inducing inflation, and may seek to plug financial shortfalls by doing deals with drinks suppliers who will seek to fix contracts on by the glass pours, for example, and even purvey mono-supplier lists."
"Confirmed reservations are gold dust for restaurants – no shows are a big problem," argued Joannides. Indeed, with UK restaurant insolvencies up by 46% in the quarter to September this year, it might become a necessary practice for many establishments. Of course, there are other means of clamping down on diners not turning up, such as charging them should they not arrive, or shaming them on social media.
In an age where going to certain restaurants is already a status symbol, putting another price on dining out could seem like a natural progression, but how diners react to it if it becomes more common is another matter entirely. Though one of the quainter stereotypes about the British is that they loathe queue-jumping, there are doubtless plenty prepared to pay to get into certain eateries, even if doing so may well make those restaurants inaccessible to those who wish to wait to get a booking.
To read about how London restaurants are adjusting to inflation, click here.
This article was originally published by the drinks business and has been shared with permission.