The head sommelier of Latymer by Steve Smith at Pennyhill Park talks to Douglas Blyde about the vines of Brittany, the influence of the late Gerard Basset, and the power and allure of luck…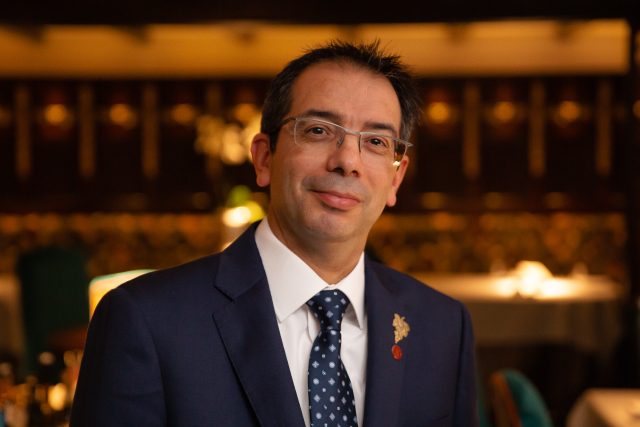 How did you come to wine?
I had an after-school job in a restaurant and loved cooking. My first real job was as a commis chef, but I began to realise that although I enjoyed cooking, there was something else about the trade that was for me, even more fascinating – the wine. I was "converted" while working at Le Pic in my home town of Lorient. The owner of the restaurant one day put a glass of wine in front of me and asked what I thought. I don't remember what I said, but he asked me if I'd rather work in the bar than in the kitchen and I became hooked.
Do you think vines for wine will ever be planted in your native Brittany?
Vines have been planted in Brittany according to texts from 1848 mentioning some 800 hectares of vines. Unfortunately, in the 1930s, with the progressive demarcation of French AOCs, Brittany was excluded. In the twentieth century, vines therefore disappeared from Brittany with the exception of a few scattered rows maintained by individuals or simply forgotten. However, in 2006, just outside my hometown, the hillside of Braden was planted and in 2019, two hectares of Pinot Noir, Chardonnay and Grolleau were planted a few kilometres from Saint-Malo.
Describe the highs and lows of your career?
I have been fortunate enough to have been under the wings of the Oger Family since a young age. One of their sons, a renowned chef who, with his mother, inspired me and helped me find my stride and personal pride. The lowest point of my career was the passing of Gerard Basset who was like a mentor and guide to me when I arrived in England. "Being a sommelier is like learning a guitar; it's all about practice and having a good teacher who can give you the right advice" he once told me. Losing that good teacher was like my sommelier world falling apart.
Describe your list at Latymer by Steve Smith?
I just started last year at Latymer but like any wine list, you always inherit some treasures, being a couple of Amarone Quintarelli Giuseppe 2000 and 2004, and an Alzero 1997 also from Quintarelli, being 100% Cabernet Franc – a masterpiece, I have been told. Through the wine list, I also would like to pay tribute to the late, great, World Champion Sommelier, Gerard Basset OBE MW MS OIV(MSc). Some of the wines are arranged by style which he favoured and at the same time remind me of him and what he has done for wine lovers all over the world, each time I open the list. I also like to create a wine list which is accessible to everyone and one which will continuously evolve and exhibit the wine characteristics of each region and also show how they differ from each other.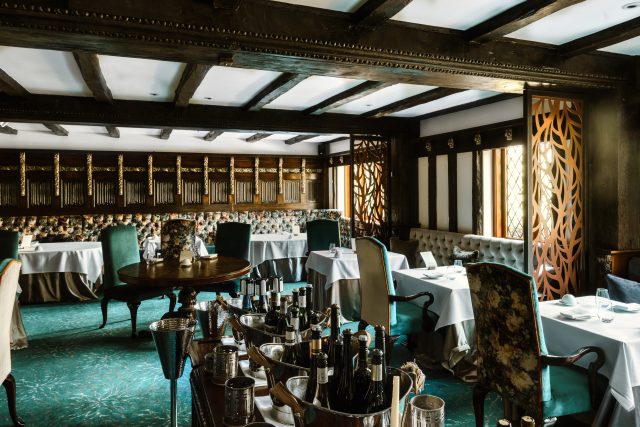 Which area would you like to expand?
The Loire, white Bordeaux and Languedoc.
Where is the cellar for the restaurant located?
Just a little beyond the Latymer kitchen, beside the pastry kitchen.
What is it like working with chef Steve Smith?
I already met Steve when he was at Bohemia in Jersey. I was at this time very impressed that he agreed wine should be treated just like food as it also has flavour, weight, aftertaste, structure and nuance. He was more than happy to share our combination of knowledge and experience to create exceptional food and wine matching, which enhances the guest experience. Since I started at Latymer, Steve has always asked for feedback on dishes that I tasted, welcoming an honest and unbiased opinion. He is also very open-minded by taking wine into consideration when he and his team are creating dishes. Especially as we only do tasting menus, it's very much about working together to see which pairings work best with each dish or to change the order of dishes so that they flow better with the different wines.
And what does he like to drink?
Steve likes to drink Zinfandel or Pinot Noir.
What has been a very successful wine and food match?
Roasted Orkney scallop, celeriac and truffle, apple and smoked eel with Condrieu, Stéphane Montez 2020. The flavour of the scallop is delicate and buttery, its main characteristic being a kind of soft sweetness, offset by the apple and smoked eel, and to add complexity and earthiness, celeriac and truffle. The Condrieu aromas oscillate between the floral of iris and the fruitiness of very ripe fruits such as apricot and peach. Very expressive, ample and subtle. Thanks to its freshness and soft texture, the young floral Condrieu allows the most unusual and balanced harmonies between sweet, sour, acidity and saltiness. This combination seems exceptional to me, as usually, a Condrieu will be too rich to pair with the delicacy of the scallops. Thanks to the unique winemaking skills of Stéphane Montez and the freshness of the vintage, the sweet and delicate flavour of the scallop pairs beautifully with the roundness of the wine. The warm, unctuous and multi-flavours of the pairing showcase the combination of knowledge and experience between Chef and Sommelier, which goes into creating magical food and wine experiences that enhance guest satisfaction and culinary pleasure.
What is your finest pour available via Coravin?
Nuits-Saint-Georges Premier Cru "Les Chaignots" 2017 by Domaine Chevillon. Les Chaignots vineyard is located north part of Nuits-Saint-Georges, showing the important aspect of location. Here the Nuits-Saint-Georges is charming, further south in ''Les Cailles'' it will be more muscular; it is why I love Burgundy.
What is your favourite table in the house?
Table 14 in the corner of the restaurant from where you can see the entire room and feel the atmosphere without being seen.
What music is played at the venue?
A mix of instrumental and vocal artists, intentionally not recognisable nor mainstream – a little more eclectic, independent and creative.
What ingredient do you abhor?
Olives, but I love olive oil!
What wine style could you happily live without?
If one, orange wines.
What has been an embarrassing service mistake?
It was during the movie festival in Cannes when a guest ordered a bottle of Cos d'Estournel 1989 and asked after another one, but there was no more in the cellar. In the rush, I decided to serve instead a bottle of Cos d'Estournel 1982 without checking the price difference (more than £1,000 difference at this time). The Food and Beverage Manager had to call the Hotel Director during the night to know which price they could charge to the guest.
Which restaurant is on your dining bucket list?
La Dame de Pic.
How many coffees do you drink per day?
Seven.
If you could have a superpower, what would it be?
To be super lucky. The wonderful thing about luck is that things just naturally happen in your favour. Everything just goes your way. There is no more advantageous power than luck.
Tell us something surprising about yourself?
I did my military service in the Alps with the Chasseurs Alpins (Alpine Rangers are the elite mountain infantry force of the French army. They are trained to operate in mountainous terrain and in urban warfare). I was a volunteer. I chose to come to Chasseurs Alpins as I had a girlfriend from the Alps at the time and her father managed to find someone who recommended me. It was an extraordinary experience even though I had to finish earlier due to a skiing accident…
Would you prefer to share a treasured bottle with your footballer namesake, Rebecca Adlington, or Aldo Sohm, and what would that bottle be?
None of them. I would instead share a bottle of La Romanee, Domaine du Comte Liger Belair 2012 with Sting.
Latymer by Steve Smith – Pennyhill Park, London Road, Bagshot, Surrey, GU19 5EU; latymerrestaurant.co.uk
This article was originally published by the drinks business and has been shared with permission.