Douglas Blyde finds good taste in both design and on the plate at the former Alsatian home of legendary artist, René Lalique…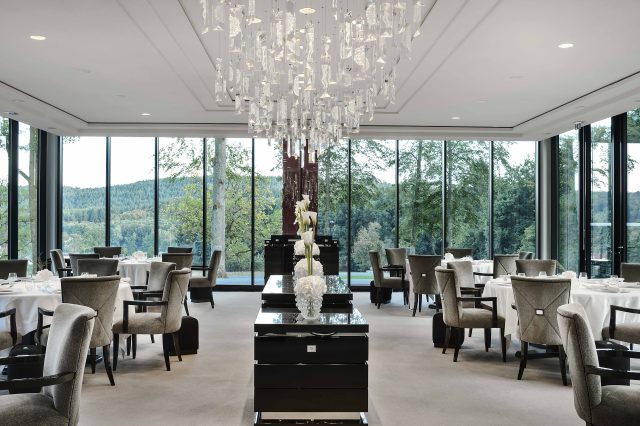 Inspired by antiquity and "Japonisme", then the female form – including realising women as insects – and flora and fauna, the Champagne born René Lalique evolved from avant-garde jeweller to world-famous glassmaker. Within his lifetime, his fluid creations decorated ocean liners and Pullman train carriages, adorned fountains on the Champs-Élysées and were encapsulated in the stained glass windows of the Saint-Nicaise church in Reims. The furnaces of the factory at Wingen-sur-Moder in the Northern Vosges, being the sole source of Lalique production, were first lit in 1922 when René Lalique was an already highly distinguished 62-year-old, and continue to burn 24 hours a day. Today, the workforce of 250 at the plant counts seven "Meilleurs Ouvriers de France", with a dozen apprentices per year joining a minimum five-year training programme. Providing an immersion experience given the richness of Lalique objet d'arts within its walls, Villa René Lalique, awarded two Michelin stars for its restaurant just three months after opening in January 2016, allows guests to dine in the former home of the artist, then sleep within suites named after and characterised by Lalique collections.
The Design
Although Villa René Lalique's colombage-beamed exterior is traditional almost to the point of caricature, the interior cleanly harks back to the era of Art Deco from when it was built in 1920. Created by designer, Lady Tina Green, the pared-back scheme is reminiscent of the black and beige palette of Jo Malone, allowing the often Art Nouveau Lalique creations to star, unchallenged, in the bar, lounges and each of the six bedrooms. Crystal forms are set within furniture by Pietro Mingarelli, act as door handles, and work as lights, vases, candles and salt and pepper mills; even the surrounds of panel televisions are handmade by Lalique. Edged by illuminated red sandstone pillars, the adjoining dining room glass pavilion designed by Swiss architect, Mario Botta captures views of the misty parkland, including chestnut trees contributing to delicious chestnut honey. Featuring piped classical music, a glass teepee to the front of the property acts as a smoking room. The particularly spacious cellar, a sommelier's dream, La Cave, features black granite racks and tables formed from wine barrel staves, as well as a somewhat incongruous 30kg chocolate carving of René Lalique on my visit, ordered as part of the celebrations of "100 years of Lalique in Alsace" which continue in the world-class Musée Lalique close by. There, jewellery, perfume vials, and rare aspects from seminal expositions are wowing. To quote René Lalique's modus operandi, "give a woman the best product you can compound. Present it in a perfect container (beautifully simple, but of impeccable taste), charge a reasonable price for it and a great business will arise such as the world has never seen."
The Kitchen
Inspired, he says, by Lalique, Alsace and his native Austria, head chef Paul Stradner and his 15-strong team of chefs are not shy when it comes to promoting the hearty flavours of Alsace drawing on a map of local suppliers, ranging from freshwater fish from the Rhine to venison from Ingwiller, lamb from Mietesheim, coffee roasted in Strasbourg, and even organic chickpeas from Peltre. Dishes served on plates often adorned with Lalique pieces may include tempered Carabinero prawn with fir buds, black cod with anchovies and smoked potato purée, and saddle of lamb with black garlic. And pastry chef Nicolas Multon creates unstoppably delicious sweeter aspects, including the irresistible citrus-accented in-room cakes and the dish of figs with milk rice scented with orange. Cheeses such as Munster from the refrigerated bespoke, glossy cart are also a must. And breakfast at the Villa is an unexpectedly fine affair, especially if ordering truffled scrambled eggs laid by hens residing in Philippsbourg.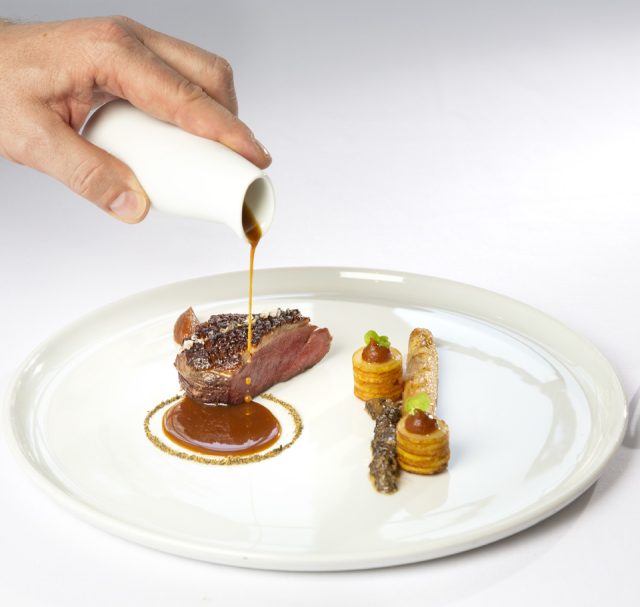 The Drinks
The Alsace-born head sommelier, Romain Iltis, was awarded "Meilleur Sommelier de France" in 2012, and "Meilleur Ouvrier de France" in 2015, in the sommelier category. He began his career with Alain Ducasse, and today oversees 2,700 bins, keenly replacing evaporated bottles with new listings, including a substantial collection of premium North American wines.
Served in glasses drawn from the 100 points collection in collaboration with James Suckling, which takes as many as 20 craftspeople to produce over five days, wines include estates presided over by Lalique owner, Silvio Denz. Denz, a UK-educated Zurich banker, inherited then grew fivefold the turnover of his uncle's perfume shop business before acquiring Lalique in 2014. Estates include Château Faugères, Château Péby Faugères and Château Rocheyron in Saint-Émilion, and in Sauternes, the residential Château Lafaurie-Peyraguey.
Prized museum-grade bottles include Klipfel Alsace Gewurztraminer from 1943 – a rare survivor from a turbulent time, Château Mouton Rothschild 1928, Château d'Yquem 1865, and a Niepoort decanter from 1863. Entries are catalogued in a cellar book dating to 1863.
In addition, a friendship with Deutz Champagne gives rise to longer lees aged Lalique cuvée.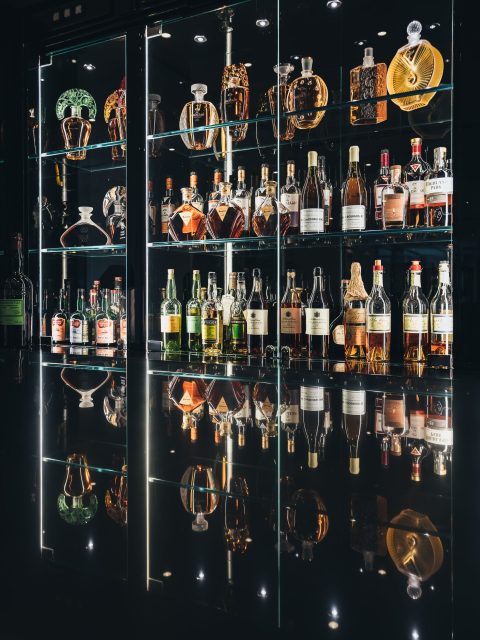 The Last Word
Beyond the business of beautiful things, Lalique, as demonstrated here at the Villa and most recently, in the Michelin-starred dining room at the Glenturret distillery in Scotland which was acquired a year before the pandemic, is a consummate restaurateur, hence the need to book a table in this remote corner of France some two months in advance. The next project will be to redefine the recently bought two-century-old Hotel Florhof in Zurich's old town. However, despite Switzerland being a centre for watchmaking, and Lalique's creations being timeless, wearable timepieces are something Lalique has not yet brought to the world.
This article was originally published by the drinks business and has been shared with permission.