Andrea Donadio has won the 2022's Best Sommelier in Argentina competition, an accolade that will see her go on to represent her country at the Concours ASI du Meilleur Sommelier du Monde in Paris.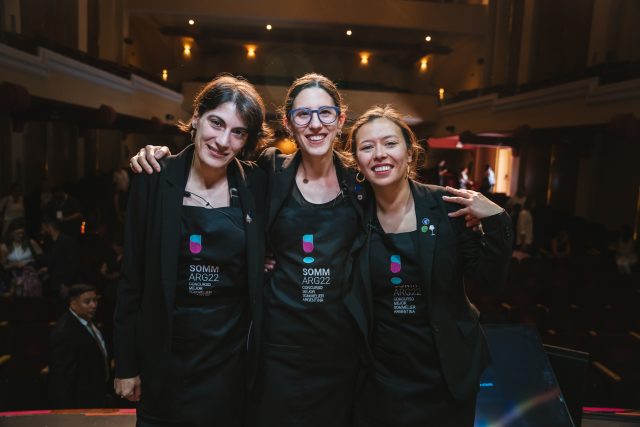 The ninth edition of the competition, hosted by the Argentine Association of Sommeliers (AAS) was held in Mendoza for the first time and saw entries from around 200 hopeful entrants.
In Argentina, the field of sommellerie has grown notably in recent years and women have a significant presence. Eight of the nine national competitions held since 2002 were won by women and they account for 50% of all registered professionals and students.
Speaking about her win, Donadío, said: "Argentine women sommeliers work together and support one another to help each of us to become better and stronger, there's a lot of professional and personal solidarity."
The Best Sommelier in Argentina competition was first founded in 2001 by the AAS which as a member of the Association de la Sommellerie Internationale (ASI) as well as a non-profit association, stands to promote the culture of wine and other drinks. The national competition was held according to ASI rules and this year featured a jury of leading figures from Argentina and overseas, who judged 35 top sommeliers, breaking the record for entrants set in 2019.
The competition, which had two initial stages, saw the finalists – Alma Cabral, Andrea Donadio and Delvis Huck – take a rigorous theory exam as well as blind taste wines and other drinks along with pass assessments on pairings, and wine service.
After the jury tallied up each finalist's scores and judged their performance on stage, Matías Prezioso and Valeria Mortara, president and vice-president of the AAS, announced that the new 'Best Sommelier in Argentina' was Andrea Donadio who will represent the country at the next world event in 2023 together with Valería Gamper, the 'Best Sommelier in Argentina in 2019' and the 'Best Sommelier of the Americas in 2022'.
Donadio explained: "It was a joy to share the final with colleagues of the calibre of Alma Cabral and Delvis Huck and it is a great honour to be representing Argentina at the next world cup together with Valeria Gamper."
Sarah Jane Evans MW, who was a juror for the final of this year's competition, added: "The Argentine sommellerie scene is very inspirational, with so many women in leading roles."
The event also involved a wide range of seminars, winery activities and a fair involving over 90 producers. It was made possible by the Argentina Viticultural Corporation (COVIAR); the Federal Investment Council (CFI); the Government of Mendoza's Ministry of Culture and Tourism, the Viticultural Fund; Wines of Argentina; Pro Mendoza and the Argentina Chamber of Wine Stores as well as private organisations such as Volf, Vinventions, Aqua Panna-San Pellegrino, Andesmar and Hon Travel.
Donadio received her sommelier degree in 2011 from the Argentine Center of Wine and Spirits (CAVE) where she now teaches on the Gastronomic Appreciation Course. She also teaches service and drinks at the Argentine Institute of Gastronomy and has enjoyed a long career in the restaurant business, working at major restaurants such as Oporto Almacén and El Baqueano in addition to training with Martin Berasategui in the Basque Country in 2009 and at Michel et Sebastian Bras in Lagiole, France, in 2012.
In 2015, Donadio was named a certified sommelier at the Court of Master Sommeliers and in 2019 reached the finals of the competition, where she came in third place. Additionally, she is also a co-founder of Tinte Vinos, an online store and gastronomic consultancy business.
This article was originally published by the drinks business and has been shared with permission.