With vintage mirrors on sand-coloured walls alongside prints of Margate's seascape by artist Auntie Print, wine bar and shop, Sète draws equal inspiration from the rustic kitchens of Marseille and the bustling wine bars of Paris. It is brought to you by German-American, Natalia Ribbe who is determined to "take the wank out of wine" and Jackson Berg who together also run Margate's Barletta (until 9th December) at The Turner Contemporary gallery, and previously Barletta on The Roof. Dishes might include pâté en croûte with pickled gherkin, potted smoked prawn with brown crab butter and tarte a l'oignon, while the wine list leans towards female winemakers, including those from Eastern Europe where Natalia spent much of her childhood, and Kentish winemakers.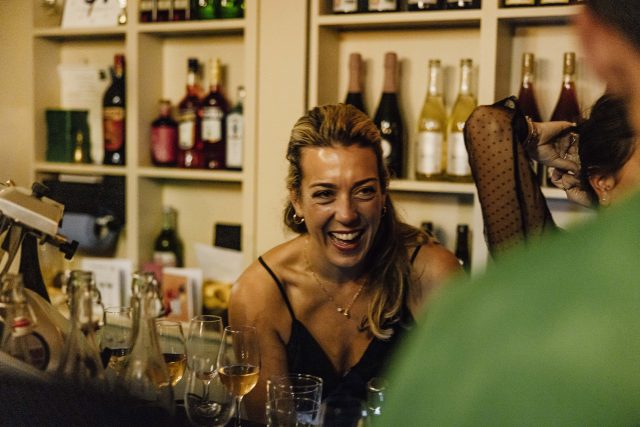 What was your first job?
Can I say cashier at the snack bar at our swim club? But my first "real job" was at a wine bar in Vienna called Fino. I was the bar back, mainly cleaning ashtrays and polishing glasses. Something I find myself still doing twenty years later! Though, when I was an intern at Elle Magazine, fashion editor, Kate Lanphear said to me. "Never be bigger than your job, I will always pack a trunk even now as an editor" and that has always stuck with me. I might be the boss, but I not better than anyone else.
How would you fire a member of the team?
I am not a fan of firing. I think managing someone to their full potential and then managing the end of that relationship in a constructive way is going to help everyone. This is something I have learned over the years; it's a hot-headed industry we are in and emotions run high and words get thrown around. Hopefully, I won't have to fire anyone.
How does Sète, and your original existing venture, Barletta at The Turner Contemporary gallery enhance the culinary and vinous offer in Margate?
Every food business in Margate only adds to this town's main goal which is to make it a great place to eat, drink and live. With Barletta, it has always been about infiltrating spaces and spreading the Barletta joy through our food, wine, cocktails and hospitality. And at Sète, I really want to get people feeling comfortable drinking wine which they might not normally go for, learning more about the story behind the winemakers so they can understand and see the value in the winemaking process. I like to think I bring a bit of my New York hospitality to the scene as well. I love getting to know our regulars' likes and dislikes and having fun with them in the same way I did when I worked in the City.
Who is the designer?
Our good friend Gary Barber of Vacuum Studios. He has an incredible ability to read my mind, especially when I am throwing a mixed bag of words at him. But I think when I showed him my two favourite spots in Paris (La Buvette and La Cave a Michel) alongside a few design-led places in Australia he just ran with it. It's a bit of Paris meets a bit of Margate.
What was the building like before?
A tobacconist and then a jewellery shop. We like to think the energy of the building comes from all the happy people who came in to buy a loved one something special from the latter. We had a woman in the other week who had a 40th-anniversary gift from her husband that was a ruby he had bought from the old jewellers that was here and on that day they were celebrating their 44th wedding anniversary. It was so sweet. so much history.
Who powers the kitchen?
Jackson is the food brains behind the menu at Sète, but we have a great head chef, Lauren Wood at Barletta as well as a fantastic pastry chef, Emma Tillyer. Between them they have worked at Quality Chop House, Bistrotheque, The Table, Where the Light Gets in, Flor and Soho House. We haven't necessarily gone for any pairings at the wine bar, yes there are things that really work together, but for us it's about tasty snacks and drinking the wine for your mood.
What has been a terrible food and wine match?
I always found cured meats which are full of iron to be a terrible pairing with skin contact wines. There is a really potent metal taste which comes out.
Describe your wine list?
I try to focus on small producers, female producers, couples, siblings, young winemakers taking over family vineyards, people focusing on biodynamic farming… people who you can tell are really all about showcasing the most beautiful wine. My favourites at the moment are Marta at Podere Anima Mundi who does very easy-to-drink monovarietal wines with great names, and I have yet to introduce anyone to her wines who doesn't fall in love with them. The Vins et Volailles project by Fleur Godart is all about a feminist voice but also absolutely banging wines. They are stand out for all the right reasons. And Christina Netzl in Austria who I think makes really clean, approachable wine and her rosé has been my way of getting people to drink away from the pale Provençal rosé.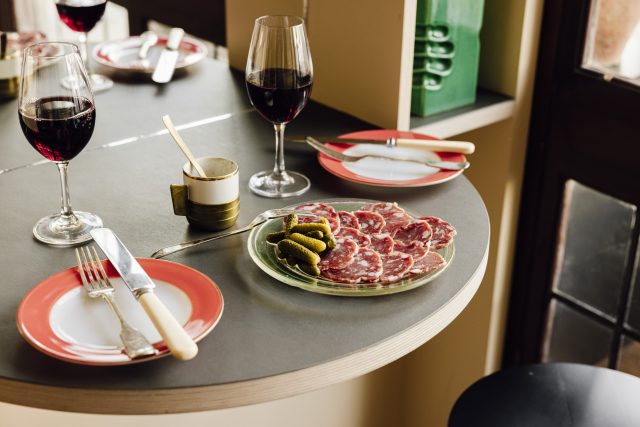 Where do we find particular value?
Value is even more important in the current financial climate we are in. We have an amazing Verdejo and Tempranillo from Finca Venta de Don Quijote and it is clean, easy drinking with a supremely affordable price tag. Also, I always allow people to "try before they buy" any of the wines by the glass so if they settle on a £12 glass of wine they know they LOVE IT.
What section needs work?
In the big bold red wine area. It is not where my heart is and so I always forget to add them to the list. Plus some dessert wine, for people coming in after dinner to end the night.
What is your top local pick?
Westwell is right on our doorstep, and I love their Ortega. I have also just started stocking some Bacchus from Saddle Goose which is really delicious despite me having previously detested the variety. However, this one spends time on the skins and while it holds its acidity it feels floral and fun.
Do you offer wines on tap?
We offer four. They have been a revelation, allowing me to have some amazing wines at great price points. Plus from a sustainability standpoint, there are fewer bottles to dispose of.
What glassware do you use?
We use degustation glasses from Glass & Co. presently and when in stock, I love Gabriel-Glas for its perfect lip feel.
Is the main restaurant operational yet, or is it just the wine bar?
It's just the wine bar at the moment, with the restaurant slated for the first half of 2023.
Have you ever had to break up a fight between customers?
Certainly at Barletta on the Roof during our first summer which was not fun because they did not go quietly.
Tell us something surprising about yourself?
I give a lot of myself during service and out of service to my team and my friends and when it comes to time off, I really love spending time on my own. Also, I went to high school in Budapest, Hungary which usually surprises people.
What is on the playlist?
All Saints, Al Green, Bill Withers, Woody Allen film soundtracks, Mary J. Blige, Mariah Carey (following a proper sing-along at Beaujolais Nouveau) and of course, the Sugar Babes!
What frustrates you about the wine trade?
It's really snobby and intimidating. I used to feel like such an outsider, that I was never going to be cool enough to go to RAW wine fair or any of the trade tastings. There is SO much to learn and know about wine, I don't know nearly half enough, but I think what guests want is wine simplified at dinner, not to be more confusing. They don't care about time on the lees; they want to know if it's going to make them happy or comfort them when they are sad. It's good for me to know the intricacies because as I become more educated, I can know how that is going to affect the wine's flavour profile. So, my goal is to take the wank out of wine.
Are you terrified about where our current government is taking us?
Yes. I have always felt a little like a second-class citizen working in my industry and I think the lack of respect and acknowledgement for the margins we have to work to as an industry, alongside what we bring to cities, towns and people across the nation is undervalued.
What did it mean to take part in the Hospitality Demonstration outside the Houses of Parliament to you?
Empowering and unnerving. I have always admired and loved our community, and it was great to come together on that day to protest for an industry we all love so much. l wonder how many pots and pans we'll have to bang to be heard. I hope not too many.
Do you prefer still or sparkling water?
Sparkling ALL DAY EVERY DAY.
English fizz or Sekt?
Sekt.
Cognac or Armagnac?
Armagnac.
Would you rather have lunch with Marlene Dietrich, Albert Einstein or John Steinbeck?
Would have to be Marlene Dietrich. I have always had a strong obsession with old Hollywood and that era of glamour. I reckon we would have an absolute whale of a time, sipping champagne, smoking cigarettes, dancing, and club hopping, all dressed in exquisite attire. And as for why they all feature – is there some German-American link I am seeing?
Sete – 238 Northdown Road, Margate, CT9 2QD; 01843 606007; wine@setemargate.com; setemargate.com
This article was originally published by the drinks business and has been shared with permission.