A man has broken the world record for dining at the most Michelin-starred restaurants in one day, managing 18 within the 24-hour time limit.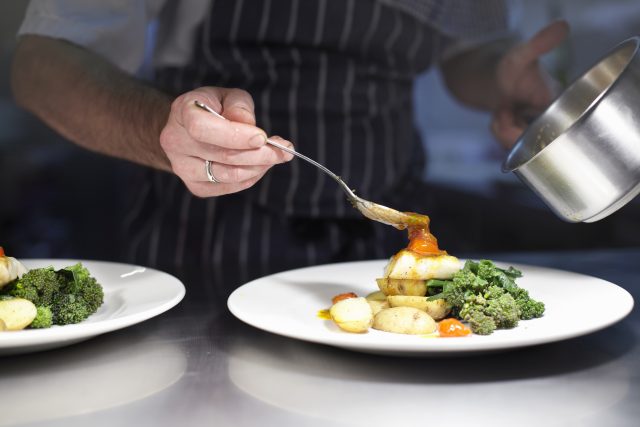 Eric Finkelstein, a former competitive table tennis player, attempted the challenge in New York City where he lives. He read about the Guinness World Records title in a food group on the social platform Discord.
"I loved the idea," Finkelstein said. "It combined my loves of eating interesting food, working towards a checklist, and working towards something silly."
But the challenge started well before the day of eating and drinking begun, as Michelin-starred restaurants are notoriously difficult to get into. The 34-year-old American spent months contacting over 80 restaurants, only hearing back from six with Michelin stars.
After a few hectic weeks of phone calls and emails, Finkelstein had managed to secure reservations at 18 exclusive eateries.
Noda, a sushi bar, was one of the restaurants that responded to Finkelstein's last minute request. Philip Dizard, the manager, said: "This is an absurd idea born out of the pursuit of indulgence and in service of unbridled vanity. We are 100% in."
Finkelstein started his journey at Le Pavillon, where he ate a grilled avocado salad, and finished at Noda, dining on caviar-topped chawanmushi (savoury egg custard). He managed to hit all 18 places in just 11 hours.
Per an article in Food & Wine, this is the full list of restaurants and dishes that Finkelstein enjoyed:
"Aquavit: Four-ounce bowl of lingonberries ($15) 
Bâtard: Beef tartare and garlic toast ($28) 
Casa Mono: Fluke crudo with spicy cucumbers and calamansi ($21)
Caviar Russe: One teaspoon of Pacific sturgeon caviar with creme fraiche and blini ($25)
Cote: Four-ounce filet mignon with scallion and carrot side slaw ($34) 
Francie: Duck mortadella atop brioche with pistachio mustard ($15)
Gramercy Tavern: Duck liver mousse with pickled vegetables and plum accompaniment ($21)
Jungsik: Octopus with gochujang aioli ($30)
Le Coucou: Yellowfin tuna a la Portuguese ($26) 
Le Pavillon: Grilled avocado salad with einkorn berries, charred kale and yogurt green goddess dressing ($36) 
Momofuku Ko: One cold fried chicken drumstick ($7) 
The Modern: Prince Edward Island oysters with kumquat mignonette and charred lime ($26) 
The Musket Room: Kristal caviar service with creme fraiche, egg confit, and milk bread ($10)
Noda: Chawanmushi with uni and caviar ($30) 
Oiji Mi: Beef tartare on toasted brioche with pickle and Kaluga caviar ($24)
Red Paper Clip: Everything brioche topped with cured trout, salmon caviar, and miso yolk ($18) 
Tuome: ​​Grilled scallops with grapefruit, calamansi, and chrysanthemum ($26)
Vestry: Smoked trout with butternut squash and maple ($14)"
His favourite meal of the day was a "three-way tie" between the Fluke Crudo at Casa Mono, the Duck Mortadella at Francie, and the Everything Brioche at Red Paper Clip.
Having consumed an estimated 5,000 calories, Finkelstein spent a total of $494 (£409) on his 18-course saga, not including tax or tips.
This article was originally published by the drinks business and has been shared with permission.