The deep-thinking Kozlowska oversees the far-reaching drinks programme at Studio Frantzén – the first London restaurant from Swedish chef Björn Frantzen, who became Sweden's first culinarian to win three Michelin stars in Stockholm in 2018. Features an almost ecclesiastical interior including murals, open kitchen, private dining area and large terrace, it is located atop arguably the world's most famous department store.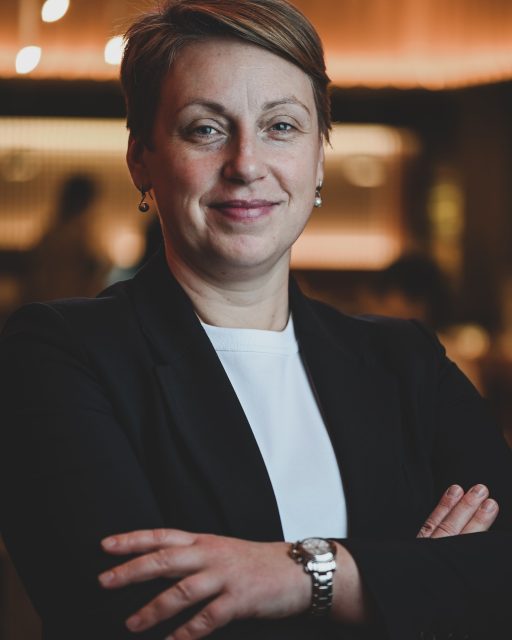 Do you enjoy working in London?
The sommeliers and wine buyers of London are lucky to be able to work with so many different producers in what the most diverse wine market in the world must be, while Harrods itself attracts an international clientele like nowhere else on earth. Indeed, we've seen people travel to London specifically to come to try Björn's cooking at Studio Frantzén. It all makes me feel very connected.
Where did you work most recently?
At Cornelius, a renowned seafood restaurant on an island outside Bergen amidst the fjords. Travelling to work each day by boat, I organised, then put online for the first time, the £2m wine collection which spans 1,200 bins to accompany produce harvested by the restaurant's own team of divers. Highlights included Rieslings dating to the 1970s from Jos. Christoffel Jr. and J. J. Prüm. With a subtle saltiness hanging in the air, the cellar, dramatically hewn into rock, maintains a stable temperature and humidity.
And before that?
At Clairette, Marylebone alongside Alexandra Petit Mentzelopoulos of the Château Margaux family, who came in every day when not on business abroad. We could confidently boast having the biggest selection of Château Margaux wine in London, directly sourced from the Château. However, I first entered the London wine business at Hoxton Square's Cru, being one of the first restaurants to promote organic, biodynamic and natural wines. My CV also includes Oxo Tower, Crockfords Club and Casino on Curzon Street, Franco's on Jermyn Street, The Lanesborough, The Arts Club, and outside the UK, Vie Montagne in Verbier.
Where are you from?
Poland, which I left a quarter of a century ago.
What does your role of Head Sommelier at Studio Frantzén encompass?
I have built the list, taking whatever I liked from Harrods own collection while wanting it to feel quite separate and unique, bringing in other labels, best reflected in my selection of 36 wines by the glass. I also recruit and train the front of house team and have space for more sommelier talents to work on the exciting project (careers.frantzengroup.com).
Where are your wines located?
We keep two bottles of each of the 640 bins in EuroCaves in the restaurant itself, with a capacity for a further 10,000 bottles in a dedicated cellar eight floors below. Organisation is key given there is such demand for back of house lifts in the store, which has 400 departments.
Described your list?
My primary focus is on classics from Champagne, including six vintages of Cristal, Burgundy, including Domaine des Comtes Lafon and Domaine de la Romanée-Conti Le Montrachet, and top Bordeaux, including Château Margaux back to 1983. Meanwhile, sought-after artisanal, natural and biodynamic producers with miniature production, include Mephisto Cabernet Franc from Domaine de l'Ecu, Les Hauts de Husseau from Domaine de la Taille aux Loups. My plan is to build the list to 850 bins, extending the range of wines from Champagne, Austria, Hungary, Georgia, Greece, Spain and Germany. Indeed, in terms of food and wine pairing, Riesling often complements Björn's style of cooking.
What does executive head, Marcus Rohlen, like to drink?
Champagne, white Burgundy and American Pinot Noir.
Given the restaurant weaves aspects of the cuisines of Sweden and Japan, do you have any plans to include wines from these countries on the list?
Yes, I intend to put Japanese Koshu by the glass, and as for Swedish wine, as soon as I taste anything of note.
What about sake?
Sake will surely complement certain dishes and I am planning to create a sake list.
What has been a startling good food and wine match at the venue?
The intense, umami-rich starter of roasted Orkney scallops with scrambled duck eggs, black winter truffle, beurre noisette dovetails with the graceful Emmanuel Giboulot La Grand Chatelaine Côte de Beaune. Also, the Lemberger from Weingut Roterfaden in Württemberg pairs with our Caesar salad, prepared tableside, of grilled guinea fowl with miso-togarashi dressing, romaine lettuce, basil, mint, toasted pine nuts, soy-braised pork belly and black-garlic croutons. A wine which gains depth, presence and smokiness from the terroir.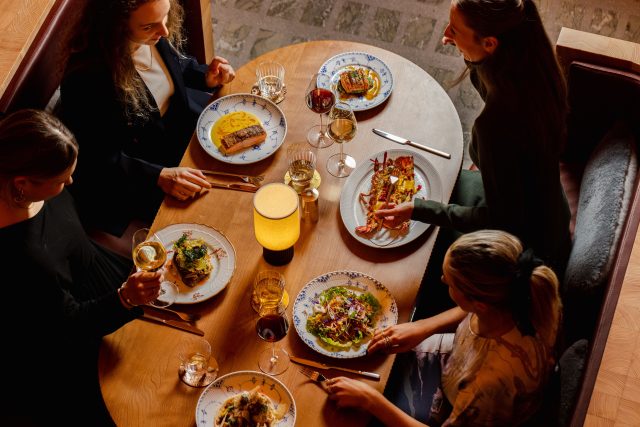 What are your finest pours via Coravin?
Krug 170ème Grande Cuvée, 2010 Château Lynch-Bages, and Pavillon Blanc du Château Margaux.
What is your favourite table in the house?
In winter, one of the booths in the Japanese-esque dining room overlooking the pass; if warm and sunny, the terrace, especially as the sun goes down and the lights come on in London.
What wine style could you happily live without?
I find overblown, over-oaked and over-alcoholic wines tiring. Instead, I seek purity, precision and the expression of terroir.
What ingredient do you abhor?
Unsubtle use of garlic.
What qualifications do you hold in wine?
A wine business degree from Plumpton and the WSET Diploma – and it is my ultimate aim to become a Master of Wine.
What music is played at the venue?
Our playlist is timeless and playful and, on Thursdays and Fridays when we have a DJ in the bar, which doesn't require reservations, playful and cheeky, helping to encourage a fun atmosphere amongst the grown-ups.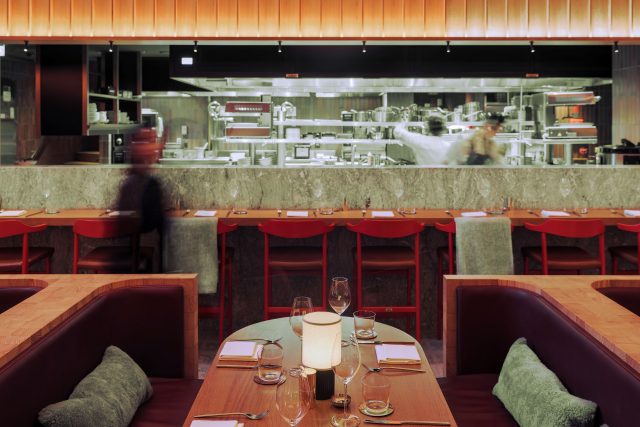 What has been an embarrassing service mistake?
One mistake every sommelier dreads is picking up and pouring the wrong bottle at the wrong table, which hasn't happened to me for a long time, though I still remember when it did…
Which restaurant is on your dining bucket list?
Geranium in Copenhagen, which focuses on nature, sustainability and biodynamics and also takes non-alcoholic options seriously. Not being a big meat eater, I like its focus on fish, vegetarian and vegan ingredients.
How similar is Studio Frantzén to the three Michelin starred Restaurant Frantzén in Stockholm?
I think it's hard to compare the two. The original is much smaller, being in a townhouse, with only 23 covers per service. Though one similarity is the fact there are several different rooms. Instead, I feel Studio Frantzén bears more similarities to Brasserie Astoria in the former Astoria cinema in Stockholm.
How many coffees do you drink per day?
While I love the smell of coffee, I actually prefer to drink four or five cups of Japanese Sencha throughout the day.
If you could have a superpower, what would it be?
To reverse the damage that humans have done to the planet.
Tell us something surprising about yourself?
Although I don't smoke very often, I love cigars and used to be a cigar sommelier at Crockfords, dealing with all the Cubans you can get.
What do you do in your time off?
I look forward to spending time with my close family, sharing great food and wine.
Would you prefer to share a treasured bottle with Piotr Pietras, Michael Ward or Dr. Gregory Dunn, and what would you choose?
I would share a natural wine with Piotr.
Studio Frantzén – Harrods, Door 5, 5th floor, 87–135 Brompton Rd, Knightsbridge, SW1X 7XL; t. 020 7225 6800; reservations@studiofrantzenlondon.com; studiofrantzenlondon.com
This article was originally published by the drinks business and has been shared with permission.