It is well documented that many hospitality workers rely on tips to supplement their wages. But if your bartender happens to be a robot, where exactly is your tip going?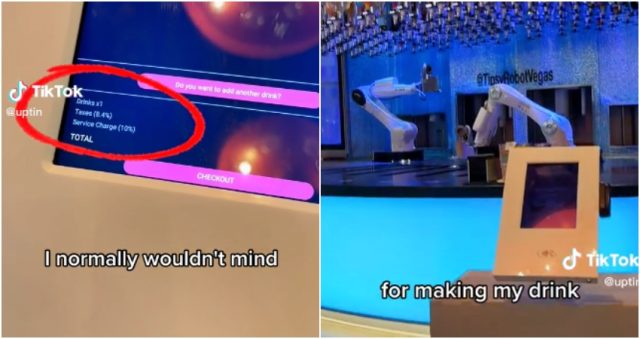 After a viral video uploaded to TikTok showed a robotic 'bartender' shaking up drinks (I've got to be honest, in itself quite an eerie glimpse into the future), a debate has raged online about whether or not you should have to tip your bartender if it happens to mainly comprise wires and a computer.
No matter how well-made your Negroni, how perfectly served your Old Fashioned, if it's been made by a robot, should you leave a tip?
The obvious answer is 'no, you strange little man'.
But the viral TikTok video claimed that was left with no alternative but to do so, after the automatic payment machine had "no option to opt out".
The screen showed a 10% 'service charge' had been added to the total bill, leaving the uploader rankled at the prospect of tipping a robot.
While some did point out that 'service charge' may well mean something other than a tip in this scenario, others certainly saw the funny side.
"He has a wife and two sparkly plugs at home", one TikTok user quipped, while a second added, "I don't mind tipping a robot as long as it's ACTUALLY going to the robot".
"You best give that tip bro, I don't like what them terminator movies were talking about [sic]", another commenter added.
Read more:
Robot mixologist can serve 120 cocktails per hour
Japanese restaurant resorts to robot bartender after failing to hire human
This article was originally published by the drinks business and has been shared with permission.