Mandarin Oriental Hotel Group has announced that chef Akira Back will make his UK debut at Mandarin Oriental Mayfair, set to open in Spring 2023.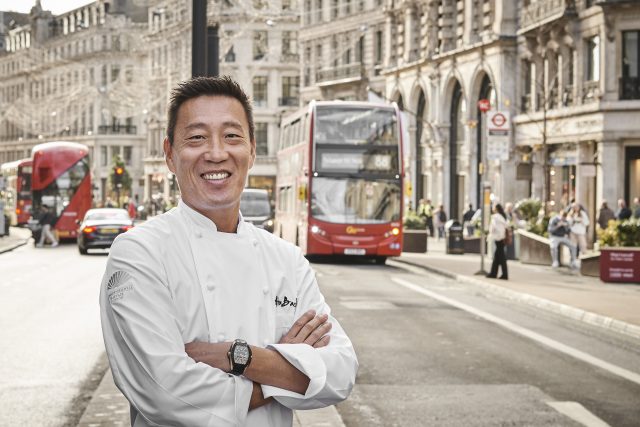 Akira Back is the chef behind Seoul restaurant Dosa which was awarded a Michelin star in 2018.
The professional snowboarder turned chef is responsible for 22 restaurants worldwide. The new concept launching this year is the first of Back's restaurants to come to London. It will feature four concepts within the Mandarin Oriental Mayfair hotel.
Back's collaboration with the hotel includes a a 148 seat all day dining restaurant called Akira Back serving Asian American food inspired by both Japanese and Korean cuisine.
The three other dining concepts include Dosa, offering contemporary Korean dishes presented in an intimate 14-seater counter-style setting; ABar Lounge — a cocktail bar with small bites and live DJs; and ABar Rooftop — a new rooftop offering panoramic views and Asian-influenced cocktails.
Back's restaurant empire includes locations in Paris, Las Vegas, Beverly Hills, Dubai and Seoul. His dishes are influenced by the classical Japanese training he received.
Chef Akira Back said: "I am delighted to bring my dining experience to London for the first time. My mission statement has always been to create unforgettable memories for guests by revolutionising the dining experience through one-of-a-kind dishes and gracious service. These values are deeply engrained in Mandarin Oriental Hotel Group's philosophies, a Group who delivers the highest quality guest experiences around the world. It is the perfect partner for my first UK venture."
February may be the shortest month, but there are still plenty of exciting new restaurant openings crammed into the next four weeks. Read our list of the most exciting restaurant openings in London here.
This article was originally published by the drinks business and has been shared with permission.