John Wick star Keanu Reeves left punters at a local pub stunned and overjoyed after paying a surprise visit over the weekend.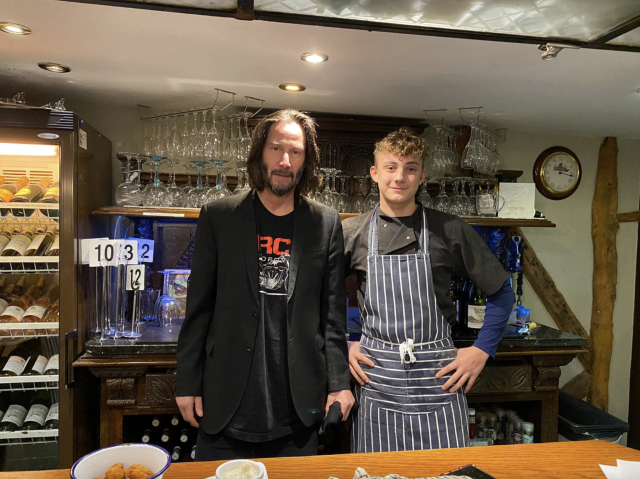 Reeves, known for high-octane Hollywood blockbusters such as The Matrix franchise, the John Wick franchise and Speed, certainly set pulses racing in Tring on Saturday 4 February.
The Robin Hood in Tring, Hertfordshire played host to the Hollywood actor and two friends during lunch service on Saturday 4 February, something the pub's chef described as "surreal".
"It was a bit worrying because I had to cook for him but we took it out to him and he said thank you and was really nice," 18-year-old Scott Valentine said. Apparently Reeves two others ordered two large fish and chips and two shepherd's pies.
Posting photos of the surprise encounter to its Facebook page, a staff member of The Robin Hood wrote:
"So today we had a surprise visitor for lunch…
"What a lovely man he was too.
"Laura asked if he would be ok with taking photos with the kitchen lads.
"He marched into the kitchen shook their hands and praised them for the food they had prepared.
"Suffice to say he made their days!!!"
Mr Valentine added, "[he] came into the kitchen, shook our hands and said the food was lovely.
"He took the photo and I put it on my Instagram and it blew up quite a lot. Loads of people said it was amazing and they were really jealous."
Read more:
Teetotal Russell Brand buys pub
This article was originally published by the drinks business and has been shared with permission.