UK-based industry organisation The Drinks Trust has announced the launch of its annual industry survey, which is aimed at better understanding the drinks industry and hospitality community, and the needs of those who work in the sector.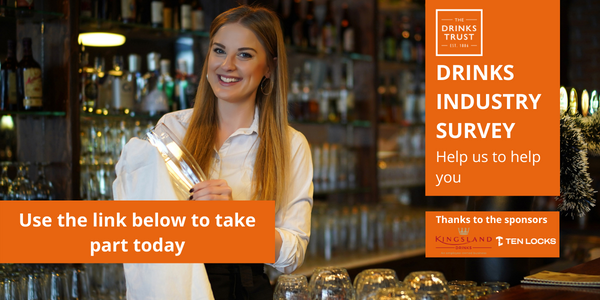 The continued and considerable challenges being faced by the hospitality and drinks industries have been well documented. Covid provided uniquely challenging trading conditions, while the current cost-of-living crisis is hitting both sectors hard.
More than 4,500 people, including those most at risk from the current and ongoing financial crisis, became beneficiaries of The Drinks Trust's work in 2022.
Now, the charity has launched its annal survey, which this year aims to ascertain the mood of the drinks and hospitality industries and better understand the needs of those working in both sectors. The findings will be used to inform The Drinks Trust's services and methods of support, and the survey takes just five minutes to complete.
The Drinks Trust CEO, Ross Carter commented, "The Drinks Trust is committed to further understanding the needs of the people within our industry, and as a result, provide the support and services that make a difference. We are therefore asking drinks industry and hospitality organisations, businesses and professionals to share our survey internally with their teams, and with industry colleagues, so we can have a comprehensive understanding of the services needed to make a difference in our industry."
Jo Taylorson from Kingsland Drinks Group, which is backing the 2023 annual survey, added:
"Building a better drinks industry starts with identifying what can be done to improve in all areas, and then swiftly getting behind initiatives that benefit people on a personal and professional level. This survey is an opportunity for everyone in the drinks industry to affect change. By sharing your feedback, you'll be helping to take the UK drinks community to the next level."
Becky Davies from purpose-led drinks firm Ten Locks, which is to working highlight The Drinks Trust across the hospitality sector this year, said:
"It's increasingly the case that hospitality has become a career versus a stop gap; I've confidence that those who stay the course and get among what it can offer will undoubtedly be the stars we watch truly succeed in the years ahead. Sharing your opinion now will help to ensure that everyone in the industry has access to what they need to thrive in the long term."
The Drinks Trust annual industry survey is open until mid-March, and responses are completely confidential. By taking part in the survey, participants will also be in with a chance of winning various drinks-based prizes.
To take the survey, simply click here.
This article was originally published by the drinks business and has been shared with permission.