Vori is brought to you by the welcoming Markos Tsimikalis, who traded his job in derivatives to pursue a dream of "attaining the representation Greek cuisine deserves in London." On this mission, his first eatery, "Hungry Donkey" opened in Shoreditch in 2015 and then closed last December, gone but not forgotten by its vocal fans. With the vibe of a "student-hall-canteen" according to Olive magazine, that joyful space offered "great value" all-day breakfasts, souvlaki skewers, pitta wraps and a "warm semolina custard".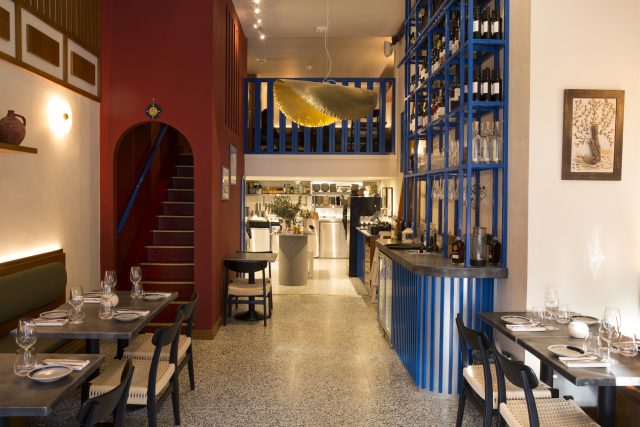 Design
Opened mid-January, although the aim had been for Boxing Day, Vori is a more grown-up sequel. Previously a branch of Tootsie's, then Giraffe, the only thing remaining is "the kitchen extraction" system says Tsimikalis, who, in a cleansing moment, "found four layers of old restaurant" when demolishing the old schemes gaining 20cms in the process, while opening up the ceiling, from which two golden, taco-shaped lights intended to recall the Greek sun now float. Offering views of the brasserie below with its five tonnes of terrazzo flooring, the mezzanine seating area was reclaimed by reducing the size of over-specified toilet facilities.
Drinks
"We view ourselves as ambassadors of Greek hospitality, food and wine and that has been our North Star all along," says Tsimikalis when asked about the meaning of Vori, or "North". "I love intense, heavy wines, though need to find balance," says Tsimikalis when asked about his one-page, all-Greek wine list which includes expected touchpoints such as Assyrtiko, from dry to sparkling and sweet, with a highlight being Volcanic Slopes Vineyard Pure Santorini, and Xinomavro (Alpha Estate) while taking in unusual finds such as Acheon, from Bordeaux-trained Sosanna Katsikosta, who makes the single vineyard Skin Contact Icon R "Roditis Fox" from Aigialeia 100 miles west of Athens overlooking the Gulf of Corinth. Despite being polite in profile, gently hued and precise, it is unclear how such a spontaneously fermented, unfiltered wine will actually make it to a guest's table when Tsimikalis takes a day off given there is no sommelier at Vori.
Also from Aigialeia is Rouvali Tsigelo, a dry take on Mavrodaphne, a red grape more commonly used for sweet wines. Its plush tannins result from five months in clay amphorae to Burgundy-trained winemaker, Theodora Rouvali, whose father was a pioneer of the Santorini PDO in 1982.
And then there is the Moschofilero from Katerina Boasinakis' eponymous winery in Mantinia 100 miles south, intended to have enough guts to age despite the Moschofilero grape's reputation for being an early quaffer. It carries an aromatic, green pepper note, with salinity on the palate and an olive oil-like texture. Also from the producer, the Provence style Ieria Boskinakis features a flying donkey on the label, it being the equivalent to Greeks of the flying pig to Brits. If Katerina could make a light, chic pink from Moschofilero, "donkeys would fly", she was advised…
Other all-Greek drinks at Vori include a Negroni made from Callicounis Old Sport gin, vermouth and bitters, and Tsikoudia and Ouzo served in attractive cut glass flasks.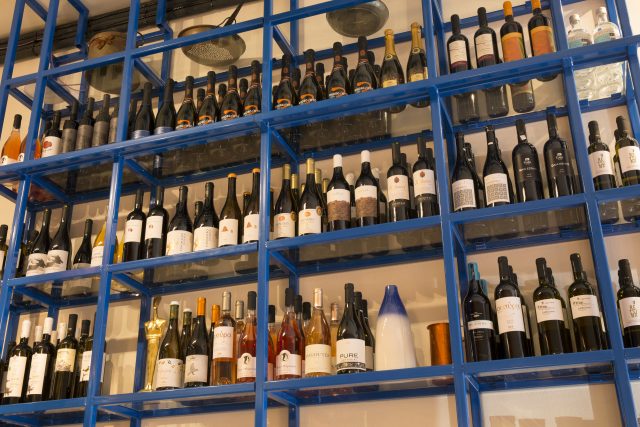 Dishes
Dishes often arise from the venue's charcoal grill. My favourite plates were the smoked, two milk blend Metsovone cheese fritters with fig jam, kalamari with Santorini fava purée and capers, and a particularly rewarding Cretan Cheesecake using Galomizithra cheese with candied walnuts and wild thyme honey. Less successful were the somewhat dull Loukaniko wild boar and leek sausages albeit evocatively reaped from Mount Olympus with a fairly commercial seeming but prettily wrought smear of mustard, and the slightly slippery Kakavia potato-rich traditional fisherman's soup, made today with bream which, while others on my table begged for seconds, caused me to dither. I would like to return to try the Spitiki Pita "homemade pie of the week".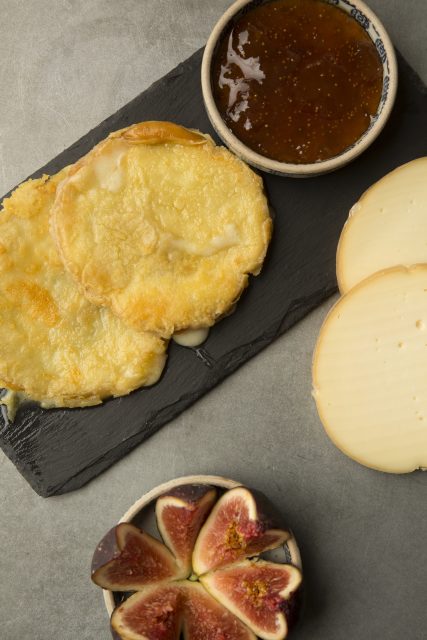 Last Word
Given its proximity to the Greek embassy, and the legion of fans which Tsimikalis built while running Hungry Donkey which may one day return, coupled with the eagerness of a determinedly authentic kitchen which makes from scratch much of what is served from purveyors including Maltby&Greek which is also a key wine merchant to the venue, Vori should please and appease in comfort and warmth homesick Greeks and keen philhellenes.
Best For:
Small wine producers from Greece on allocation
Dishes from the grill
Greek Negroni
Value: 90, Size: 75, Range: 85, Originality: 91, Experience: 92, Total: 86.6
Vori Greek Kitchen – 120 Holland Park Ave, London, W11 4UA; 020 3308 4271; info@vorigreekitchen.co.uk; vorigreekitchen.co.uk
This article was originally published by the drinks business and has been shared with permission.