Following a spate of unhygienic incidents at conveyor belt sushi restaurants in Japan, the police have now been forced to intervene.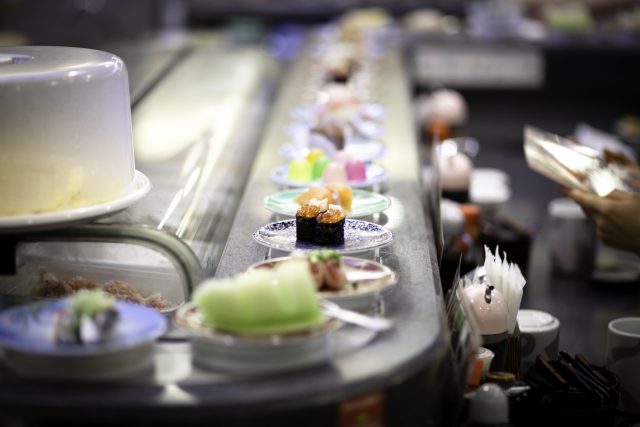 Conveyor belt sushi, or kaiten-zushi, is one of the great emblems of modern Japan: freshly-prepared sushi zipping round restaurants for customers to pick up as it passes them. However, these innovative eateries have come under threat from a new viral video craze, nicknamed 'sushi terrorism'.
In February, the share price of Akindo Sushiro's parent company, dropped by 5%, after a video was shared of a teenage boy in a restaurant in Gifu Prefecture licking and then returning a soy sauce bottle and tea cup.
#反省していない #青春 #お腹空いた #寿司テロ #スシロー pic.twitter.com/Oicuinj7Mi

— 髙井 十蔵 (@ju__pippippi) January 30, 2023
Among the copycat incidents that have been recorded and shared on social media are (largely adolescent) customers stealing dishes destined for other tables, licking a spoon and returning it to the communal green tea pot, and spraying hand sanitiser on passing plates of food.
The situation has become so extreme that two major restaurant chains, Choshimaru and Akindo Sushiro, have temporarily stopped the belts, instead relying on the more old fashioned method of having staff waiting on tables.
Now, in the latest step in the war on sushi terrorism, three individuals, aged 21, 19 and 15, from Aichi Prefecture have been arrested for their behaviour in restaurants.
In response to the arrests, a spokesperson for Kura Sushi, a chain of kaiten-zushi restaurants, said: "We sincerely hope the arrests will spread awareness in society that these pranks, which fundamentally undermine our system based on a relationship of trust with customers, are a crime, and that there will be no copycat acts in future."
Related news: Japanese brewery uses AI to create perfect sake pairings with fish
Could you fuel your delivery trucks on ramen fat?
This article was originally published by the drinks business and has been shared with permission.