Asahi has collaborated with London's Nobu restaurant to launch a pairing menu complementing its Asahi Super Dry 0.0% beer and has also revealed a new partnership with Japan House, located in Kensington.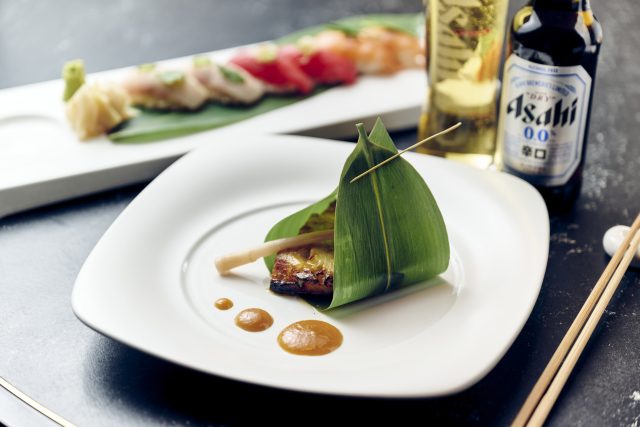 The 'Beyond Expected' 0.0% Omakase menu, which has been curated by executive head chef at Nobu Hotel Portman Square, Michael Paul, will be available for lunch sittings at Nobu Restaurant from 13-19 March. Customers opting for the 'Beyond Expected' 0.0% Omakase menu will receive a complimentary serve of Asahi Super Dry 0.0% or Asahi Super Dry.
Asahi Super Dry 0.0%, now available across UK and Ireland, was launched at the start of the year and is now set for a wider roll-out amongst pubs, bars, restaurants, and retailers from March and marks the start of a new corporate partnership between Asahi UK and Japan House London, located on Kensington High Street and presents the very best of Japanese art, design, gastronomy, innovation and technology.
Speaking about the launch, Asahi UK marketing director Sam Rhodes said: "Asahi Super Dry 0.0% is crafted to offer the distinctive, super dry taste of Asahi Super Dry – simply, without alcohol. We know that moderation is not simply a trend or seasonal choice, it is part of a daily lifestyle, and we believe beer lovers should never have to compromise on quality of taste, whether they're opting for an alcoholic option or not."
Rhodes added: "As a brewer, our number one priority is about offering a commitment to quality of taste and choice no matter what the occasion and with 53% of consumers trialling No and Low alcohol brands this year it's important there is an option for all tastes. We're thrilled to be collaborating with our long-standing partner, Nobu London, to bring Asahi Super Dry 0.0% to life with a beyond expected pairing experience for consumers that only our premium 0.0% beer can unlock."
This article was originally published by the drinks business and has been shared with permission.