After twenty years of three-Michelin-star status, Guy Savoy's eponymous restaurant in Monnaie de Paris has dropped a star in the forthcoming edition of the Michelin Guide.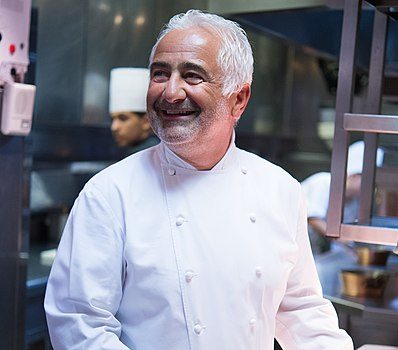 The Seine-side restaurant has had three star status since 2002, with tables in its six dining rooms much sought after as a result of the prestige surrounding such a distinction. The set menu of 13 courses, excluding drinks, costs €630 and features dishes such as iced poached oysters with concassé of oysters, granité of seaweed and lemon, and, as the Michelin Guide put it, Savoy's "emblematic" artichoke soup with black truffle "to be relished with a brioche spread with truffle butter".
However, despite Savoy being recognised as one of the most accomplished chefs in the world, his restaurant has not retained its third star ahead of the publication of the 2023 edition of the esteemed eatery guide.
Savoy is not the only French chef whose restaurant has gone from two to three stars with this issue: Christopher Coutanceau's eponymous restaurant in La Rochelle also dropped down a rating.
Speaking to The Times, Gwendal Poullennec, the international director for the Michelin Guide, said: "The reasons are not made public, and communicated only to the chefs involved. For such important decisions, we include not just French inspectors but also some from other countries."
Poullennec revealed that he had spoken with both Savoy and Coutanceau about their restaurants being downgraded: "The emotion was palpable. I would like to salute the elegance of the reception of this news by the chefs and the dignity. They are ready to move forward, to set out again to conquer the star".
But, though the loss of a prized star can be a bitter blow, two-Michelin-star status is still coveted, and the change can be liberating for some chefs. In 1993, the year after Michel Roux Jr. took over Mayfair's Le Gavroche from his father Albert Roux, the restaurant went from three stars to two. Reflecting on this, Roux Jr. said: "Certainly, I would love three stars. I believe in the system and the recognition would be wonderful. But I am not cooking that style of food. There are dishes that are worthy of it, but my style really doesn't suit that status. Besides, we have changed the feel of the restaurant…since I took over. People come here to laugh, to enjoy themselves and to have great food. We are not a temple and there are no hushed voices. With a third star that would change again and I don't want it to."
Related news: Husband-and-wife team leaves two-Michelin-star restaurant.
This article was originally published by the drinks business and has been shared with permission.