An unusual scene has been shared far and wide on social media showing diners in Bordeaux enjoying a glass of wine despite sitting in front of a raging fire lit by protestors against pension reforms.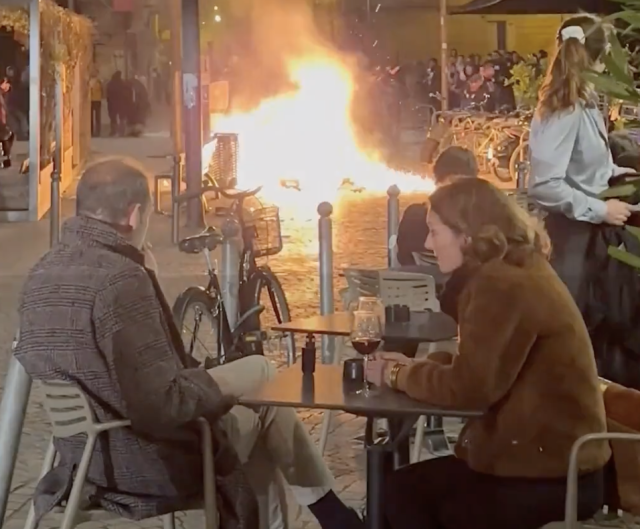 French president Emmanuel Macron's reforms to raise the pension age in the country have sparked nationwide anger. In Bordeaux, the doors of the city hall were set alight amid protests, while anger was demonstrated across France, with at least 1.1 million people taking to the streets to demonstrate. Unions said the figure may be as high as 3.5 million.
And amid the protests, one video has been shared widely on social media, showing diners drinking wine while overlooking a raging blaze just in front of them.
You can watch the video for yourself here:
Diners sitting outside at a café in the French city of Bordeaux enjoyed their wine not far from the glow of a raging fire lit by demonstrators protesting divisive pension reforms. https://t.co/awqtadrgCp pic.twitter.com/wMkSgCZpQK

— ABC News (@ABC) March 27, 2023
And commenters were quick to share their thoughts on the unusual scene.
"Sit back and revolt with a glass of Cabernet Sauvignon," one Twitter user wrote, while a second added, "What a surreal image for our times".
A planned state visit to France by King Charles III has been postponed in the wake of the protests, at the request of President Macron (per the BBC). King Charles III had been due to visit both Paris and Bordeaux.
This article was originally published by the drinks business and has been shared with permission.