The saying "you eat with your eyes" has only become truer in the age of social media. These are the Michelin-starred European eateries that have been the most posted about on Instagram.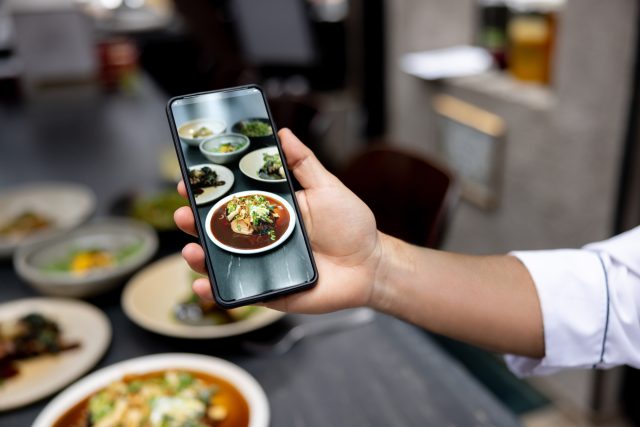 Although it might be suggested that the growth of Instagram has caused some restaurants to pursue elaborate plating and gimmicks to gain online attention, at the expense of quality, there is no denying that it has become an integral aspect to marketing.
Likewise, the reliability of Michelin as a guide to good restaurants is also questionable, with this writer's recent visit to a one Michelin Star establishment in Bologna leaving much to be desired. But, in spite of its issues, the Michelin Guide remains the most prestigious publication on the matter.
The data, collated by luxury travel company The Thinking Traveller, concerned the number of Instagram posts with particular hashtags associated with these restaurants to determine the rankings.
In number one, and roundly trouncing the nearest competition, is The Lecture Room & Library at Sketch in Mayfair. Deemed last year to be the UK's second most 'Instagrammable' eatery, after Big Mamma Group's Circolo Popolare, Sketch's three Michelin stars make it one of the most sought after dining destinations in the UK anyway. But, it is its garish, eye-catching interior, part Grand Budapest Hotel, part Overlook Hotel (depending on who you ask), that has propelled Pierre Gagnaire's London outpost to the lofty heights of social media success. The study found a whopping 89,643 posts about the restaurant with hashtag sketchlondon.
View this post on Instagram

Coming in second is Massimo Bottura's Osteria Francescana in Modena. A regular at the top of the World's 50 Best Restaurant's list, Osteria Francescana is rather less flash than Sketch, with the Michelin Guide noting that it "eschews an overly ornate decor in favour of a simpler, more contemporary and elegant style which is enhanced by striking works of art". However, despite this understatement, and the lack of an official Instagram account, the three star restaurant (not including its Michelin Green star) has garnered 39,277 posts featuring it.
Dishes including Bottura's famous 'Five Ages of Parmesan' (which is rather more elaborate than its name suggests) and 'Oops, I Dropped The Lemon Tart' have remained particularly popular.
And then, with 30,482 posts, Acquolina, located on the ground floor of The First Roma hotel takes bronze, thanks in part to executive chef Daniele Lippi's colourful cooking.
View this post on Instagram

Two more UK restaurants, both from Heston Blumenthal, come in the top 15: Dinner by Heston at number five (22,999 posts), and The Fat Duck in Bray (19,024 posts) in 11th. At the former, photos of the molecular gastronomist's famous 'meat fruit', a chicken liver and foie gras parfait encased in a mandarin jelly and shaped like a mandarin orange, are widely shared on the platform.
View this post on Instagram
One thing that is particularly noteworthy is that just one French restaurant, Mauro Colagreco's Mirazur in Menton, in 14th place, is in the top 15. Despite France having more Michelin-starred establishments than any other country, the list is dominated by British, Italian and Spanish establishments. Precisely why is unclear, though it might have something to do with the Gallic adherence to the traditions of fine dining, which, for better or worse (depending on who you ask), do not take the 'Instagrammability' of dishes and interiors into account.
To read the full list, click here.
Related news:
Who's in and who's out of the 2023 Michelin Guide
Guy Savoy's restaurant loses three-Michelin-star rating
Concerns raised over sexism in Michelin Guide 2023
This article was originally published by the drinks business and has been shared with permission.