The organisers of London Wine Fair have reported that the 2023 show, which took place earlier this week, saw a significant year-on-year increase in visitors, with a third of them working in the on-trade.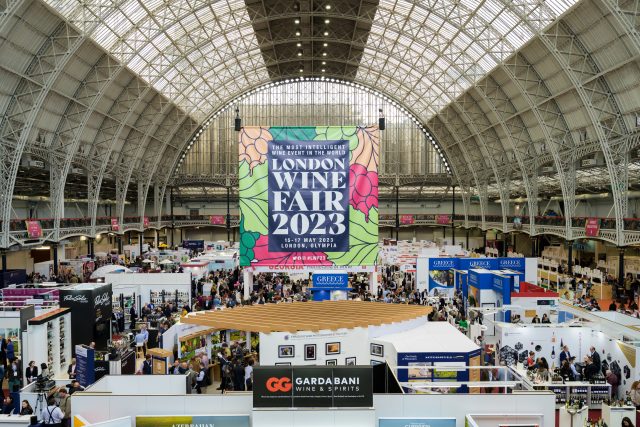 While the last few years have not been easy for London Wine Fair, with the 2020 edition being cancelled at the last minute, 2021's being digital-only, and 2022's having to rearrange due to a clash with ProWein, the 2023 edition, which took place from Monday 15 May to Wednesday 17 May, has been a success.
The total number of exhibitors present was 417, a 30% increase on 2022's number.
The net number of visitors was 14% above last year's figure, clocking in at 10,091, approximately a third (34%) of whom work in the on-trade. Tuesday 16 May was the busiest day of the fair, with more than 3,500 visitors through the doors.
Event director Hannah Tovey said: "Anyone who came to the show this year will have seen a wine industry firing on all cylinders. After the many challenges of last year, there was a tangible buzz to this week's event, with meaningful business being done alongside the never more crucial networking and knowledge sharing, which is so pertinent to London Wine Fair."
"Sustainability was placed at the heart of the show this year," Tovey continued, "with ground-breaking initiatives such as the London Wine Fair 2023 Bottle Reuse Initiative spearheaded by Porto Protocol and Sustainable Wine Solutions, alongside game-changing developments and discussions from panellists and audiences alike on topics ranging from bottle weight to organics, which will influence our industry on a global scale over the coming months and years. Stay tuned in the coming weeks for follow-up reports on exhibitor sustainability stats and the bottle reuse report."
Indeed, according to data collected by Bottlebooks based on usage of the official London Wine Fair mobile app, 'sustainability' was the third most searched for category at the fair, after 'country' and 'region'.
There was also strong interest in UK-based companies, a sign both of the growing prominence of the UK's wine industry, and of an increased reliance on importers post-Brexit. The number of searches for UK companies was four times greater than those for the second-most-searched-for country, Italy. Portugal was the third most searched for.
London Wine Fair also saw the occasion of the annual Drinks Business Awards, which recognise the companies and individuals who have made the greatest impact in the drinks industry in the last year. To read the full list of winners, click here.
This article was originally published by the drinks business and has been shared with permission.