The Hugo Spritz cocktail recipe has amassed over 4.3 million views on TikTok, but how do you make one? Find out here.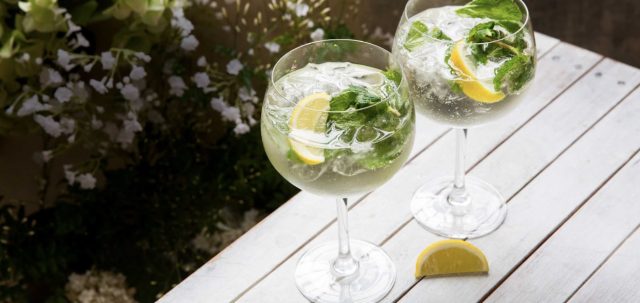 In what many people are calling "the new Aperol", searches for the Hugo Spritz have skyrocketed by 281% over the past year in the UK, according to grocery delivery service Getir, which analysed UK Google search and social media data to unveil the biggest cocktail trends.
In the past month alone, a massive 18,220 people have searched for the drink and recipe-related terms, leading to teams of mixologists and bartenders across the UK and beyond to stock up on elderflower liqueur.
According to Getir's advisory mixologist, Luke Slater, and founder of the The Cask Connoisseur: "The Hugo Spritz is a refreshing and light cocktail – perfect for a warm day" and explained how the drink originated "in the South Tyrol region of Italy". Here, he shares his recipe.
How to make a Hugo Spritz
Ingredients:
St Germain Elderflower Liqueur, 60 ml
Prosecco or sparkling wine, 90 ml
Soda water, 30 ml
Fresh mint leaves (optional)
Lemon or lime wedge (optional)
Method:
Fill a glass with ice cubes, then pour in the elderflower liqueur. Add the Prosecco and top it up with soda water. Stir gently to combine and then garnish with fresh mint or a lemon wedge.
On TikTok, The Educated Barfly also revealed a recipe in a video which has already gone viral and amassed around 117.6k likes and been saved 37k times as well as being shared via YouTube gaining it an extra 2k likes.
For his recipe, The Educated Barfly insisted that "the perfect pre-dinner drink is a Hugo" and told viewers to use a wine glass and add half an ounce of St Germain liqueur (or any elderflower liqueur) to the glass and then grab a few big sprigs of mint and press and crush then gently at the bottom of the glass to release the oils a little before adding 4oz Prosecco to the glass and a few ice cubes before topping with soda water.
After this, he stirs the ingredients in the glass until they are all combined and said: "In Italy, every second cocktail, if it isn't an Aperol, it's a Hugo" and added: "The major flavour profile of this drink is the elderflower liqueur that is juxtaposing against the Prosecco and the Prosseco is light, a little bit sweet and dry and then you have a bit of that mint oil rounding everything else. It's really nice, it's a little bit light, a tiny bit dry, a tiny bit sweet and a little botanical. It's the perfect pre-dinner drink."
To celebrate the Hugo Spritz trend, Getir has revealed it is offering a Hugo Spritz bundle on its app, featuring a free St Germain Elderflower Liqueur miniature (5cl), a free San Pellegrino sparkling water, Prosecco and lemon for under £12. The grocery delivery service is also offering an "ultimate Hugo Spritz bundle" for £33.95 – that additionally features a special St Germain glass.
This article was originally published by the drinks business and has been shared with permission.