"To-die-for steaks can be a surprise find in the restaurant overlooking the floor of London's biggest casino, on Leicester Square," reported Hardens Guide on Heliot, a restaurant taking the thrill of the grill seriously, set in a "quirky space, in the circle of the former Hippodrome Theatre." According to Rory Ross of Boisdale Life, the operation writ large is "a giant cash machine located on Britain's busiest street corner" receiving a reported "31,000 customers each week" with a turnover of "over £250 million."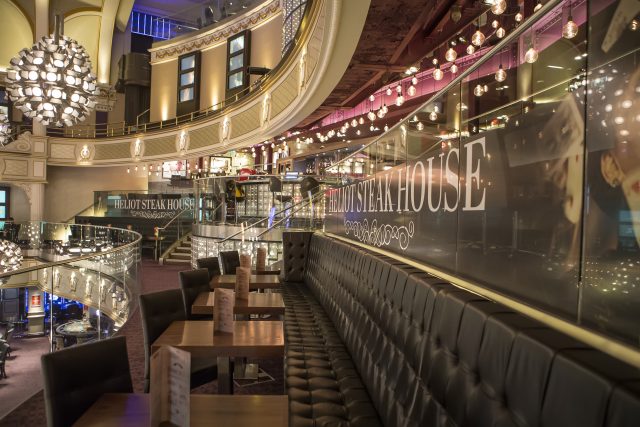 Design
Before roulette, blackjack and baccarat were the chief diversions, The Hippodrome, forerunner to The London Palladium and London Coliseum, was envisioned as a circus and music hall by Frank Matcham, "a man of remarkable vigour and enthusiasm for life" according to biographer, Brian Mercer Walker. It later became a Peter Stringfellow nightclub before losing its alcohol licence in 2005 when local police clamped down on "vertical drinking" around Leicester Square. It was subsequently rescued by bingo club and amusement arcade magnates, Jimmy and Simon Thomas who won over banks and bureaucrats amid the financial crash in fulfilling its restoration, while opportunely acquiring the adjacent Cranbourn Mansions, in-so-doing doubling the floorspace. Boris Johnson opened it in 2012 with the words, "This huge project has not only restored and retained the glorious fabric of this building but also created hundreds of new jobs for the capital and provided a major boost for local business."
Heliot, with leather banquettes and views to one of six storeys geared to gaming, and, every so often, of guests leaving the "Magic Mike" show in various states of exhilaration, is reached via a floor paved with 110,000 pennies. This weaves past a wine dispenser containing Trimbach Riesling Cuvée Frédéric Emile 2013, towards a newly upgraded curved bar counter ideal for a vodka martini as dry as blotting paper. This is flanked by the visual menu of purple lit glass fronted meat lockers. The restaurant takes its name from Madame Claire Heliot who famously patted, hugged, and fed raw meat to lions on The Hippodrome's stage shortly after it opened in the early 1900s.
Drinks
Previously of Loch Fyne, Covent Garden (RIP) where he met his wife to be, the then GM, Hannah Duffy Russo (now Head of Drinks, Camino), Salvatore Russo is the Pompeii-born General Manager of Heliot and Head of Wine for all seven outlets at The Hippodrome. These include the "Chop Chop" restaurant showcasing the famous Four Seasons duck.
Now qualified as an educator to level three WSET, Russo began at Heliot as a waiter on opening 11 years ago, soon becoming fascinated by owner, Simon Thomas' clear interest in wine. "They've paid all my investment in the WSET," he notes. In fact, offering such qualifications to the team is one perk which aids staff retention. "In fact, 20% of all staff at The Hippodrome have stayed since 2012," says Russo.
There was however a hiccough. Russo recalls momentarily losing his sense of smell to Covid. "I retrained my brain with, for example, goods from the market, so I could taste precise wines again like Forge Cellars Pinot Noir from an artisanal producer near the picturesque Finger Lakes," he says.
Offering tender mark-ups, Heliot's list ranges from £7 for a glass of Riesling from Chateau Ste. Michelle, to the £1,500 bottle of 1962 Château d'Yquem, via the single vineyard Kir-Yianni Diaporos Xinomavro, Valbuena 5º Vega Sicilia Ribera Del Duero, Robert Mondavi's To Kalon Cabernet Sauvignon, magnums of Vietti Barolo Castiglione, and Pommery Cuvée Louise Rosé from millennium year. There is however a distinct lack of English wines – which is an odd omission in a venue with such British design credentials.
Russo is assisted by restaurant supervisor and beer specialist, Mary Esposito, and senior waiter, Paul Green, a video game afficionado who speaks French, having spent a decade growing up in France's Gers – as well as Korean.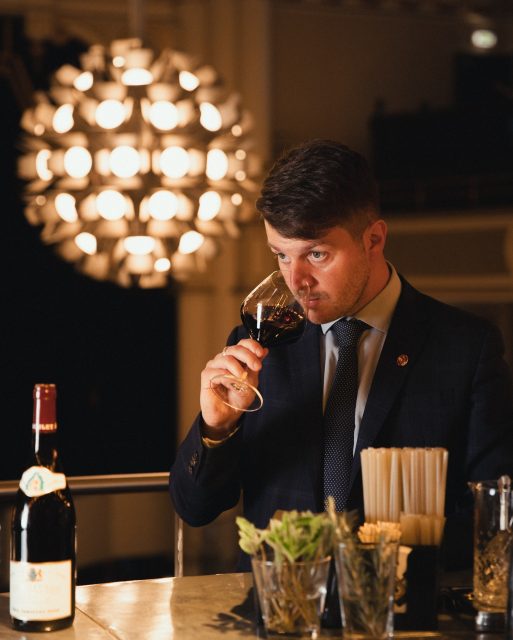 Dishes
The Corfu born Ioannis Grammenos is Heliot's long term Executive Chef and "the world's first MeatologistTM", specialising in steaks aged from four to six weeks. However, non mighty meaty fare is also given due care, including the signature "ocean plate" of tuna, salmon and hamachi sashimi, and starter of substantial scallops with green apple and wasabi purée. Both dishes met Seresin Chardonnay, a choice inspired by Russo's recent harvest time visit to New Zealand. Indeed, as part of his wine event series, Russo held an evening with Michael Seresin's daughter, Leah.
With steaks from three origins, Russo cued up a trio of Pinot Noirs served in Riedel and Nude glassware, their bottles wrapped blind. Russo chose richer examples to illustrate that wines from this grape can have sufficient body to accompany steak. Pinot Noir is a variety he chooses not to decant given he "prefers the excitement of seeing it change in the glass."
The cuts were: a juicy kilogram Irish Wexford tomahawk, an earthy 450g Finnish fillet served on the bone, and being the "Gold winner in the World Steak Challenge 2021", a melting 255g wagyu fillet from the USA's Snake River, a cross between purebred Japanese Wagyu with Northwest American Angus. The latter was unveiled from a glass closh releasing hickory smoke and offered with a hot stone to sear each slice and gold cutlery. A side of roast bone marrow with crispy shallots was scooped directly from the bone to gild the lily; the chimichurri had a flash of spice. We also put all of the chips on the table, being homemade chunky and French fries…
The wines transpired to be the Burgundian in style Otronia I 2018, a complex example of "Patagonia Extrema" from a particularly southerly site surrounded by windbreaks with a dramatic day to night temperature range, slightly reticent Peregrine 2017 from Central Otago, and Lucia 2019, a sister label to the Pisoni Estate from the Santa Lucia Highlands – being the only origin our table managed to deduce on account of its clear, ebullient fruit. Russo also shared a violet, leather and truffle scented Mastroberardino Radici Taurasi 2017 from his home region of Campana.
Finally, with a lavish milk chocolate mousse and an almond millefeuille, Antinori's botrytised collage of Riesling, Sauvignon Blanc, Sémillon and Grechetto, Muffato della Sala 2018 brought, with nectar and acidity, the session to a close.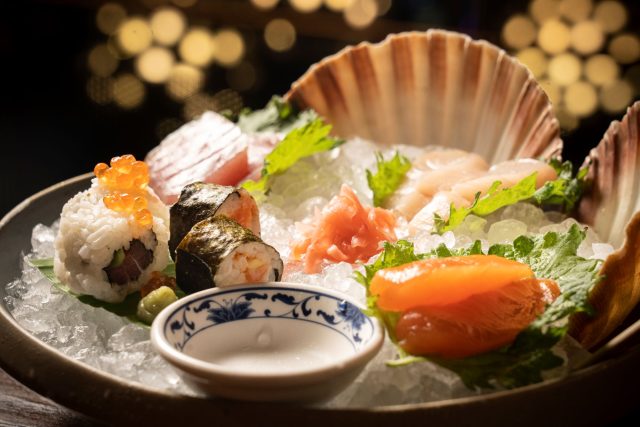 Last Word
"And now we're the lions being fed on steaks," said my guest during dinner, referring to Madame Claire Heliot. The restaurant she inspired offers one of the most considered selections of carefully sourced, aged and prepared steaks in the country in an upbeat environment, buoyed by cheers from the gaming tables below, alongside Salvatore Russo's accessible, smart wine list. A high roller you do not need to be. Just bring your appetite and an open mind. Keep an eye out, too, for wine dinners, previous examples of which have included a symposium with Adrianna Catena, with forthcoming USA wines coming up on Independence Day.
Best For:
-California and Bordeaux
-Steaks and seafood
-Beers
-Atmosphere
Value: 94, Size: 83, Range: 90, Originality: 91, Experience: 92, Total: 90
Heliot at The Hippodrome Casino – Cranbourn Street, Leicester Square, WC2H 7JH; 0207 769 8888; heliot@hippodromecasino.com; hippodromecasino.com (over 18s only)
This article was originally published by the drinks business and has been shared with permission.