"The Counter marks the London debut for Kemal Demirasal, a self-taught chef who wrapped up his career as a six-time Turkish national windsurfing champion to become one of the most celebrated chefs in Turkey. Here, his mission is to gather the best ingredients from the Anatolian region, and infuse them with smokiness over the charcoal grill using a variety of traditional techniques," appraised Hattie Lloyd in The Nudge of Demirasal's first UK restaurant, offering a contemporary "ocakbaşi" experience. Previously at the helm of Barbun in Alacati, then Alancha, Istanbul, which The New York Times called "earthy and refined, ancient and modern, both playful and deeply serious", Demirasal, whose glasses lend him an iconic look, is also an established TV presenter, and, as his drinks and ingredients lists show, an assiduous connector.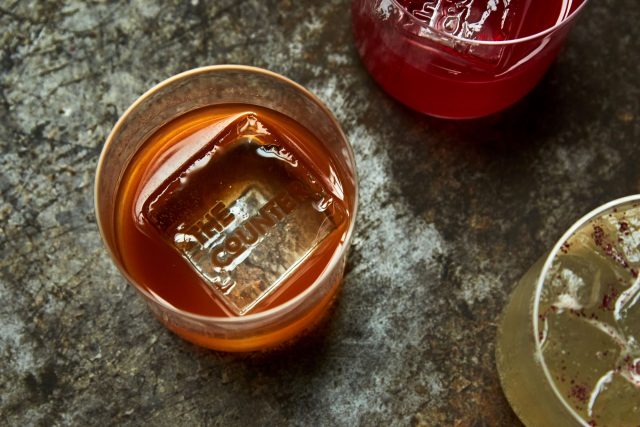 Design
The İzmir-based Gurcan Dere Design Studio has brought warmth via Turkish-made details, to the industrial bones of what was Chris Denney's "108 Garage", a dining room The Observer's Jay Rayner then described as looking "like it could give your car an MOT." Today, on traditional, elaborate carpets stand chestnut tables with tableware from Demirasal's own ceramics brand, YEK Design, with impressive knives accompanying specific dishes handmade in Tarsus by fourth-generation craftsman, Tufekci Karadayi. The most exciting vantage, expectedly given the venue's name, is high on the stools of the sleek, curving copper-hooded counter which combines marble over walnut, overlooking the tight-knit brigade fastidiously at work. Even the delicate-looking yet durable Stem Zero Nude glassware has Turkish authorship.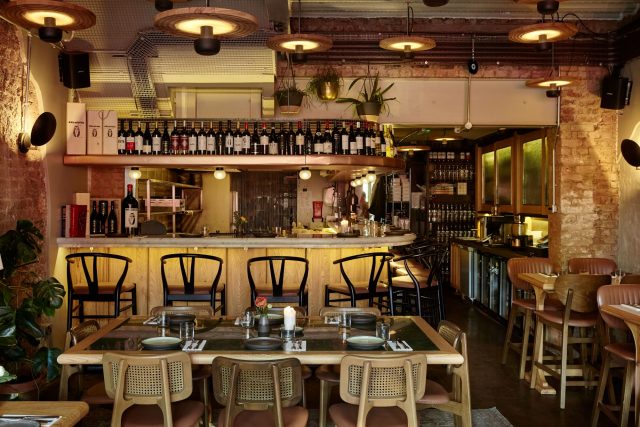 Drinks
Although he harks from İzmir, Demirasal's menu often focuses further South East, a point of the compass – and Demirasal has a compass tattoo – which is where his friend, Isa Bal, the co-founder of Trivet, which scooped Wine List Confidential's first place in 2022, was born. Indeed, Bal, a Master Sommelier, selected wines for The Counter's list, presented, dazzlingly, on yellow paper, from this region as well as other landscapes bearing a similar climate. Hence, alongside Turkish wines ranging from the humble, youthful Doluca DLC Narince to, with a moustached figure on the label, the double magnum of Chamlija Nev'i Sahsina Munhasir, a Bordeaux-style blend, you will find Priorat from Mas La Mola and Fèlsina's Sistri Tuscan Chardonnay. However, on the subject of Italy, red pickings are slim, given Demirasal has had a hard time pairing such wines with his cuisine, the exception being Allegrini's green bell pepper-scented Valpolicella which brings a sense of seasoning to the refined, gamey lamb liver and lamb fat skewer wraps (ciğer şiş) flavoured with molasses and smoky isot pepper.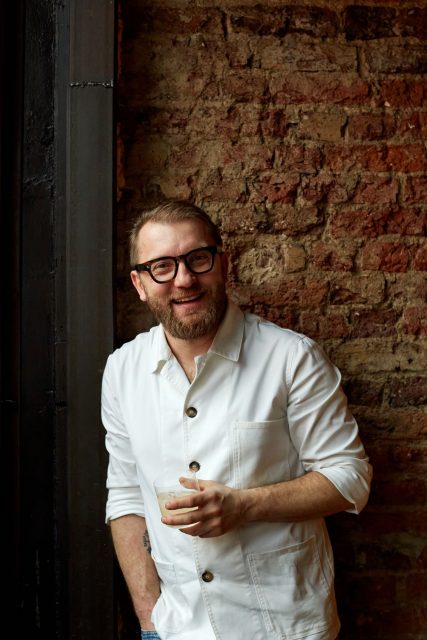 Meanwhile, drawn from a pink sheet, cocktails are devised by Cihan Anadologlu, whose Munich bar, "Circle" was recognised as one of the World's 50 Best Bars when it operated (Drinks International). Anadologlu's aim at The Counter, via confident, garnish-free drinks, save the odd branded ice cube, is to capture "the essence of Mesopotamia". Hence, rather than take refuge in the selection of "safe and solid" international classics available, you could be rewarded for opting for ordering from the more conceptual, "crazy and bold" section where drinks harness Turkish ingredients to startlingly delicious effects. My favourite was "Satir Kiyma", described as "our take on whisky with 'a touch of kebab'". Here, lamb fat-washed rye is imbued with red pepper, chilli, orange bitters, and pomegranate molasses. There is also a selection of premium rakis, such as Mey Yeni Kulup,
Dishes
Begin with clotted cream, wild thyme honey and truffle oil slathered sourdough (bal kaymak ekşi maya) while deciding on the navigation for the rest of your meal. Segue into signature cold starters such as the fascinating, white chocolate enriched babaganoush with dukkah and dried rose, finished with a generosity of glossy dill-enriched olive oil. Meanwhile, the lamb tartare (ciğ köfte) is kneaded with cumin, pepper paste, sumac and pomegranate molasses and, just prior to service, combined with bulgur, which previously "sat with ice for over an hour" said Demirasal. This is finally topped with parsley and mint and scattered with pomegranate seeds. With these, Demirasal poured green apple-scented Doluca Kav Narince. Then with the standout "head cheese" dish (Izmir kelle söğüş) involving spiced lamb's tongue and brain with coarsely sliced red onions and cherry tomatoes, Demirasal decanted a carafe of Chamlija's wild fermented, unfiltered, tense, aromatic, amber blend of Narince and, unexpectedly, Albariño from Kirklareli, close to the border with Bulgaria.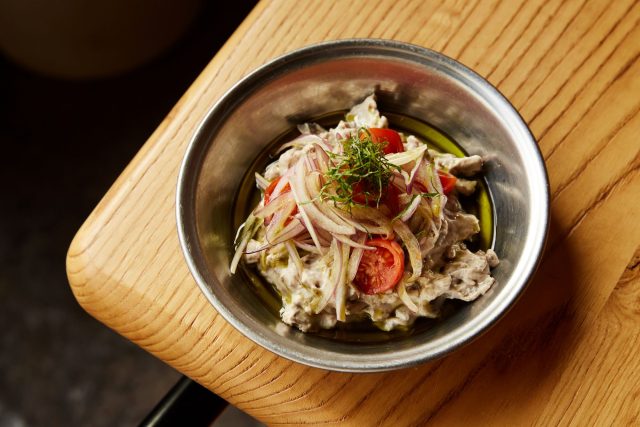 From the "main event" section, of the menu, as if this sitting had not already felt like a banquet, Demirasal's true, "not twisted" take on mince lamb kebab (satır kıyma) included liver, tail and fat, prepared with paprika, isot pepper and molasses, served with tabla and sweet onion salad, and combined, simply, in our midst as a lavash wrap. This met the full-bodied, tense of tannins, Boğazkere-Öküzgözü blend (Doluca Kav).
Desserts, should you have space, include Semolina cake (revani) with clotted cream, poppy seeds and orange zest, and the baked tahini halva (fırın tahin helva) offered with ice cream, olive oil, and seasoned with salt. Sweet liquid collaborators include the fortified, sour cherry-like Diren Mahlep made from mountain berries, then firm, reviving Turkish coffee.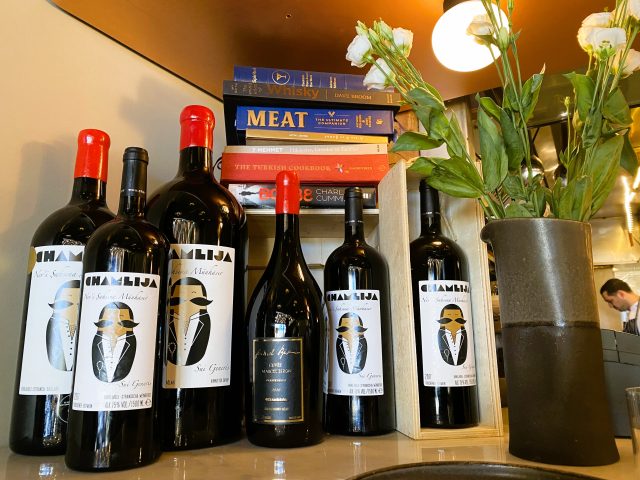 Last Word
Dishes at the cosy, calibrated, The Counter show finesse and elicit joy. At the same time, the wine list, which will mature as Turkish wines enter the mainstream, buoyed by venues like this and the beacon that is Trivet, is astute, with cocktails showing immense creativity. The Counter is an asset to the area and ought to be on the list of true restaurant buffs from far further.
Best For:
-Turkish wines
-Whole goat experience (book in advance)
-Forensic sourcing of ingredients, including sun-dried salt from the Aegean, and Tahini from Edriemit, sole supplier to the Ottoman Palace
-Tailor-made decor
Value: 92, Size: 81, Range: 82.5, Originality: 93, Experience: 93, Total: 88.3
The Counter -108 Golborne Road, London, W10 5PS; 07500 612914; info@thecounterlondon.com thecounterlondon.com
This article was originally published by the drinks business and has been shared with permission.