Steakhouse chain Hawksmoor has opened a new restaurant in Dublin that promises a uniquely Irish drinks menu.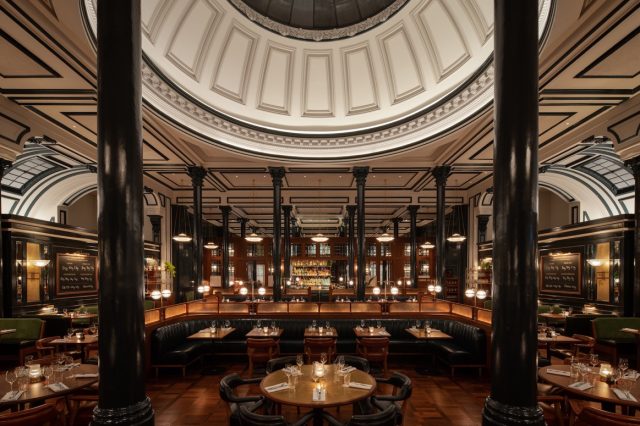 The 152-seater restaurant, private dining room and back-to-back bar are set within the Irish capital's historic National Bank building.
Beyond the beef, sourced from small community farms across both the Republic and Northern Ireland and dry-aged for 35 days, there are a number of Hawkstone favourites on the menu, like the pork belly ribs and scallops.
One new dish developed as a homage to the home of this latest addition to the group is the Dublin Lawyer – a whole lobster (intended to be shared between two), baked with Teeling Blackpitts single malt whiskey, leeks, cream and Cáis na Tíre cheese. If there's room for dessert, executive pastry chef Carla Henriques has developed an Irish Coffee tiramisu.
Liam Davy, the group's head of bars, has developed a drinks list that showcases several of the island's leading drinks producers. Among them is Ulster's The Boatyard, which recently became the first B Corp-certified distillery in the island of Ireland – The Boatyard has created a bespoke gin for the restaurant, to be utilised in Hawksmoor's 'Ultimate Martini'.
Additionally, there will be a specially Hawksmoor edition of Waterford Whisky – fittingly, given the beefy nature of Hawksmoor's menu, the farm near Tipperary from which the barley for the whisky is also home to a herd of cattle.
A selection of cocktail exclusive to the new site have also been developed, including Black Forest Velvet (Guinness, Champagne, cacao, cold brew coffee & cherry) and the Gold Fashioned (Irish whiskey with lightly-browned Kerrygold butter, flavoured with coconut, chamomile & salted honey).
Alex McGettigan, general manager of Hawksmoor Dublin, said: "We're delighted to be welcoming guests in to our wonderful new Dublin home. These are spaces that are designed to be full of people enjoying life. Being open for dinner every day and lunch from Wednesday to Sunday means we'll have the opportunity to welcome all kinds of audiences, all kinds of diners, through those grand old doors."
This article was originally published by the drinks business and has been shared with permission.