Giuseppe D'Aniello, head sommelier at The London Edition, has been named as 2023's Best Sommelier by the UK Sommelier Association.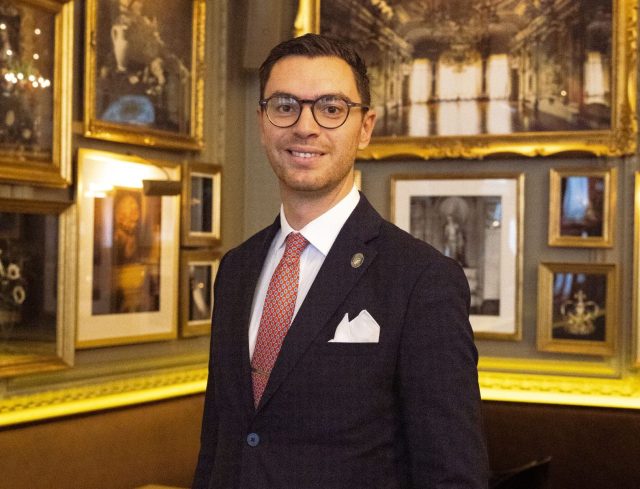 D'Aniello gained his WSET Diploma in 2018 and previously worked at The Lanesborough before joining luxury Soho hotel The London Edition, where Jason Atherton's Berners Tavern restaurant is also located, earlier this year.
Speaking with db, D'Aniello shared what brought him into the wine industry: "Dad was a huge inspiration. He was a wine lover and I always watched him and found his approach to wine and the different types of wine very fascinating. I started my wine studies in Italy but thanks to Matteo Montone MS, he was a very influential mentor of mine in London – inspiring me to go further so I can under the complexities behind each wine."
In 2022, D'Aniello was runner-up in The Best Sommelier competition, but this year he came out on top, having been assessed alongside the other candidates on written theory, blind tasting, wine pairings, and, finally, service.
Describing the feeling of winning the award, he said: "I've been working so hard for this in the years leading up to it since it's been something I wanted to achieve. Last year I finished first runner up but it means a lot to me knowing that my dedication and hard work paid off."
First runner-up was Kai Mayfair's Mateusz Kowalczyk (who recently won the Ruinart Sommelier Challenge), while Juan Manuel Marcos Perez came in third. The award is sponsored by Villa Sandi, and the UK Sommelier Association runs it in conjunction with the Italian Sommelier Association.
Explaining his approach to developing The London Edition's wine list, D'Aniello said: "With more than 800 labels from around the world, we want to represent every country where wine is produced including India, Japan, China. My approach is simple – I buy wine following three criteria: quality, value, and packaging."
With such extensive experience in the field, narrowing it down to one bottle would certainly be a challenge. D'Aniello told db that his desert island wine would be Château Margaux 1982: "I was able to taste it just once in my life and I was shocked by the finesse and elegance of the wine."
This article was originally published by the drinks business and has been shared with permission.