Described by Square Meal as "legendary" having "hosted a long list of famous diners including Oscar Wilde, Charlie Chaplin and Frank Sinatra", the Savoy Grill has been refreshed ahead of its 125th anniversary. 20 years on since Gordon Ramsay Holdings took control of this icon, Gordon and Tana Ramsay hosted a lavish reopening party at which guests received a red carpet welcome, served from a Melchior of Château d'Angludet 2016, then gifted boxes of Perrier-Jouet Belle Epoque on departure.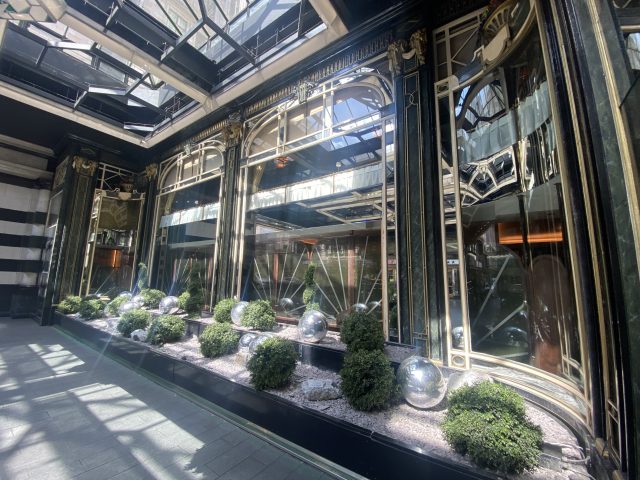 Essential to oiling the clubby, though not stiff, atmosphere is charismatic, famous restaurant director and "salesman of pleasure", Thierry Tomasin MCA, a former Chairman Sommelier of Great Britain. His hospitality journey has included the role of General Manager of Chelsea's Aubergine when under Ramsay's tenure, head sommelier at Le Gavroche, and restaurateur of Angelus. On our visit, while pouring Champagne Devaux, Cuvée D Brut, which draws on a Solera-type system, from magnum, he introduced lunch with the words, "if life was pink, we'd all be drinking Champagne on a beach – but we can still bring a bit of pink into everyday life."
Design
The new interior has been envisioned by a team led by the mighty Afroditi Krassa, who also developed the breathtaking interior for Gordon Ramsay's Lucky Cat which is unrecognisable from its previous incarnation as maze. Savoy Grill features velvet-lined booths and studies of famous guests commissioned by fashion illustrator, Thom Botwood including Miss Piggy en-route to the particularly comfortable, temperature-controlled chef's table, and Grace Kelly beside the lavishly vinously appointed private cellar dining room for eight, crafted from walnut. All is illuminated by the familiar Swarovski chandeliers, glowing pillars decorated with almost Japanese lines, and the diffused daylight from the opaque windows onto the court. A focal scalloped pewter bar has been added, from which guests may order The Savoy Grill Renaissance, a gin-led cocktail inspired by the classic Singapore Sling.
Drinks
Portuguese head sommelier, Carlos Pinto began his hospitality career aged 17 at reputed purveyor of the world's reputed finest pastel de natas, "Pasteis de Belem". His most recent role saw him work alongside Christopher Delalonde MS at Hakkasan.
As at the neighbouring Restaurant 1890, which is also under the tenure of Gordon Ramsay and another Portuguese luminary sommelier, Emanuel Pesqueira, Coravin is used to great effect, showcasing the likes of Will Harlan's The Mascot 2016 ranging to Lafite 1999 and Trimbach Riesling Cuvée Frédéric Emile 1983. Also by the glass is Dom Ruinart 2004 Rosé, with, by the bottle, multiple vintages of Bollinger Vielles Vignes Françaises Blanc de Noirs reaching to 2008, Salon to 1997, and Dom Perignon P2 to 1995.
While the list is led by the Old World, including such wines as Armand Rousseau Les Cazetiers 1999, Comte George de Vogue 1996, multiple vintages of Domaine de la Romanée-Conti Romanée-Saint-Vivant to 2009, and Petrus to 1974, under Pinto, the New World offer, particularly so, wines from the USA, in part spurred by a recent California Wines adventure for the trade and brokers held at Petersham Nurseries, is rapidly improving – a shrewd move given this famous grill has for long magnetised guests from North America.
Bottle prices range from Famille Perin's 2021 Ventoux at £40 to, with a mere £5,000 mark-up, £11,500 for Petrus 2000. The keenest glass is Mosaic Domaine Chatzivaritis, Slopes of Paiko from Greece at £10.
Dishes
Dishes, including signature soufflé Arnold Bennett, which nods to the smoked haddock and Gruyère deepened omelette favoured by the novelist who wrote "Imperial Palace" while staying at the hotel, are realised by a team led by executive Head Chef, Michael Turner, who opened Bread Street Kitchen in 2011.
Alongside Champagne, lunch began with warm bread with smoky butter. Next, sommelier, David Brothwood, who, like Pinto, formerly worked on a cruise liner, but has now happily set anchor at The Savoy, which is in any case "close to the water" he notes, selected 2021 Santa Rita Hills Pinot Noir by Liquid Farm with beef fillet tartare. Given the dish "has no fat", the choice was made based on the wine's "perfume and disguised tannins". Dotted with rich confit St. Ewes egg yolk and gaining crunch from, in a very good way, Big Mac evoking chopped gherkins, this must be one of London's most enjoyable tartares.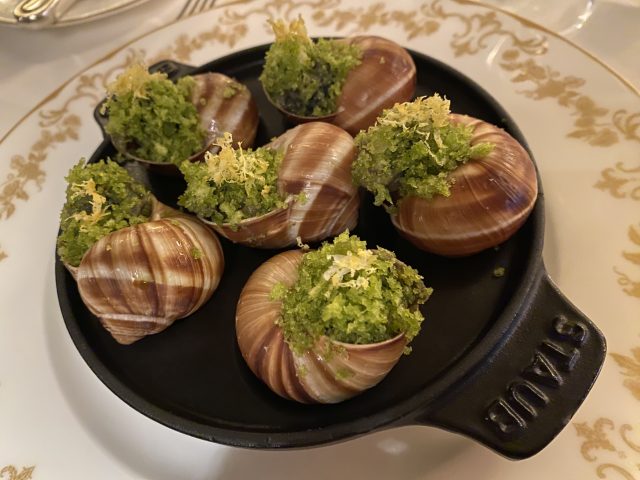 Meanwhile, Domaine Ballot Millot 2019 Meursault, served a little too chilly, brought citrus notes to baked Dorset snails with fluffy parsley combined breadcrumbs. With the main courses, being, said Brothwood, "two extremes", of a thick tranche of tenderly cooked turbot with ikura enriched, citrussy Champagne beurre blanc, and, from the grill, a rib eye with Roscoff onion and slightly shy chimichurri, Brothwood selected a bottle of Donnafugata's 2020 "Sul Vulcano" Nerello Mascalese. This, he said, "had the appearance of Pinot Noir while being light enough for both dishes." This thoughtful, appropriate choice was also a personal one given Brothwood has memories of having "trudged" the black soils of the dramatically located vineyards of Etna.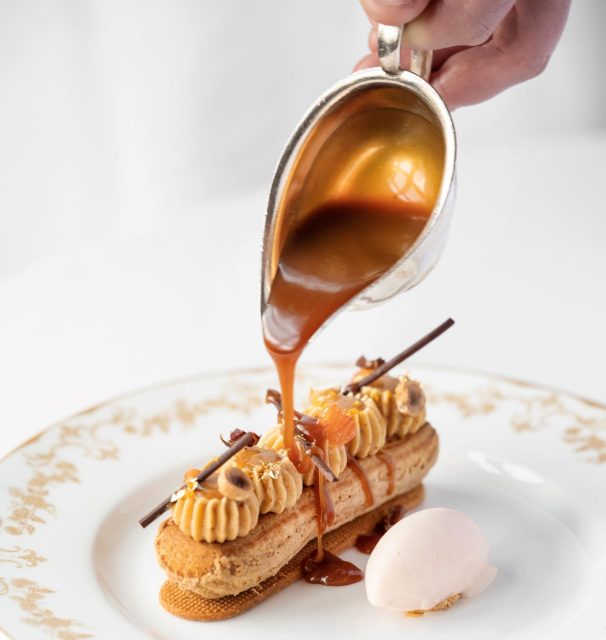 For the final act, of, skilfully flambéed at the table, Rum Baba with pineapple, lime, crème fraîche Chantilly, and The Savoy Grill eclair with hazelnut, orange and dark chocolate sauce, Pinto poured the complex Bual 1987 Vintage Madeira from Cossart Gordon via Coravin.
Last Word
A restaurant I had wanted to dine at for decades, having now been renewed, it felt a good moment to have finally visited the Savoy Grill. Equipped to satisfy the needs of its guest with charm, flair and comfort, the flagship restaurant of Britain's first purpose-built luxury hotel clearly continues to be a setting with gravitas in which to mark milestones, and, says Tomasin, "make memories".
Best For
Wine experience room
Immersive, comfortable chef's table
Large formats
Value: 91.5, Size: 95, Range: 95, Originality: 93, Experience: 98.5, Total: 95.6
Savoy Grill – 100 Strand, London, WC2R 0EZ; 020 7592 1600; savoygrill@gordonramsay.com; gordonramsayrestaurants.com
This article was originally published by the drinks business and has been shared with permission.