Following the completion of this year's Global Rosé Masters, we bring you the top 10 wines from the competition, taking in a range of styles, and prices from £12.99 to £200.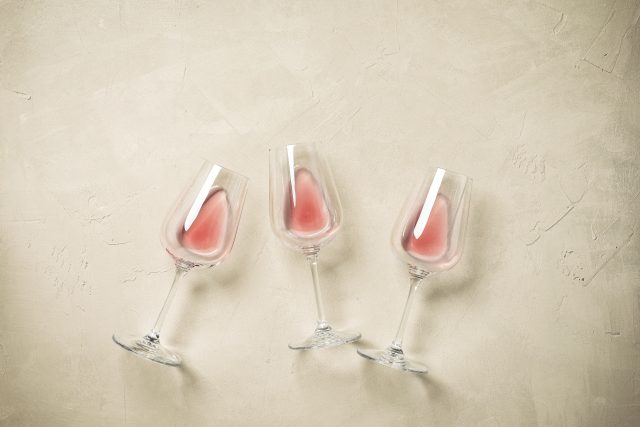 EN MÉMOIRE DE SOPHIE VALROSE

Producer: Bijou
Region: Côteaux Varois en Provence
Country: France
Grape varieties: 60% Grenache, 30% Cinsault, 10% Syrah
ABV: 12.5%
Vintage: 2022
Approx. retail price: £12.99
Sophie Valrose is named after a woman who worked in the Languedoc vineyards in the late 19 thcentury. She fought for women's rights and earned better working conditions for the largely female vineyard crews at the time. This wine, made from bush vine grapes grown on schist soils in the hills, and alluvial clay soils closer to the coast, is a tribute to the renowned heroine. Pale pink-peach in colour, the wine exhibits gentle peach, golden apple and pomegranate fruit with orange zest overlay. Dry, the wine has medium acidity and a creamy texture leading to a lingering finish. A stylish wine to pair with salade niçoise or other Provençal dishes. (Patricia Stefanowicz MW)
DE BORTOLI ROSÉ ROSÉ

Producer: De Bortoli Wines
Region: Victoria
Country: Australia
Grape varieties: 40% Sangiovese, 17% Shiraz, 26% Merlot, 13% Sauvignon Blanc and 4% Grenache
ABV: 13%
Vintage: 2022
Approx. retail price: £14.99
From a mélange of seemingly incompatible grape varieties grown at high altitude in the King Valley in northeast Victoria comes this rosé. Showing a lovely pale peach-pink colour and plenty of strawberry, cherry, apricot, and peach fruit, the palate has crisp acidity, buttery texture, and just a hint of tannin to balance the flavours. Stone and spice nuances accentuate the lingering finish. The wine is delicate and elegant with good underlying structure. (Patricia Stefanowicz MW)
WATUSI

Producer: Château Peuch-Haut
Region: Camargue
Country: France
Grape varieties: 40% Grenache Noir, 30% Grenache Gris, 20% Syrah, 10% Cabernet Franc
ABV: 13%
Vintage: 2022
Approx. retail price: £22
Founded by Gérard Bru, Château Peuch-Haut has 115 hectares of vines in Languedoc, mainly around Saint Drézéry and Pic Saint Loup, on clay-limestone soils. Very, very pale vieux rose in hue, the wine has cranberry, pomegranate, and rhubarb aromatics with a slightly smoky overlay. The palate shows lovely fruit, welldefined with white pepper and herbes de provence accents and chalky minerality on the lingering finish. A perfect pairing will be Chinese dim sum. (Patricia Stefanowicz MW)
AMMIRAGLIA AUREA GRAN ROSÉ

Producer: Marchesi Frescolbaldi
Region: Tuscany
Country: Italy
Grape varieties: 70% Syrah, 30% Vermentino
ABV: 13%
Vintage: 2021
Approx. retail price: £25.99
From the Frescobaldi vineyards along the Tyrrhenian coast, on sandstone, clay and loam topsoils over limestone bedrock comes this lovely gently-oaked rosé. Pale coral-pink in hue, the wine has white orchard fruit with a cranberry and strawberry and blood orange lift, accented with creamy oak. Mid-weight, the palate shows crisp acidity balancing fleshy fruit with deftly integrated toasty oak notes. A stunning wine with excellent length and complexity. Perfect with sole meunière and a side of fresh broad beans. (Patricia Stefanowicz MW)
DIANE BY JACQUES LURTON

Producer: Les Vignobles André Lurton
Region: Bordeaux
Country: France
Grape varieties: 51% Cabernet Sauvignon, 45% Merlot, 4% Sémillon
ABV: 13.5%
Vintage: 2022
Approx. retail price: £22
Named after Diana, the Roman goddess of the hunt, Jacques Lurton's range of old-vine Bordeaux wines are remarkable. This lovely example of rosé, very pale peach in hue, delivers strawberry and raspberry fruit with rose peppers, orange zest and lemon blossom accents. Dry, yet juicy, the wine has summer pudding fruits on the palate, supported by zesty acidity and a herbal accent from Cabernet Sauvignon. Structured, this is a wine that will be a delicious accompaniment to pork chops in an apricot cream sauce, or pheasant breasts in a light white wine sauce. (Patricia Stefanowicz MW)
ETOILE

Producer: Domaines Ott*
Region: Provence
Country: France
Vintage: 2021
Grape varieties: 80% Grenache, 20% Mourvèdre
ABV: 12.5%
Approx. retail price: £130
This relatively new top expression from Domaines Ott blends the best wines from the producer 's three properties in Côtes de Provence and Bandol to create an outstanding, if very expensive rosé. Unlike the luxury pink expressions from Chateau d'Esclans or Gérard Bertrand, this doesn't see any new oak, but delivers huge amounts of flavour intensity and complexity without an overlay of wood-derived vanillin. Characters range from ripe peach and raspberry to tangerine and pomegranate, with notes of orange blossom, citrus zest and gunflint too. There's a soft, creamy feel to the mid-palate, while the finish is dry, with a fine dusting of tannin to ensure this rose comes with a mouthwatering end. (Patrick Schmitt MW)
LES CLANS

Producer: Château d'Esclans
Region: Provence
Country: France
Vintage: 2021
Grape varieties: 76% Grenache, 19% Rolle, 5% Tibouren
ABV: 14%
Approx. retail price: £70
A brilliant example of barrelinfluenced rosé employing a blend of classic Provençal grapes, including the local variety of Tibouren. Complementing the flavours of juicy raspberry, white-fleshed peach and sweet blood orange is an appealing note of toasted marshmallow in this layered and lingering rosé that manages to be both soft and refreshing. (Patrick Schmitt MW)
CHÂTEAU LA SAUVAGEONNE ROSÉ

Producer: Gérard Bertrand
Region: AOP Languedoc
Country: France
Vintage: 2022
Grape varieties: 70% Grenache, 24% Cinsault, 3% Vermentino, 3%Viognier
ABV: 14.5%
Approx. retail price: £60
Such is the light shade of salmon pink born by this rosé, one might be fooled into thinking it's a delicate drop. In fact, this is one of the most powerfully flavoured pink wines on the market, but it is still a wonderfully refreshing drink. Using old-vine Grenache and Cinsault from Gérard Bertrand's Château La Sauvageonne in the Languedoc, after a brief skin contact to leach out some colour, the juice from the red grapes is co-fermented with the white varieties – Vermentino and Viognier – before the blend is aged in barrels. The result is a rosé with a core of ripe, juicy fruit, from pear to peach along with raspberry and roasted pineapple, followed by notes of vanilla cream and toast that linger on the gently mouth-watering finish. (Patrick Schmitt MW)
GARRUS

Producer: Château d'Esclans
Region: Provence
Country: France
Vintage: 2021
Grape varieties: 71% Grenache, 27% Rolle, 2% Tibouren
ABV: 14.5%
Approx. retail price: £110
The ultimate expression of rosé from top Provencal producer Château d'Esclans is a fantastic, powerful wine that's been built to last. Indeed, this 2021 expression seems a little too youthful, and would benefit from another few months in the bottle to allow the wonderful mix of flavours to knit together a touch more closely. Nevertheless, there is so much to recommend this fine wine, made using the oldest vines on this property, with its layers of fruit – from white cherry to ripe pear, blood orange to juicy citrus – and complementary characters from barrel ageing, including toast and vanilla cream, along with a woody note of pencil shavings. (Patrick Schmitt MW)
CLOS DU TEMPLE

Producer: Gérard Bertrand
Region: AOP Languedoc
Country: France,
Vintage: 2021
Grape varieties: 52% Grenache Noir, 41% Cinsault, 6% Syrah, 1% Viognier,
ABV: 14.5%
Approx. retail price: £200
Clos du Temple may be the world's most expensive rosé, but this 2021 expression is also the best. Made using biodynamically-farmed grapes from Cabrières in the Languedoc by Gérard Bertrand, it benefits from gentle handling and six months ageing in new French oak. The resulting rosé is a delicious, age-worthy, textured, complex wine, that just happens to be pale pink. Among the layers of flavours are ruby grapefruit and Comice pear, tangerine and peach, with integrated barrel-sourced toast and cream-like characters, as well as a touch of freshly-struck matchstick. It's a delicious combination that lingers long after you swallow this intense, dry and refreshing wine. (Patrick Schmitt MW)
Read more
All the medal-winning wines from The Global Rosé Masters 2023
About the competition
With high-quality judges and a unique sampling process, The Rosé Masters provides a chance for your wines to star. The 2023 competition was judged on 4 May at Park Row, London, employing experienced judges. The top wines were awarded Gold, Silver, or Bronze medals according to their result, and those expressions that stood out as being outstanding received the ultimate accolade – the title of Rosé Master. This report features the medal winners only. Please visit the Global Masters website for more information, or, to enter future competitions – giving you the chance to feature online and in print – please call: +44 (0) 20 7803 2420 or email Sophie Raichura at: sophie@thedrinksbusiness.com
This article was originally published by the drinks business and has been shared with permission.